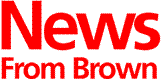 The Brown University News Bureau
38 Brown Street / Box R
Providence, RI 02912
401 / 863-2476
Fax: 401 / 863-9595
1995-1996 index
---
Distributed August 24, 1995
Contact: Linda Mahdesian
---
The Haffenreffer Museum of Anthropology at Brown University

Donated to Brown University in 1955, the Haffenreffer Museum of Anthropology is moving its entire collection from its original home in Bristol, RI, to the heart of downtown Providence, in the gold-domed Old Stone Bank Building on South Main Street. Poised at the bottom of College Hill, the Museum will enrich the University by providing a locus for undergraduate and graduate education, and a center for learning for the Brown academic community and the general public. The public service functions of the Museum will be greatly enhanced by its relocation to Providence, the center of the state's adult and student population. Its new location will also provide an attraction for visitors to Providence, including the anticipated visitors to the new convention center in the city. The Haffenreffer Museum of Anthropology was founded in the early 1900s as the private collection of Rudolf F. Haffenreffer. It was originally named the King Philip Museum because of its location on the Mount Hope Grant, which in the 17th century was the headquarters of Metacom, the Wampanoag chief (commonly known to the English and to students of history as King Philip). Located in Bristol, RI, the Mount Hope Grant is 18 miles from the University. Initially, the focus of the collections was on local archæological materials. When the Museum opened to the public in 1928, its collections soon expanded to include much of the New World, and in the years since, the collections have acquired particular strengths in a number of Native North American culture areas. In 1955, following Mr. Haffenreffer's death, his heirs donated the Museum to Brown University, as well as the 375-plus acre Mount Hope Grant surrounding the Museum. The Museum was renamed the Haffenreffer Museum of Anthropology, and its collections and interests have since become worldwide in scope. The Haffenreffer Museum contains major archæological and ethnographic collections representing human cultures worldwide. There are approximately 100,000 objects. Of these, the cataloged ethnographic collections number about 13,000: 6,200 are from North America; 2,750 from South America; 1,900 from Africa; 1,650 from Eurasia; and 500 from Oceania. The remaining cataloged collections are archæological, 20,000 of which have been excavated over a 25-year period by the Museum's Arctic Research Program. In addition, there are uncataloged lithics from the old Haffenreffer North American collections. In addition to a library of approximately 10,000 volumes, the Museum also holds the Herbert Spinden Photographic Archive of 20,000 images and other documents relating to his research on Mesoamerican archæology in the early 20th century.

While the Museum is categorized as a "small museum," its collections are surprisingly large, highly diverse and of proven research importance. This has been demonstrated in the analyses in the Museum's publication series, the latest of which (1994) is Passionate Hobby, on Rudolf Haffenreffer's founding collection of 2,300 ethnological and 43,000 archæological specimens, almost all from North America. North America is indisputably the strongest major region, especially the Subarctic, Arctic and Plains. Extensive archæological materials from New England cover a time span of over 10,000 years and are used to interpret prehistoric and historic cultural development in our local area.

Important holdings from the archæology of Pre-Columbian Mesoamerica, Central America and the North and Central Andean regions include a collection of the earliest known wool tapestries from Peru. This material, as well as ethnographic collections from the South American tropical forest - including a significant collection of Cashinahua feathered materials - and Andean areas have been the subject of several publications and exhibits. From 1990-92, the Museum cataloged an important recent gift of Pre-Columbian Andean textiles, which complements extant collections.

The Museum's collection of West African wood, metal and terra cotta sculpture continues to increase in recent years through numerous gifts. Many of these pieces have been published, and their acquisition is helping to make the Museum a regional center for the study of African art. Other collections from New Guinea, Indonesia, India, Thailand, Nepal, Turkey, Iran and Greece were made by University anthropologists and accompanied by field documentation, and have provided a wide range of research and exhibit possibilities.

Through gifts, the Museum has added to its African, Mesoamerican, and South American Indian collections. Recently, two graduate students conducting field work in the Azores collected closely-documented materials on weaving for the Museum. In 1993 it added to its Eastern Woodland collections through field purchases from Passamaquoddy artisans during the exhibit "History on Birchbark: the Art of Tomah Joseph, Passamaquoddy." In 1994 Plains collections were augmented with field purchases from leading Sioux artists.

Like other museums, a small fraction of the collections is on exhibit at any one time. The Museum has used exhibit space at two locations on Brown's campus to increase exposure to its collections. Public libraries and schools are granted loans if security is satisfactory. Grants from the Institute for Museum Studies (IMS) have made collections more accessible for scholarly research and exhibition and available for loans to other institutions such as the Bell Gallery, Brown; Museum of Fine Arts, Boston; Heritage Plantation, Sandwich, Mass.; Worcester Art Museum; Rhode Island School of Design Museum; Museum of our National Heritage, Ky.; Tisch Gallery, Tufts University; Katonah Gallery, N.Y.; and Glenbow Foundation, Calgary.

The Museum is linked to the University in several ways. It has had close intellectual and historical ties with the Department of Anthropology, and the Museum's director is in that department. A unique master's degree program in anthropology-museum studies is taught, with seminars based at the Museum. As part of their course requirements, students co-curate exhibits in over 5,000 square feet of exhibition space. No such program exists at other Ivy League institutions. This program provides insights into the intellectual process associated with learning and teaching, as well as an opportunity to study aspects of other cultures in greater detail than is possible only from written records.

The faculty of the Department of Anthropology at Brown consider the Museum and its collections as integral to their teaching and research programs, and its affiliation greatly enhances the department's reputation. The department originated after the transfer of the Haffenreffer Museum to Brown and is today committed to a traditional view of anthropology as a unified discipline that stresses the importance of drawing evidence on human culture from material objects, observed and recorded speech and behavior, or records of culture in older documents. The Brown department is unusual in this respect, and this is one of its strengths which is recognized by anthropologists in other institutions.

The entire collection is available for research; about 50 percent has been studied by scholars. In the past three years, scholars from the following institutions have conducted research in the Museum's collections: Alberta Provincial Museum; Bern Museum, Switzerland; Bowdoin College; Canadian Museum of Civilization; Carlton University, Ottawa; Denver Art Museum; Fashion Institute; Field Museum; Hartford Atheneum; Harvard; Peabody Museum; Rhode Island College; Rhode Island School of Design; School of American Research; Smithsonian Institution; University of Alaska; University of Rhode Island; Weavers Guild of Boston; and Wellesley, Mass. public schools.

The Museum's reputation derives from its success in publishing, or arranging for the publication and distribution of its own cataloges and symposia. The Haffenreffer Museum Studies in Anthropology and Material Culture has published six major volumes on the Museum's collections. Several of the most important collections have been published, usually in connection with a large, temporary exhibition. These are more monographs than cataloges; they are contextual studies of material culture which are permanently useful for research and teaching. Most have been distributed by the University of Washington Press, the major co-publisher and distributor of such volumes. A recent book list from that Press listed five Haffenreffer volumes among about 20 anthropology publications - far more than from any other museum.

The Museum's education programs reach over 6,000 schoolchildren annually, from Rhode Island, Massachusetts and Connecticut. A hands-on or experiential learning approach is used for a variety of culture-specific programs for elementary grades. For example, a class of 30 is divided into groups of 10, each with a museum lecturer. Children are encouraged to try on clothing, sample ethnic foods and experience historic house units (e.g., igloo, bark wigwam, tipi, log cabin). The living units, located on the grounds and in the Museum's Barn Annex, have been researched and often constructed by members of the various ethnic groups represented. The children find excitement and an intimate involvement in learning about people of other times and worldviews, as they sit by a tipi fire or by the light of a stone lamp in an igloo, and are allowed to handle artifacts, as the consultant explains both differences and similarities among the world's varied peoples. In 1993 and `94 programs included Native Peoples of Southeastern New England, Peoples of the Arctic, Life in Ancient Mexico, and Nomads of the Plains.

Outreach is provided in area schools for grades 2-12. Students examine in classrooms or assemblies slides, artifacts, clothing and crafts to help them better understand various world cultures. An ethnic consultant sometimes assists the staff member, a Brown student from Africa or Asia, or a local Native American, depending on the culture being presented. Outreach also goes to senior citizens centers and nursing homes or the handicapped who require individualized attention.

Specialized and short-term programs include tours for scout groups, secondary school groups and adult groups by appointment. The Museum also offers vacation craft workshops for children and adults in such arts as flint-knapping, basket-weaving, coil pottery, beadwork, quill embroidery, and soapstone carving. In 1993 five summer camps were offered with emphasis on archæology and the local historic Wampanoag Indian site.

In 1989 new Saturday morning programs for children and their parents were initiated. In succeeding years they have included museum-sponsored Brown Learning Community programs on archæology and on material culture, as well as on Plains and Eastern Woodlands cultures. In 1992 adult evening courses were offered by staff members to attract new audiences. In April 1994 the evening course, "African Worlds," used objects from the collection to examine traditional worldviews of Africa.

Teacher workshops are offered for special exhibitions or publications. A recent series of workshops was on Indian life in 17th-century southern New England in conjunction with the exhibit, "Peoples in Contact." A Museum publication intended for a young audience - a simplified version of Roger Williams' A Key into the Language of America is now in extensive use in Rhode Island at elementary and junior high levels. In 1992 the Museum offered an intensive workshop to acquaint teachers with new concepts and approaches in anthropology and the study of native peoples. Instructors included Native Americans, Museum staff, faculty and graduate students. A Bibliography for Teaching About Native Americans of Southeastern New England was prepared by consultants and staff and is selling well to teachers and libraries.

Rhode Island is known for ethnic diversity. Given its commitment to responding to this diversity, the Museum provides a unique service to this surrounding community. It is the only institution in the area with a primarily anthropological focus. Because of its large North American collections, the Museum staff, Department of Anthropology faculty, and Brown students have developed strong working relationships with many local Native Americans. For example, many collections have served as models for reconstruction of patterns of early material culture, and the Museum's archives are helping to document early Indian communities in the region. Local Native American groups have served as interpreters of native culture at the Museum, presenting programs in native medicine, ethnobotany, genealogy, crafts and worldview. They have utilized historic aspects of the site for present-day tribal celebrations. A major 1992-94 exhibition on Native people of Southeastern New England involved local Native people on a consulting committee. A 1993 exhibit, "History on Birchbark: the Art of Tomah Joseph, Passamaquoddy," involved 10 Passamaquoddy exhibit consultants, a drum group, and the entire family of descendants of Tomah Joseph. That same year a permanent Native American Advisory Committee was formed to make these Native-Museum links even stronger.

Events are sponsored for other regional ethnic communities, combining exhibits, performances, workshops, discussions and festivals. Although the Haffenreffer is a typical university museum of anthropology in being able to exhibit only a small fraction of its collections at any one time, it is hoped nevertheless that a judicious selection of objects organized around thought-provoking themes will enrich the various communities represented in Rhode Island. Indeed, attendance of 700 to 2,000 testifies to the role of these collections and related events as reinforcers of ethnic identity.

The Director of the Haffenreffer Museum is Shepard Krech III, who is also a professor of anthropology at Brown. Krech is an active researcher of North American Subarctic and Arctic ethnology, ethnohistory and material culture. Krech, who holds major fellowships from the NEH, Woodrow Wilson Center, and National Humanities Center, is author or editor of six books and monographs and an additional two in press, and more than 90 essays and reviews. He is past editor of Ethnohistory and is active in meetings of several national societies as well as in local settings. A graduate of Yale, Oxford and Harvard, he joined the Brown faculty in 1988.

The Museum receives its funding from donations as well as from federal and state funding agencies such as the RI Committee on the Humanities (RICH), the RI State Council on the Arts (RISCA), the RI Heritage Committee, the Haffenreffer Family Fund, and local firms. The Friends of the Haffenreffer Museum support many of the museum's public programs and exhibitions. In 1989, the "Out of the North" exhibition and cataloge were supported by the NEA, RICH, RISCA, the Canadian Embassy, the Haffenreffer Family Fund, and five local corporations. The 1992 exhibit, "Entering the Circle," received RICH support and funds from local firms; "History on Birchbark" (1993) received NEA support; and "Passionate Hobby" (1994) received Haffenreffer Family Fund support. The Museum has received several operating grants from the Institute of Museum Services (IMS), a federal agency that offers general operating support to the nation's museums. Awards are equal to 10 percent of a museum's operating budget, up to $75,000. The awards are determined through a nationwide competition that evaluates all aspects of museum operation. Each year applications are received from more than 1,300 museums of all types.

######
95/005a