PROVIDENCE, R.I. [Brown University] — The first powered ankle-foot prosthesis, an important advance for lower limb amputees, was unveiled today at the Providence Veterans Affairs Medical Center.
Garth Stewart, a 24-year-old Army veteran who lost his left leg below the knee following an injury in Iraq, demonstrated the new prosthesis. Stewart walked in the prosthesis, which, unlike any other, propels users forward using tendon-like springs and an electric motor. The prototype device reduces fatigue, improves balance, and provides amputees with a more fluid gait. It could become commercially available as early as the summer of 2008.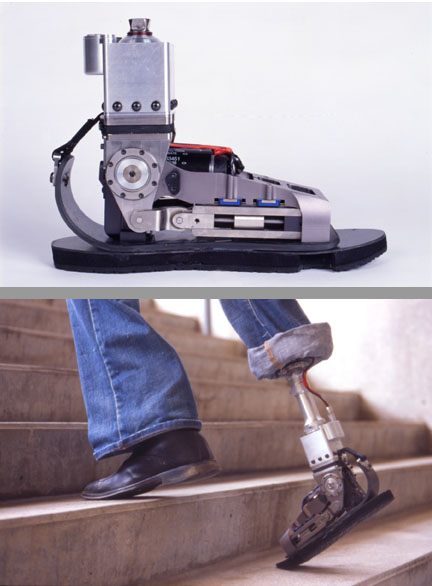 ---
---
MIT Media Lab Professor Hugh Herr and his team of researchers developed the ankle-foot. Herr, NEC Career Development Professor and head of the Biomechatronics Group at the Media Lab, is a VA research investigator. He is also a double amputee who tested his invention: "This design releases three times the power of a conventional prosthesis to propel you forward and, for the first time, provides amputees with a truly humanlike gait," Herr said.
Herr created the device through the Center for Restorative and Regenerative Medicine, a collaborative research initiative that includes the Providence VA Medical Center, Brown University and The Massachusetts Institute of Technology. Roy Aaron, M.D., a professor of orthopaedic surgery at Brown, created the center in 2004 with $7.2 million in funding from the Department of Veterans Affairs. Aaron is now a VA investigator and directs the center.
The center's mission is to improve the lives of individuals with limb trauma through tissue restoration, advanced rehabilitation and new prosthetics that give amputees – particularly war veterans – better mobility and control of their limbs and reduce the discomfort and infections common with current prostheses.
To achieve this goal, the center funds a team of researchers with expertise in tissue engineering, orthopaedics, neurotechnology, prosthetic design and rehabilitation. The aim is to bring these complementary techniques together to create "biohybrid" limbs composed of biological and man-made materials – a melding of man and machine.
To meet this goal, VA has provided an additional $6.9 million to construct a state-of-the-art rehabilitation research building that will house the center on the campus of the Providence VA Medical Center. Construction begins this fall.
"A major goal of the center is to develop artificial limbs that perform like biological ones," said Aaron, a professor of orthopaedics at The Warren Alpert Medical School of Brown University and attending physician at Rhode Island Hospital and The Miriam Hospital. "Hugh Herr and his team have met that goal – and done so successfully. This device is a major step forward for Garth Stewart and other amputees."
Joel Kupersmith, M.D., chief research and development officer for VA, said a top priority for the department is providing state-of-the-art prosthetic care for veterans – especially those returning from Iraq and Afghanistan. VA research, he said, is integral to this effort.
"The robotic ankle is a sterling example of how our leading-edge research improves veterans' lives," Kupersmith said. "Up to now, prosthetic devices have not been able to duplicate the complex functions of our feet and ankles as we walk and run. The ingenious computerized design of this new prosthesis changes all of this, as it constantly 'thinks' and responds, allowing the person to walk or run in a more natural and comfortable way."
Michael E. Selzer, M.D., director of rehabilitation research and development for VA, agreed. "Hugh Herr and his Media Lab group are well-known for their scientific ingenuity and creativity on behalf of amputees. This new technology represents rehabilitation research at its finest, and is yet another milestone in VA's long history of outstanding achievements in this area."
Editors: Brown University has a fiber link television studio available for domestic and international live and taped interviews and maintains an ISDN line for radio interviews. For more information, call the Office of Media Relations at (401) 863-2476.
######