July 24, 2007
Contact: Deborah Baum
(401) 863-2476
On the Move: Historic House Relocates to Make Way for The Walk
Brown University's Peter Green House, currently located at 142 Angell St., will be moved in one piece beginning Tuesday, July 31, and land in its new home, 79 Brown St., by Friday, Aug. 3, 2007. The relocation marks the University's first step in implementing "The Walk" project, a series of linked green spaces and walkways that will provide a connection between the University's main campus and the Pembroke Campus.
---
Brown University Home
Media Relations Home
2007-08 Release Index
e-Subscribe

PROVIDENCE, R.I. [Brown University] — The Peter Green House at Brown University will be moved approximately 450 feet in one piece, from 142 Angell Street to 79 Brown Street, during a three-day moving process beginning on Tuesday, July 31, 2007. The relocation marks the University's first step in the construction of The Walk, a series of linked green spaces that will provide a connection between Brown's main Campus and the Pembroke Campus.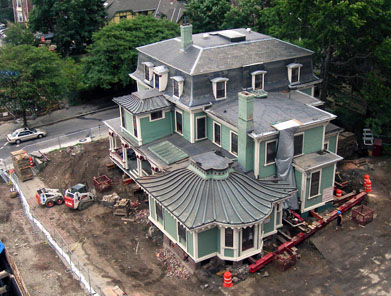 ---
---
Construction crews have been working during the last few months to prepare the new site, as well as the estimated 300-ton house, for the anticipated three- or four-day move. Between 8 and 9 a.m. Tuesday, July 31, crews will begin to pull the house off of its existing foundations, and carry it into Olive Street. Simultaneously, crews will start the 90-degree rotation, which will correctly orient it for placement on its new foundations. For Tuesday only, a viewing area will be set up for pedestrians on the south side of Angell Street. On Wednesday and Thursday, Aug. 1-2, the house will begin its journey approximately 450 feet west along Olive Street to its new location at the corner of Brown and Angell streets. Weather and schedule permitting, by Friday, Aug. 3, the structure will be lowered onto its new foundation and the second phase of renovations and restoration will begin.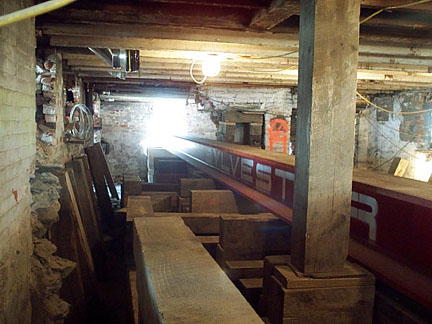 ---
---
"Brown is committed to historic preservation, improvement of the campus and beautification of our community on College Hill," said Richard Spies, Brown's executive vice president for planning. "This is yet another step toward completion of The Walk, which will unite Brown's main campus and the Pembroke Campus. We believe that The Walk will contribute greatly to the look and feel of the campus and will serve as yet one more place where the University community and the larger East Side neighborhood will meet and interact, and we are very excited about finally getting this project under way."
The Peter Green House was originally constructed in 1868. Brown University purchased the building in 1966 under its previous name, the Lippit-Guild House. The building is currently occupied by the Department of History. The last major renovation took place in 1999, funded by a donation from Brown alumnus Peter Green in honor of his late wife, Mary-Jean Mitchell Green, which resulted in the renaming of the structure.
As Brown University has grown over the years, new construction projects have often necessitated the removal or relocation of older structures. In its nearly 250-year history, Brown has relocated 26 buildings. Hallworth House is recorded as having been moved in 1840 from 234 Benefit Street to the front green, west of Manning Hall, where it became the first president's house. Later, in 1910, two homes were moved to make way for Arnold Laboratory. In more recent decades, houses have been relocated to facilitate the construction of Wriston Quadrangle (1949-50), List Art Center (1959), Vartan-Gregorian Quadrangle (1982) and the Watson Institute (1999).
"The Walk" project was conceived by R.M.Kliment & Frances Halsband Architects, in consultation with The Walk Advisory Committee, Campus Planning Advisory Board, and the Facilities and Design Committee of the Corporation, and endorsed by the Corporation of Brown University in 2003.
For more information on the Walk, visit www.brown.edu/Facilities/Building_Brown/.
Editors: Brown University has a fiber link television studio available for domestic and international live and taped interviews, and maintains an ISDN line for radio interviews. For more information, call (401) 863-2476.
######