PROVIDENCE, R.I. [Brown University] — An eye-popping exhibit of 3-D images of Mars, featuring everything from soaring volcanoes to dizzyingly deep valleys, will run from Sept. 12 through Oct. 28, 2007, at the Museum of Natural History and Planetarium in Roger Williams Park.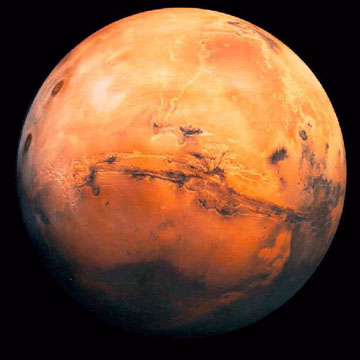 The exhibit features some of the largest, most detailed images ever taken of Mars. The High Resolution Stereo Camera, or HRSC, captured them as it flew aboard the European Space Agency's recent Mars Express Mission. The HRSC is the first instrument to photograph an entire planet in full color and in three dimensions.
Put on 3-D glasses and the camera's handiwork is arresting: super-crisp ravines, riverbeds, craters, cliffs, ice caps, landslides, and a volcanic mountain 17 miles high. Most panels in the exhibit stand nine feet tall, adding to the "I-feel-like-an-astronaut" effect.
"It's like you're falling into a canyon or scaling a mountain," said Peter Schultz, a Brown University geologist and director of the NASA/Brown Northeast Planetary Data Center and the NASA Rhode Island Space Grant Consortium, the exhibit sponsors. "The images will knock your socks off."
The exhibit, "A New Perspective on Mars," was produced by German Aerospace Center, which designed the HRSC. It arrives in Providence after opening this summer at United Nations Headquarters in New York City. Two Brown-based programs – the NASA/Brown Northeast Planetary Data Center and the NASA Rhode Island Space Grant Consortium – brought the exhibit to the city in collaboration with the Museum of Natural History and Planetarium.
"The exhibit truly offers a new perspective on Mars – its geology, mineralogy, atmosphere," said Renée Gamba, acting museum director. "The large-scale, 3-D images are just the beginning of what visitors will see."
A wide variety of information about Mars will be presented:
a history of Martian exploration;
an overview of Martian research;
information about Mars' moons, Phobos and Deimos;
exclusive opening day education programs, including school group workshops.
Special weekend programs will be offered for the duration of the exhibit, including a new planetarium program, family activities, public lectures and exhibit interpretation from museum docents and Brown students.
The Brown/NASA Northeast Planetary Data Center is part of a network of regional facilities that makes available a vast amount of image data obtained by the U.S. space program from 1962 to the present. The Data Center is open to researchers, educators and the general public. The NASA Rhode Island Space Grant Consortium, also based at Brown, is designed to support NASA-related research throughout the state. It provides research seed funds, fellowships and scholarships, and links fellows and scholars with K-12 teachers and their students through science education outreach.
The Museum of Natural History and Planetarium is located in Roger Williams Park and is part of the City of Providence Parks Department. The museum is open daily from 10 am to 5 pm. Admission is $2 – $1 for children under 8. For more information call (401) 785-9457 ext. 221 or visit http://providenceri.com/museum/
Editors: Brown University has a fiber link television studio available for domestic and international live and taped interviews and maintains an ISDN line for radio interviews. For more information, call the Office of Media Relations at (401) 863-2476.
######