PROVIDENCE, R.I. [Brown University] — Retired U.S. Gen. Barry McCaffrey will visit Brown University to deliver the Stephen A. Ogden Jr. '60 Memorial Lecture on International Affairs on Tuesday, Oct. 9, 2007. His address, titled "After Iraq: How the World has Changed," will begin at 6:30 p.m. in Salomon Center for Teaching, located on The College Green.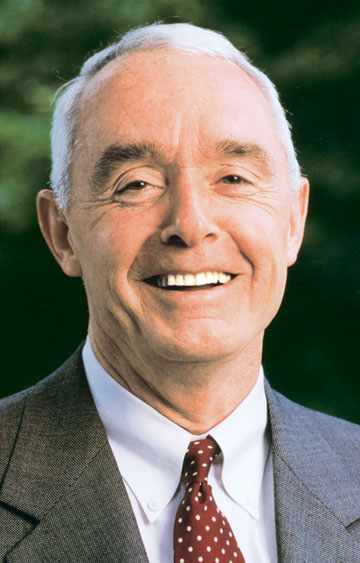 This is the 77th event in the Stephen A. Ogden Jr. '60 Memorial Lecture Series since the series began in 1965. "I am honored to be part of four decades of the Ogden Memorial Lecture tradition at Brown University," McCaffrey said.
The audience will have an opportunity to ask questions following the lecture. This event is free and open to the public. For more information, contact the Office of University Events at
(401) 863-2474.
Gen. Barry McCaffrey
Barry McCaffrey served in the U.S. Army for 32 years, retiring in 1996 as a four-star general. During his military career he served overseas for 13 years and completed four combat tours, including commanding the 24th Infantry Division during Operation Desert Storm. As commander-in-chief of the U.S. Armed Forces Southern Command, he coordinated national security operations in Latin America. At the time of his retirement, he was the United States' most highly decorated serving general, having received three Purple Hearts and two Distinguished Service Crosses, the nation's second-highest award for valor. He twice was awarded the Silver Star for valor.
From 1996 to 2001, McCaffrey served as director of the White House Office of National Drug Policy. He received many honors for his leadership, including the Department of Health and Human Service Lifetime Achievement Award for extraordinary achievements in the field of substance abuse prevention (2004), the Federal Law Enforcement Foundation's National Service Award, and the Community Anti-Drug Coalitions of America Lifetime Achievement Award.
After leaving government service, McCaffrey was named the Bradley Distinguished Professor of International Security Studies at West Point. He continues at West Point as an adjunct professor of international affairs. McCaffrey is president of his own consulting firm in Arlington, Va., and a national security and terrorism analyst for NBC News.
A native of Taunton, Mass., McCaffrey graduated from West Point in 1964, earned an M.A. in American government from American University, and attended the Harvard University National Security Program.
Stephen A. Ogden Jr. '60 Memorial Lecture
Since 1965, the Ogden Lectureship has presented the University and its neighboring communities with authoritative and timely addresses on international affairs. The lectureship was established in memory of Stephen A. Ogden Jr., a member of the Brown Class of 1960, who died in 1963 from injuries he suffered in a car accident during his junior year. His family created the series as a tribute to Ogden's interest in the advancement of international peace and understanding.
Dozens of heads of state, diplomats, and observers of the international scene have participated in the series, including Queen Noor of Jordan, former President of the Soviet Union Mikhail Gorbachev, President of Brazil Fernando Henrique Cardoso, former Canadian Prime Minister Kim Campbell, media mogul Ted Turner, astronaut Sen. John Glenn, and economist Paul Volcker.
Editors: Brown University has a fiber link television studio available for domestic and international live and taped interviews, and maintains an ISDN line for radio interviews. For more information, call (401) 863-2476.
######