Brown University Home
Media Relations Home
2007-08 Release Index
e-Subscribe

PROVIDENCE, R.I. [Brown University] — Former U.S. ambassadors to the United Nations John Bolton and Richard Holbrooke will take part a Janus Forum Lecture at Brown University, titled "Divided World, United Nations?: The Role of the U.S. Within the U.N.," on Thursday, Feb. 21, 2008, at 3 p.m. in the Salomon Center for Teaching, Room 101. The event is free and open to the public.
Bolton, ambassador from 2005-2006, and Holbrooke, ambassador from 1999-2000, will each deliver a 25-minute presentation on the topic, followed by a question and answer session with audience members.
"The Political Theory Project is delighted to be sponsoring the Janus Lecture featuring ambassadors John Bolton and Richard Holbrooke," said John Tomasi, director of the Political Theory Project. "This event, featuring two speakers with different viewpoints engaging in civil discourse, neatly captures the ideals of the Political Theory Project."
Launched in 2006, the Janus Forum Lecture Series is sponsored by Brown's Political Theory Project, which aims "to invigorate and deepen the discussion of political issues at Brown University, across the academy, and in the world beyond." The Janus Forum is a student group that encourages, facilitates, and develops active thought, debate, and discussion around political ideas. The group seeks to promote critical thinking and discourse by exposing students to a variety of perspectives regarding relevant social and political issues. The Janus Forum Steering Committee includes representatives from the ACLU, Brown Republicans, Brown Debating Union, Brown Democrats, Brown Political Union, Brown Spectator, College Hill for Christ, Hillel, emPower, Muslim Students' Association, Students for Sensible Drug Policy, the Roosevelt Institution, and the Third World Center..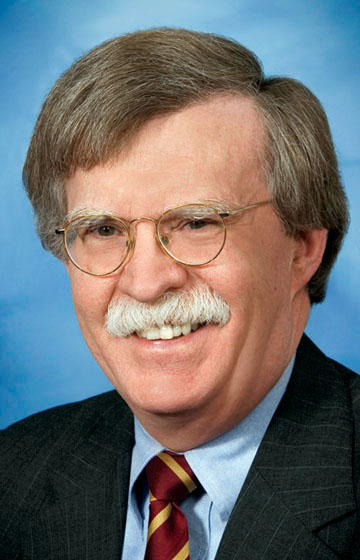 John Bolton
John R. Bolton was appointed as United States permanent representative to the United Nations on Aug. 1, 2005, and served until his resignation in December 2006. Prior to his appointment, Bolton served as under secretary of state for arms control and international security from May 2001 to May 2005. He previously served as senior vice president of the American Enterprise Institute (AEI), a nonprofit public policy center dedicated to preserving and strengthening the foundations of freedom through research, education, and open debate.
During his tenure at the United Nations, Bolton was an advocate of U.S. efforts to prevent Iran from getting a nuclear weapon, push Syria out of Lebanon, and bring African peacekeepers into Somalia. He has also served as an advocate for human rights, arranging the Security Council's first deliberations on Burma's human rights abuses and engineering the Security Council's approval of 22,500 U.N. peacekeepers in Darfur.
Bolton has spent many years of his career in public service. Previous positions he has held include assistant secretary for international organization affairs at the Department of State, 1989-1993; assistant attorney general, Department of Justice, 1985-1989; assistant administrator for program and policy coordination, U.S. Agency for International Development, 1982-1983; and general counsel, U.S. Agency for International Development, 1981-1982. Bolton is also an attorney. From 1974-1981, he was an associate at the Washington office of Covington & Burling, where he returned as a member of the firm from 1983-1985 after public service at the U.S. Agency for International Development. From 1993 through 1999, he was a partner in the law firm of Lerner, Reed, Bolton & McManus.
Bolton is the author of Surrender Is Not an Option: Defending America at the U.N. and Abroad. He graduated with a B.A., summa cum laude, from Yale University and earned his J.D. in 1974.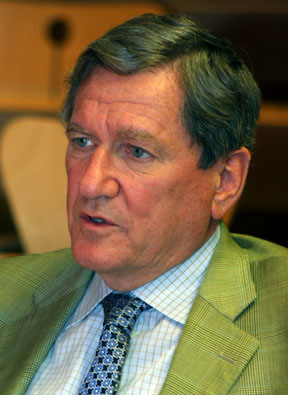 Richard C. Holbrooke
Richard C. Holbrooke has a distinguished record as a diplomat. In 1993, President Clinton appointed him to serve as U.S. ambassador to Germany and in 1994 as assistant secretary of state for European and Canadian affairs. Holbrooke is widely credited as the chief architect of the 1995 Dayton peace agreement that ended the war in Bosnia. In 1999, Clinton appointed Holbrooke to be U.S. ambassador to the United Nations with Cabinet rank.
During the Carter administration, Holbrooke served as assistant secretary of state for East Asian and Pacific affairs and was instrumental in normalizing American-Sino relations in 1978. He also served as the director of the Peace Corps program in Morocco in 1970.
Holbrooke is currently chairman of the Asia Society, an organization dedicated to strengthening relationships between the United States and Asia; chief executive officer of the Global Business Coalition on HIV/AIDS, Tuberculosis and Malaria, which mobilizes the private sector against those diseases; founding chairman of the American Academy in Berlin, which advances U.S.-German cultural exchange; and vice chairman of Perseus LLC, a private equity firm. Holbrooke has written numerous articles and two best-selling books: To End a War, a memoir of the Dayton negotiations, and Counsel to the President, Clark Clifford's memoir for which he served as co-author. He also writes a monthly column for the Washington Post.
Holbrooke began a five-year appointment as Brown University professor-at-large in February 2007, based at the Watson Institute. A history major during his student years at Brown, he has served as a member of the Watson Institute's Board of Overseers and received the 1996 Roger Williams Award, the Brown Alumni Association's highest honor. He also holds an honorary Doctor of Laws degree from Brown, awarded in 1997.
Editors: Brown University has a fiber link television studio available for domestic and international live and taped interviews, and maintains an ISDN line for radio interviews. For more information, call (401) 863-2476.
######