Brown University Home
Media Relations Home
2007-08 Release Index
e-Subscribe

PROVIDENCE, R.I. [Brown University] — Brown University President Ruth J. Simmons announced the appointment today (Monday, March 31, 2008) of Edward J. Wing, M.D., as the new dean of medicine and biological sciences at Brown. Wing is currently chair of the Department of Medicine at Brown and the Joukowsky Family Professor of Medicine. Wing will begin his work as dean on July 1, 2008.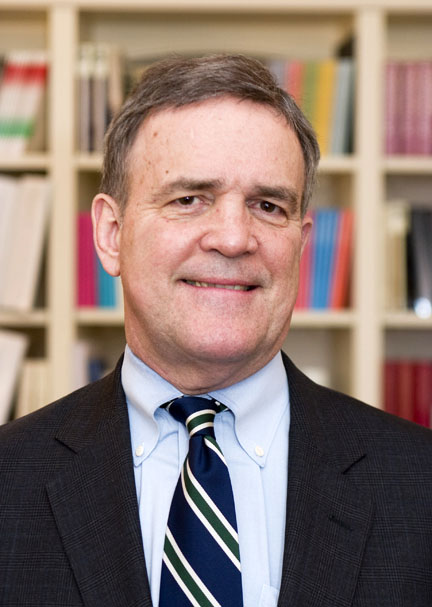 In addition to his appointment at Brown, Wing is also physician-in-chief at Rhode Island Hospital and the Miriam Hospital, as well as executive physician-in-chief at the Memorial Hospital of Rhode Island, the Veterans Affairs Medical Center, and Women & Infants Hospital. Wing will succeed Eli Y. Adashi, M.D., who has served as dean since January 2005.
"We are fortunate to have found someone with Ed Wing's stature, intellect, proven experience, and familiarity with Brown and our hospital partners," Simmons said. "I am persuaded that he has the highest expectations for the Division of Biology and Medicine, that he will maintain the appropriate standards for academic medicine, and that, in implementing our strategic plan, he will strengthen both. I look forward to working with him to achieve those aims."
Brown's Division of Biology and Medicine is the center of Rhode Island's biomedical research and medical education enterprise. With an annual budget of $129 million, 769 campus- and hospital-based faculty, and more than 1,200 community-based faculty, the division oversees 660 undergraduate students and more than 1,000 medical residents, fellows, graduate students, postdoctoral students and medical students. The division is composed of The Warren Alpert Medical School, the Program in Biology, and the Program in Public Health.
"Ed Wing is a nationally recognized leader in medicine, known for his deep devotion to biomedical research and education and to providing outstanding medical care. He will be a dynamic leader for the Division of Biology and Medicine and the Alpert Medical School," said Brown Provost David I. Kertzer.
As the senior academic and administrative officer for the Division of Biology and Medicine and the Alpert Medical School, Wing will provide leadership for a series of life-science investments announced by the University in the spring of 2004. He will be responsible for the division's programs of life science research and instruction, including course offerings and research opportunities for undergraduate, graduate and medical students. As dean, Wing will be responsible for overseeing the Alpert Medical School's partnerships with area hospitals and health care systems and will serve as the chief academic officer for each of those partnerships.
"I am honored to have been selected as dean of medicine and biological sciences at Brown. This is a time of tremendous opportunity for the University and the division," Wing said. "As dean, I hope to continue to foster the upward momentum of the division and to lead the division to become one of the best in the country. I want to thank President Simmons and Provost Kertzer for this extraordinary opportunity."
Since 2004, Brown has invested more than $230 million in expanding its life sciences faculty, facilities, and equipment. It has increased its life-science research space by more than 75 percent with the opening of two laboratories – the Sidney E. Frank Hall for Life Sciences and the Laboratories for Molecular Medicine.
Wing's appointment comes after a search by an internal advisory committee chaired by Kertzer. Committee members consulted widely with the campus community, including department chairs, administrators and senior leaders in the division, student representatives, leaders of affiliated hospitals and other groups.
Simmons thanked Adashi for his service and for the momentum the division has developed in the last three years. "Dean Adashi has accomplished a great deal for the division and the University during his tenure at Brown," Simmons said. "He has strengthened our research and instruction programs in the life sciences and enhanced our relationships with our hospital partners. We thank him for his service and dedication."
Edward J. Wing, M.D.
A native of Port Washington, N.Y., Wing earned his B.A. in chemistry from Williams College and his medical degree from Harvard Medical School. He completed his postgraduate training as a resident at the Peter Bent Brigham Hospital and as a fellow in infectious diseases at Stanford University.
Wing began his career in medicine at the University of Pittsburgh School of Medicine, where he rose through the ranks from assistant professor of medicine in 1977 to executive vice chairman and vice chairman for clinical programs and interim chairman of the Department of Medicine from 1995-1997. He joined Brown in 1998 as chair of the Department of Medicine.
Wing is a specialist in infectious diseases. He has been a reviewer for more than 20 medical journals, as well as the author or co-author of more than 90 peer-reviewed articles and presentations, and chapters in 18 books. Wing has received research grants from the National Institutes of Health and several foundations and companies. He has held a number of teaching positions at Pittsburgh and Brown, where he has supervised the research of medical students and postdoctoral fellows.
Wing is married to Rena Rimsky Wing, a researcher in the behavioral management of obesity, particularly its relationship to type 2 diabetes. They have two sons, Jonathan and Kenneth.
Faculty Advisory Committee
Members of the Faculty Advisory Committee included:
Andrew Artenstein, physician-in-chief, Department of Medicine, Memorial Hospital;
Barry Connors, chair and professor of medical science, Department of Neuroscience;
Michelle Cyr, director, Division of General Internal Medicine, Rhode Island Hospital;
Susan Gerbi, professor of biology, Department of Molecular Biology, Cell Biology, and Biochemistry;
Vincent Mor, chair and professor of medical science, Department of Community Health;
Maureen Phipps, associate professor of obstetrics and gynecology, Women & Infants Hospital;
David Rand, professor of biology, Department of Ecology and Evolutionary Biology;
Brian Zink, chair, Department of Emergency Medicine, Rhode Island Hospital and Miriam Hospital.
Pardon R. Kenney, M.D., served as a medical alumni representative. He is a member of the Advisory Council of the Division of Biology and Medicine, former president of the Brown Medical Alumni Association, and member of Brown's first graduating M.D. class.
Editors: Brown University has a fiber link television studio available for domestic and international live and taped interviews and maintains an ISDN line for radio interviews. For more information, call the Office of Media Relations at (401) 863-2476.
See also additional background on the Division of Biology and Medicine.
######