PROVIDENCE, R.I. [Brown University] — Tommy Thompson, who served as the nation's leading advocate for health and welfare as secretary of Health and Human Services, will deliver the ninth annual Dr. and Mrs. Frederick W. Barnes Jr. Lecture in Public Health on Tuesday, April 8, 2008. The lecture, "The Uninsured: Missed Opportunities for Improving Population Health," begins at 4 p.m. in Andrews Hall on the Pembroke Campus at Brown.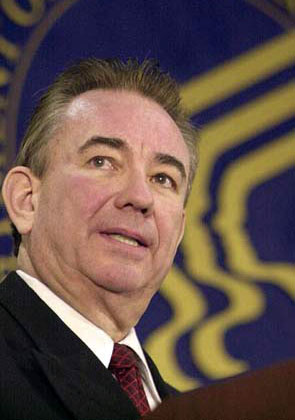 The Barnes lecture is free and open to the public. The Program in Public Health of Brown University's Division of Biology and Medicine sponsors the event. The Taubman Center for Public Policy, the Rhode Island Public Health Association, and Pfizer co-sponsor it.
Thompson is known for his public service as Wisconsin's first four-term governor, as Health and Human Services secretary, and as a Wisconsin state representative. Thompson considered running for U.S. president in the 2008 election.
In his lecture at Brown, Thompson will talk about the plight of people without health insurance, who, according to the U.S. Census Bureau, total nearly 46 million Americans and represent 16 percent of the population.
Thompson will discuss the implications of the lack of health coverage, particularly the lost preventive health care opportunities that stem from limited access to primary care. According to studies, the uninsured are less likely to get preventive screenings, such as mammograms and cholesterol checks, and more likely to be hospitalized for preventable conditions such as diabetes and pneumonia. They are also more likely to be diagnosed with late-stage cancers.
Thompson served as the 19th secretary of Health and Human Services from 2001 to 2005, overseeing a department with more than 60,000 employees and a 2001 budget of $429 billion. As secretary, Thompson pushed to increase access to health care and, as governor of Wisconsin, extend health insurance to low-income children and families.
Thompson now serves as president of Logistics Health Incorporated, a Wisconsin-based occupational health services company that provides medical and dental care to government and commercial clients. He also is senior partner at Akin Gump, a Washington, D.C., law firm, and is a senior adviser at the consulting firm Deloitte and the chairman of the Deloitte Center for Health Solutions.
James S. Zisson, a 1974 Brown graduate, established and endowed the Barnes Lectureship in Public Health in memory of Norma and Miles Zisson, a 1938 alumnus. The lectureship honors the late Frederick Barnes, M.D., a founding faculty member of Brown's medical school, and his late wife, Catherine.
Editors: Brown University has a fiber link television studio available for domestic and international live and taped interviews and maintains an ISDN line for radio interviews. For more information, call the Office of Media Relations at (401) 863-2476.
######