PROVIDENCE, R.I. [Brown University] — Bolivian President Evo Morales, that country's first indigenous head of state, will deliver a Stephen A. Ogden Jr. '60 Memorial Lecture on International Affairs on Tuesday, April 22, 2008. Morales's address, titled "From the Andes: New Visions, New Voices," will begin at 4 p.m. in Sayles Hall. Doors will open at 3 p.m.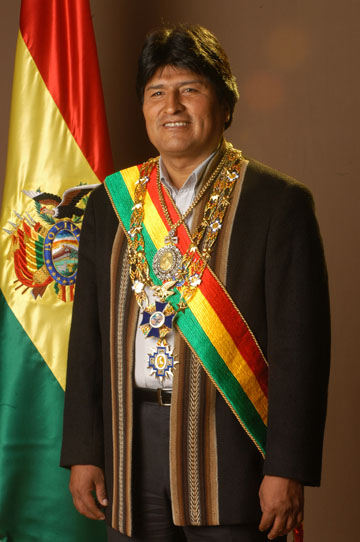 "As Bolivia's first indigenous president, Evo Morales offers a unique perspective on Latin American affairs and on the effects of U.S. foreign policy in the region," said Brown President Ruth J. Simmons. "He will provide a new voice to our continuing dialogue on Latin America."
Morales's visit to Brown comes during a year when the University is hosting lectures, exhibitions, events, and film series with a focus on Latin American issues. The year's inaugural event in October 2007 featured Fernando Henrique Cardoso, former president of Brazil, and Ricardo Lagos, former president of Chile, discussing social and economic inequality in Latin America. Lagos and Cardoso are professors-at-large at Brown, based at the Watson Institute for International Studies.
On April 9-12 2008, writer Carlos Fuentes and former heads of state from Chile and Spain are joining dozens of historians, literary scholars, and writers from Europe and the Americas for a conference to celebrate the bicentenary of Latin American independence.
Other related events this spring included a Brazilian Film Festival and a lecture by Antonio Patriota, the ambassador of Brazil to the United States. Also this year, the Center for Latin American Studies is celebrating its 25th anniversary as a center and 35th anniversary as an undergraduate concentration at Brown.
Evo Morales
Morales was born in October 1959 to a poor Aymara family in the town of Orinoca in the Bolivian highlands. As a young boy he worked as an agricultural laborer and llama herder. To pay for his studies, Morales later worked as a brick maker, baker, and musician.
Having left his formal studies at the Beltrán Ávila de Oruro high school, Morales began his political career in 1983 when he was named sports secretary for his union. Advancing rapidly, he was named secretary general in 1985, executive secretary of the Confederation of the Region in 1988, and president of the Coordinating Committee of Six Federations of the Region of the Chapare in Cochabamba in 1996. Morales was also active in political issues in Cochabamba, such as the controversy over water privatization in the region, which threatened to make water inaccessible to most of the poor population.
Morales became active in the national government in 1997, when he was first elected as a representative to the National Assembly. In the late 1990s, Morales became leader of a left-leaning political party, which won an astonishing 36 seats in congress in the 2002 elections. When Morales ran for president in 2005, he won with 53 percent of the vote. He has made redressing the effects of centuries of discrimination and oppression experienced by Bolivia's indigenous groups a top priority of his presidency. Approximately 60 percent of Bolivia's population is indigenous.
The principle measures of his government have been the nationalization of hydrocarbons, redistribution of land to indigenous peoples, and the installation of the Constituent Assembly.
Stephen A. Ogden Jr. '60 Memorial Lecture
Since 1965, the Ogden Lectureship has presented the University and its neighboring communities with 77 authoritative and timely addresses about international affairs. The lectureship was established in memory of Stephen A. Ogden Jr., a member of the Brown Class of 1960, who died in 1963 from injuries he suffered in a car accident during his junior year. His family created the series as a tribute to Ogden's interest in advancing international peace and understanding.
Dozens of heads of state, diplomats, and observers of the international scene have participated in the series, including Queen Noor of Jordan, former President of the Soviet Union Mikhail Gorbachev, President of Brazil Fernando Henrique Cardoso, former Canadian Prime Minister Kim Campbell, media mogul Ted Turner, astronaut Sen. John Glenn, and economist Paul Volcker.
The audience will have an opportunity to ask questions following the lecture. This event is free and open to the public. For more information, contact the Office of University Events at (401) 863-2474.
Editors: Morales will hold a brief press availability immediately following his address. The session will be held in Sayles Hall, Room 014. Credentials are required for the speech and the press availability. Please e-mail Wendy Lawton or call (401) 863-1862 by noon on Friday, April 18, for credentials.
Brown University has a fiber link television studio available for domestic and international live and taped interviews, and maintains an ISDN line for radio interviews. For more information, call (401) 863-2476.
######