Gastrointestinal Stromal Tumor (GIST)
CLINICAL HISTORY
An 82 year old male presented with a mass in the left upper quadrant. Imaging revealed an 8 cm gastric mass. At the time of surgery, this mass was identified at the greater curvature at the proximal stomach.

GROSS EXAMINATION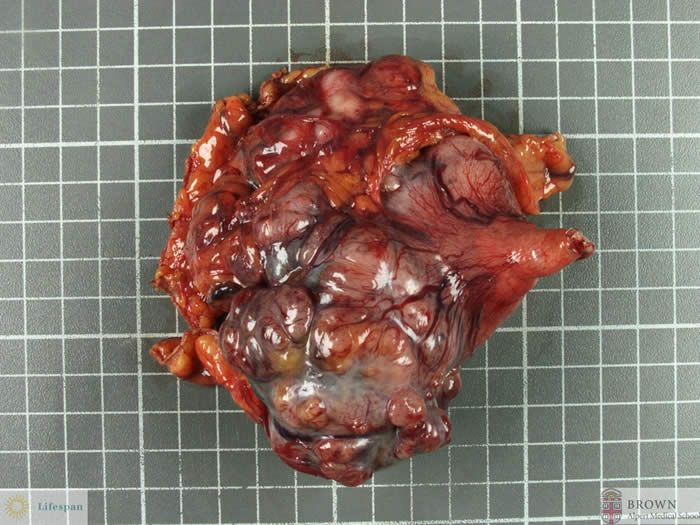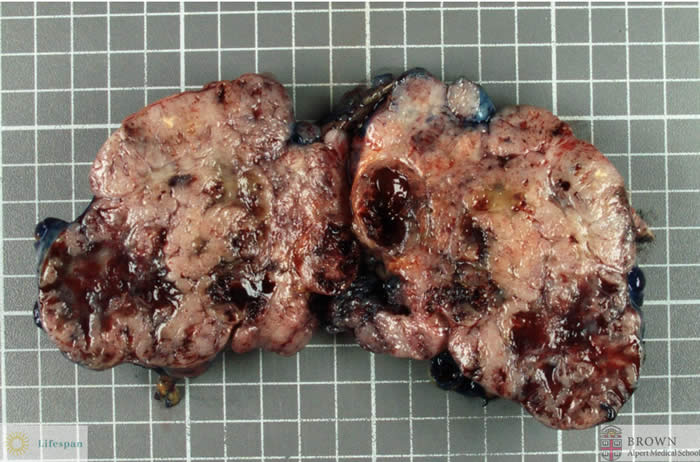 The specimen received was that of a large nodular mass and a small segment of stomach. The mass measured up to 10.5 cm in diameter and on cross section was white and solid in areas, while other areas were cystic.

MICROSCOPIC EXAMINATION
The submucosal mass was comprised of mainly spindled cells, many of which had a characteristic perinuclear cytoplasmic vacuolization pattern. Focally some tumor cells appeared epithelioid. The mitotic count was as high as 35 per 50 high power fields. Focal tumor necrosis was also identified.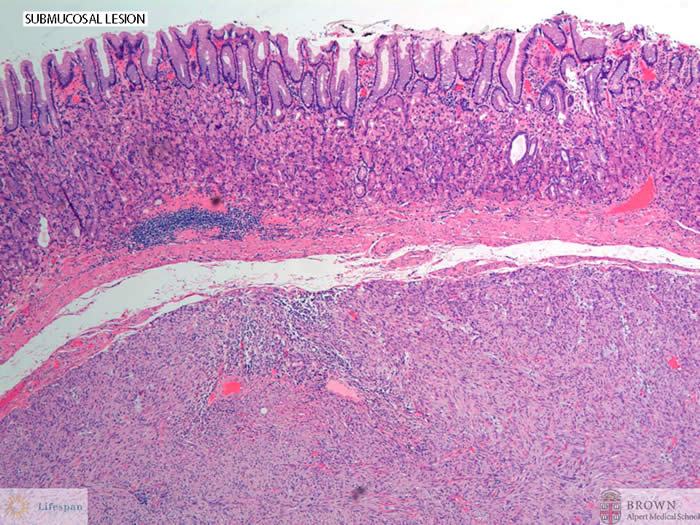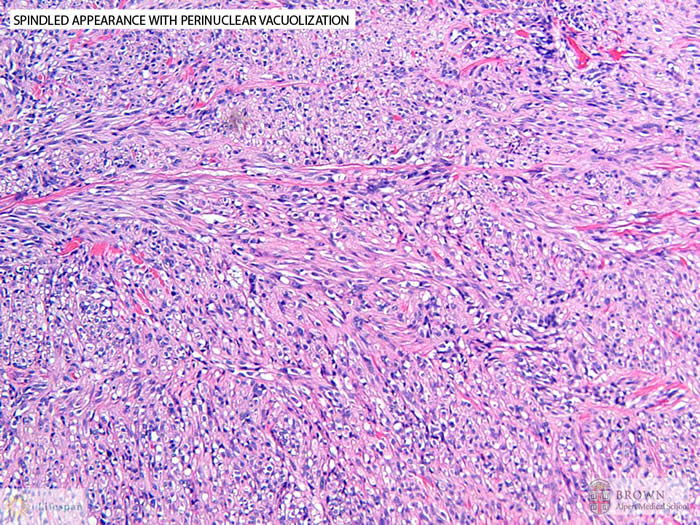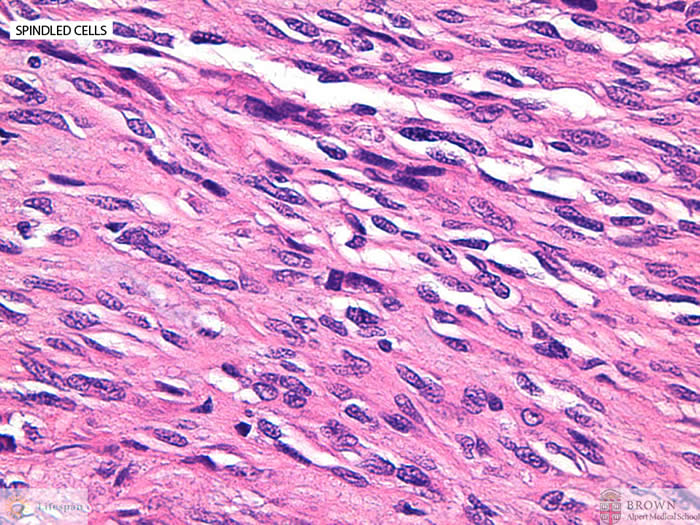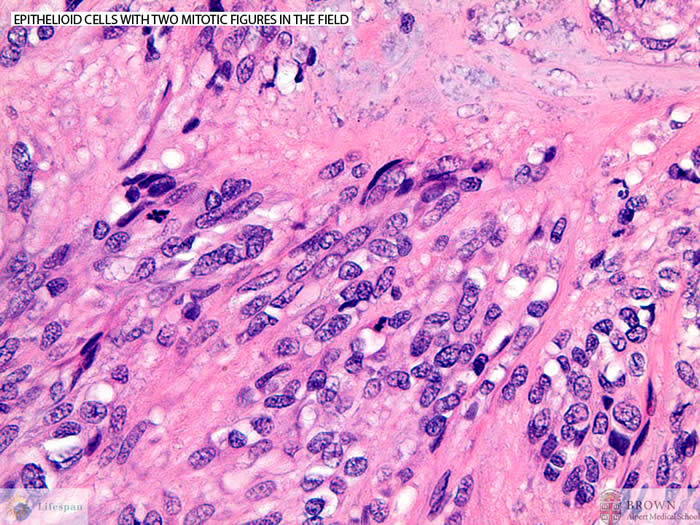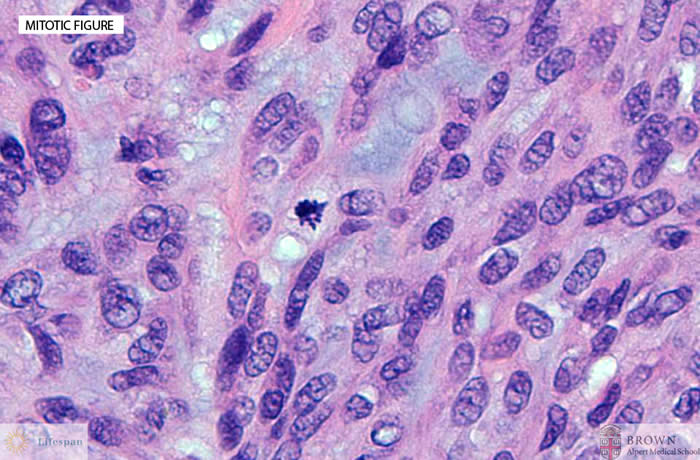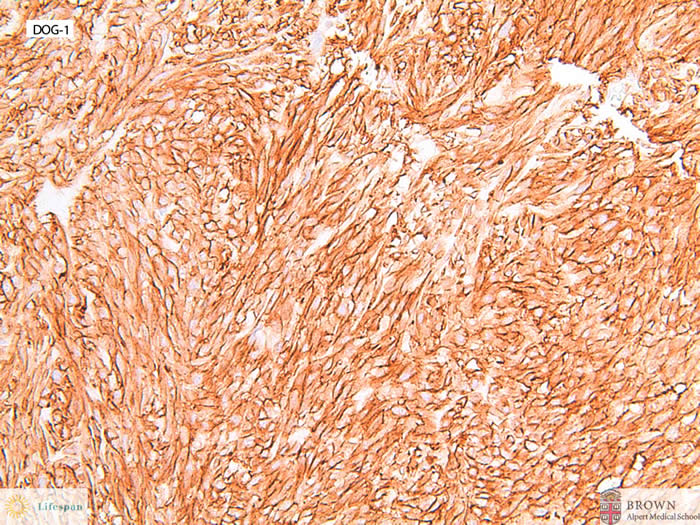 The lesion was also positive for DOG-1.
DIAGNOSIS
Based on morphologic and immunohistochemical findings, the lesion was classified as a high grade gastrointestinal stromal tumor.
DISCUSSION
Gastrointestinal stromal tumors account for up to 2.2% of all gastric tumors and generally affects adults between the 6th and 8th decade. These lesions are most commonly encountered in the stomach (60-70%), less so in the small intestine (20-30%) and even less in the colon, rectum and esophagus (<10% all together).
Lesional cells are derived from the pacemaker cells of the stomach, otherwise known as the interstitial cell of Cajal. Immunohistochemically, most GISTs are positive for CD117 (c-kit) and virtually all are positive for DOG1 (Discovered On GIST-1).

Malignancy is assessed on two main criteria: size and mitotic counts. Tumors <5cm are usually considered benign. Low grade malignant tumors are usually those less than 5 cm in size with up to 5 mitoses per 10 high power field (hpf). Tumors larger than 5 cm with counts less than 5 per hpf are designated uncertain malignant potential. Larger tumors, especially those greater than 10 cm have been shown to be more aggressive despite lower mitotic counts. Histologic grading is based on the mitotic activity. Low grade refers to tumors with 1-5 mitoses/10 hpfs, whereas high grade refers to tumors with >10mitoses/10hpf.

C-kit mutation is the most common genetic mutation in up to 95% of these lesions. The kit gene is located on chromosome 4q12. The gene codes for a transmembrane receptor with tyrosine kinase activity. In cytogenetic studies, loss of chromosome 14 and 20 are common in both benign and malignant GISTs. Loss in1p and chromosome 15 occurs less frequently. High level amplifications and gains in 3q, 8q, 5p and Xp are noted in malignant GISTs.
REFERENCE
WHO Classification Tumors of the Digestive System 4th Ed. 2000
Rosai J. Rosai and Ackerman's Surgical Pathology. 10th Ed. 2011

Contributed by Sonja Chen, MD and Murray Resnick, MD PhD