Langerhans Cell Histiocytosis
The patient was a 55 year old male smoker with history of an undifferentiated carcinoma of small bowel with involvement of the adjacent pancreas and grossly positive surgical margin at the time of resection.
Follow up was unremarkable until six years later when he developed multiple small nodules in the right lower lobe of the lung which appeared to be growing in size with central cavitation. The radiological differential diagnosis included metastatic carcinoma, primary lung adenocarcinoma and benign lesions (eosinophilic granuloma, etc.). A wedge resection was performed.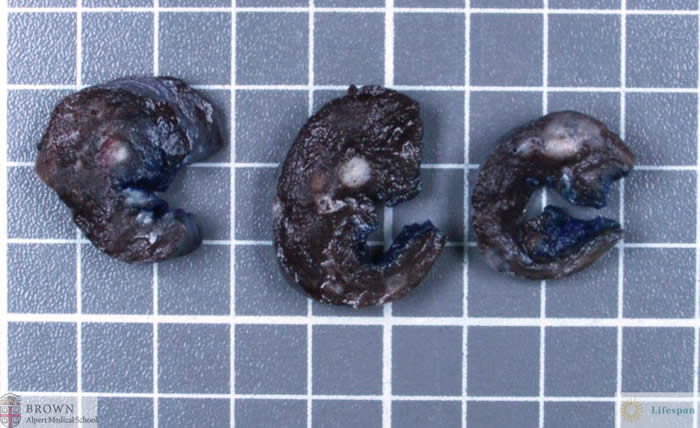 Resection revealed multiple white well circumscribed nodules ranging from 0.4 to 0.8cm occupying approximately 80% of the lung wedge. The remaining lung parenchyma appeared grossly congested.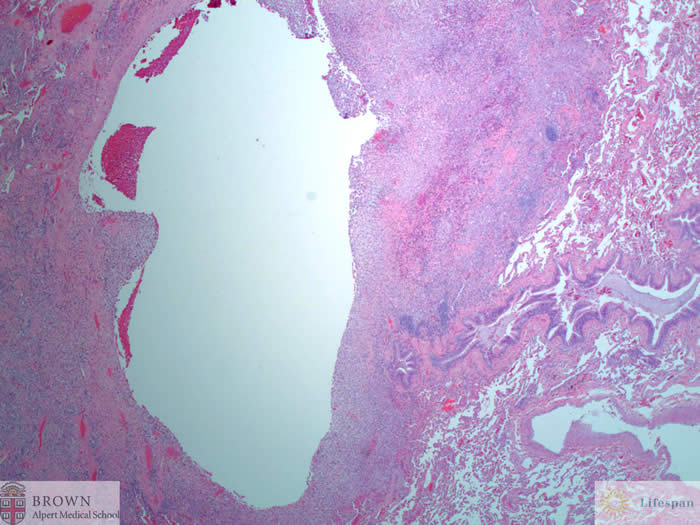 Microscopically, the lesions were comprised of nodular aggregates of large foamy histiocytic cells with associated pigment laden macrophages, lymphocytes and eosinophils surrounding a central cavity.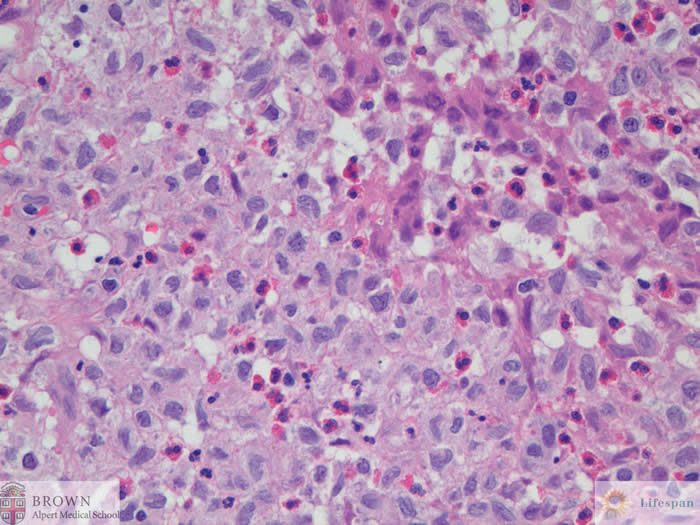 The larger cells had pale eosinophilic cytoplasm with sharp nuclear infoldings and conspicuous mitotic activity (not shown).
CD68 highlights the lesional cells.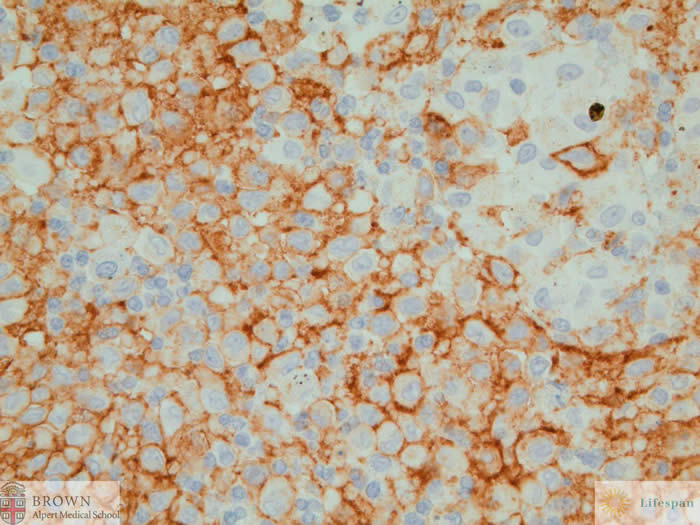 CD1a highlights the lesional cells.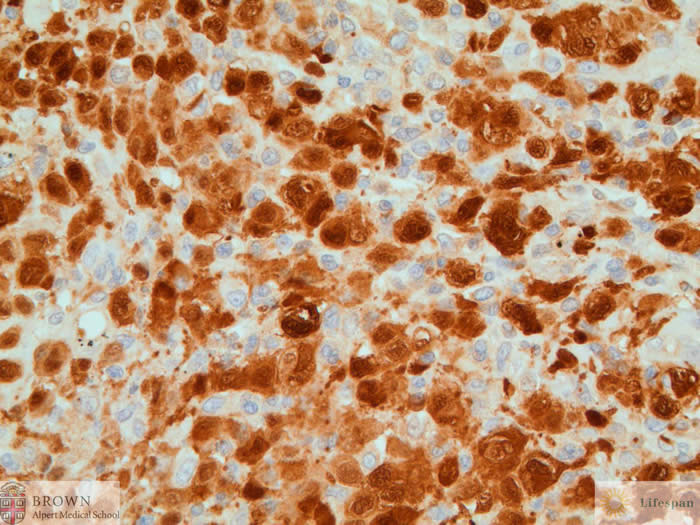 S100 highlights the lesional cells.
The lesional cells were positive for S100, CD1a and CD68. They were negative for keratin cocktail, TTF1, P63, CK5/6, Calretinin and EMA. The proliferation index was increased, at approximately 15%. The morphology and immunohistochemical phenotype was supportive of a diagnosis of Langerhans cell histiocytosis. Surgical margin was free from the lesion. Adequate sampling did not reveal any residual carcinoma.
The diagnosis is Langerhans cell histiocytosis.
Pulmonary Langerhans cell histiocytosis predominantly affects young adults between the ages of 20 - 40 years. The pathologic hallmark is the accumulation of Langerhans and other inflammatory cells in the small airways, resulting in a nodular distribution of disease. Eventual destruction of bronchiolar walls leads to the characteristic finding of cavitation on imaging. The majority of patients who develop this entity are smokers but the mechanism by which this entity comes about is still unknown. Cessation of smoking has been found to lead to complete or partial remission of the disease. Langerhans cells, being histiocytes, are positive for histiocyte marker CD68 but are also characteristically positive for both CD1a and S100.
Contributed by Sonja Chen, MD and Dr. Ali Amin