Maat
Maat = "Straight": i.e. law and order. Egyptian goddess of truth and justice. She was associated with Thoth, Ptah and Khnemu in the Egyptian Creation. She was a goddess of the underworld, sitting in judgment over the souls of the dead in the Judgment Hall of Osiris.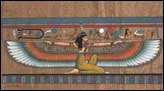 La precisione per gli antichi Egizi era simboleggiata da una piuma che serviva da peso sul piatto della bilancia dove si pesano le anime. Quella piuma leggera aveva nome Maat, dea della bilancia. Il geroglifico di Maat indicava anche l'unità di lunghezza, i 33 centimetri del mattone unitario, e anche il tono fondamentale del flauto
Translation: For the ancient Egyptians, exactitude was symbolized by a feather that served as a weight on scales used for the weighing of souls. This light feather was called Maat, goddess of the scales. The hyerogliph for Maat also stood for a unit of lenghth - the 33 centimeters of the standard brick – and for the fundamental note of the flute.



Maat


Giorgio De Santillana


Leopardi


Musil


Valery


Poe


Mallarmé


Ponge


Hoffmanstahl


Wittgenstein


Leonardo da Vinci

Kublai's Atlas


Hyperpolyhedra


Leibniz


Crystal


Flame