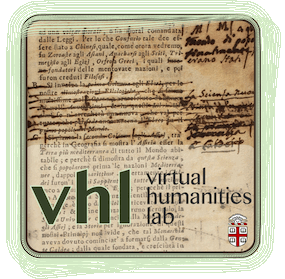 The Virtual Humanities Lab at Brown University (VHL) was created in 2004 thanks to a two-year grant from the National Endowment for the Humanities. The VHL builds on the work done by Brown scholars over the past 15 years in the Departments of Italian Studies, History and History of Art and Architecture, in collaboration with the Brown Scholarly Technology Group and scholars worldwide. Its goal is to develop digital resources for the study and teaching of Italian literature, history and culture, from the Middle Ages to the 21st-century.
April 16-18, 2015: Scholarly Networks and the Emerging Platforms for Humanities Research and Publication
Storify. https://storify.com/emylonas/networks-and-the-emerging-platforms-for-humanities
Lab People (see individual project pages for a complete list of contributors and collaborators)
Director: Massimo Riva (Italian Studies)
Brown Advisory Board: Evelyn Lincoln (History of Art & Architecture), Andrew Ashton, Director, Library Digital Technologies (Center for Digital Scholarship), Elli Mylonas, (Digital Librarian, Center for Digital Scholarship).
Worldwide Advisory Board: Guyda Armstrong (University of Manchester, UK); Francesco Borghesi (University of Sydney, Australia); Dino Buzzetti (University of Bologna, Italy); Massimo Lollini (University of Oregon at Eugene); Michael Papio (University of Massachusetts at Amherst); Federica Pedriali (University of Edinburgh, UK); Ernesto Priani Saiso (Universidad Nacional Autonoma de Mexico); Francesca Tomasi (Centro Risorse per la Ricerca - Multimedia, University of Bologna, Italy); Marialaura Vignocchi (Alma Mater Digital Library, University of Bologna, Italy); Vika Zafrin (Institutional Repository Librarian, Boston University).
In its current scope, the VHLaboratory provides a portal for interdisciplinary projects in Italian Studies at Brown and a platform for the encoding and annotations of a mini-corpus of late Medieval and humanist texts, including: Giovanni Villani, Nuova Cronica; Giovanni Boccaccio, Decameron and Esposizioni sopra la Comedia di Dante; Giovanni Pico della Mirandola, Oratio De Hominis Dignitate and Conclusiones Nongentae. This platform is accessible to participating collaborators only. To become a collaborator, contact us at: vhl@brown.edu