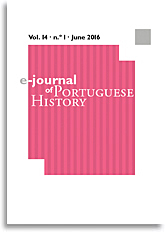 Portuguese History in a Global Context
(Brown University, October 2012) (4th part)


In 2012, the e-Journal of Portuguese History celebrated its 10th anniversary. In order to commemorate this date, the Editors organized a conference entitled, "Portuguese History in a Global Context," which took place at Brown University, Providence, Rhode Island, on October 12–13, 2012.
The conference consisted of three round tables (one on historians, one on key issues in Portuguese historiography, and the third one on influential books). The aim was to gather scholars of different academic backgrounds to discuss relevant topics and themes of the history of Portugal in an international context.
Of all the papers presented, the e-Journal of Portuguese History has now published a total of 12 texts. Two of them were published autonomously (Summer, 2012 and Summer, 2013), whereas the remaining ten were distributed in four groups (Summer and Winter, 2013, and Summer 2014, as well as in the present issue).
It is, therefore, with pleasure that we announce the publication of the final set of papers presented at the aforementioned conference, which constituted an important event in the life of our e-JPH. Indeed, it allowed us to put in perspective a set of issues that have emerged as particularly relevant during the ten years of experience gained in the production of this journal.
The Editors
---
Copyright 2016, ISSN 1645-6432
e-JPH, Vol. 14, number 1, June 2016