Kailash C. Agarwal, Ph.D.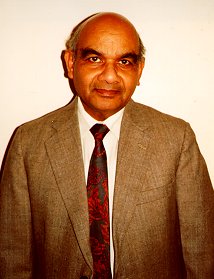 Professor (Research), Department of Molecular Pharmacology, Physiology, and Biotechnology
Division of Biology and Medicine
Brown University
Providence, RI 02912
Telephone: (401) 863-1603
Fax: (401) 863-1595
E-mail: kagarwal@brownvm.brown.edu
Dr. Agarwal has been doing research at Brown University since September, 1968. His research interests include the development of antithrombotic and cardiovascular drugs from medicinal plants, marine organisms, and synthetic sources.
Societies and Memberships
International Society of Thrombosis and Haemostasis
American Society of Pharmacology and Experimental Therapeutics
American Heart Association (Council on Thrombosis)
American Herb Research Foundation
Indian Academy of Neuroscience
Major Research
Identified new active principles with strong antithrombotic activities in garlic and Chinese mushroom (black-tree fungus, Mo-er).

Led project for Phase II antithrombotic drug testing for an international pharmaceutical company for biochemical and pharmacological effects on platelets.

Identified a new biochemical action explaining the mechanism of action for a widely used anti-stroke drug.

Discovered antithrombotic activity of a commercially used antihyperlipidemic drug.
Worked out a definitive mechanism of action for a widely used vasodilatory and antiplatelet drug.
Discovered a unique biochemical property of forskolin, a diterpene from an Indian medicinal plant, Coleus forskohlii. This unique biochemical property suggests that forskolin could be a potentially important drug for thromboembolic disorders, hypertension, and cancer.
Obtained U.S. Patent on "Treatment of Cancer Metastasis by FORSKOLIN and its Derivatives."
Reported that a low-dose aspirin (81 mg of baby aspirin) when administered sublingually, may prevent complications caused by acute myocardial infarction. Our studies suggest this low-dosage of aspirin may be taken every fifth day sublingually by patients with coronary artery disease to prevent heart attack and stroke.
Conducted a clinical study (Co-Director) on "Cardiovascular Protective Effects of Garlic" in hyperlipidemic patients.
Other Professional Activities
Reviewed papers from several National and International Journals
Member of the Study Section, National American Heart Association
Member of American Cancer Society Institutional Grant Award Committee (1985 - 1994)
Chairman, Science Award Committee, and member of executive committee, Association of Scientists of Indian Origin in America, 1992-1993
Member of Executive Committee, South Asian Society on Atherosclerosis & Thrombosis, 1993-1996
Scientist Award, sponsored jointly by the Government of India and United Nations in the TOKTEN program (1994-1995)
Publications (Selected from 61 full publications and 76 Abstracts)
Forskolin: A Potential Antimetastatic Agent.
K.C. Agarwal and R.E. Parks, Jr.
Int. J. Cancer 32, 801-804 (1983.)
Garlic (Allium Sativum): Antithrmobotic Actions
K.C. Agarwal
Drug News and Perspectives 5, 592-594, (1992.)
Effect of Dipyridamole Therapy on Myocardial Ischemia in Patients with Stable Angina Pectoris Receiving Concurrent Anti-ischemic Therapy.
M.M. Barbour, C.E. Garber, K.C. Agarwal, R. Malhotra, and G.V. Heller
Am. J. Cardiol. 69, 449-452, (1992.)
Platelet-Activating Factor (PAF)-Induced Platelet Aggregation: Modulation by Plasma Adenosine and Methylxanthines.
K.C. Agarwal, E. Clarke, S. Rounds, R.E. Parks, Jr., and Huzoor-Akbar
Biochem. Pharmacol., 48, 1909-1916 (1994.)
Platelet Aggregation and Inhibitors.
K.C. Agarwal
In: Principles of Cell Adhesion, (M. Steiner and P.D. Richardson, eds.), CRC Press, Boca Raton, FL, 287-238 (1995.)
Therapeutic Actions of Garlic Constituents.
K.C Agarwal
Medicinal Research Reviews, 16, 111-124 (1996.)
Purines and Regulation of Platelet Activation.
K.C. Agarwal
In: Purines and Myocardial Protection (A.S. Abd-Elfattah and A.S. Wechsler, eds.), Kluwer Academics, 409-418 (1996.)
Antiplatelet Effects of a Low-Dose Aspirin Following Sublingual Administation
A. Garg, R.P. Miech, and K.C. Agarwal
FASEB J. 10 (1996.)
_____________________________________________
Contact Dr. Agarwal at kagarwal@brownvm.brown.edu