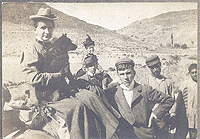 Harriet Boyd Hawes with dog at Dephi (?), n.d. Blanche Wheeler Williams in the background. Courtesy of the Smith College Archives.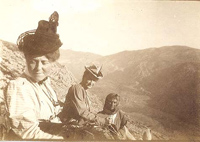 Group after leaving Delphi, on the way up Parnassus. Blanche Wheeler Williams on left. Courtesy of the Smith College Archives.
Blanche Wheeler Williams, a Smith graduate and teacher at the Wheeler School in Providence, RI, was also a friend and colleague of the noted archaeologist, Harriet Boyd Hawes. She was born in 1870 in Concord, Massachusetts and attended Smith from 1888 to 1892, where she studied classical languages, art history, and studio art. She taught Latin, Greek and English at her auntís preparatory school in Providence from 1892 until her marriage in 1904 to Emile Francis Williams, a Boston oriental rug importer, amateur botanist and Chinese porcelain collector.
At Smith she befriended a fellow student named Harriet Boyd (later Harriet Boyd Hawes). When Harriet was making plans to begin an excavation on the island of Crete, she invited Blanche to accompany her. In the spring of 1901, they set out to travel the rough and at times dangerous roads of Crete. After some initial forays into other areas, they settled on an area near the Isthmus of Hierapetra, along the north-eastern shore of Crete. Within a brief period of excavation they realized they had discovered an important Bronze Age town site, later named Gournia. This was the first discovery of a Bronze Age town that was comparable to the palace sites of Knossos and Phaestos.
Blanche only participated in the excavation this one year, but she remained a friend and confidant of Harriet Boyd Hawes all her life. She published some of the first yearís finds in Harrietís book, Gournia, Vasiliki and Other Prehistoric Sites on the Isthmus of Hierapetra Crete. Excavations of the Wells-Houston-Cramp Expeditions. 1901, 1903, 1904.

Author of biography: Anne Windham, Ph.D.
Includes bibliography? Yes
Download biography (in PDF format)