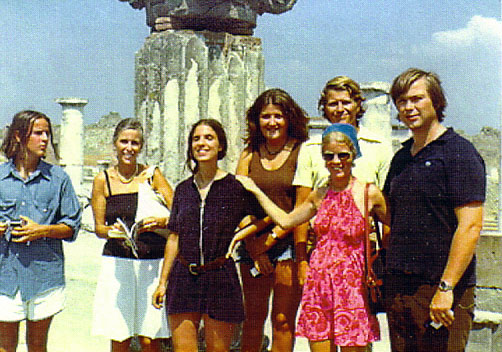 Betsy Whitehead with her children. Elizabeth Grace Augustus Whitehead was born near Cleveland Ohio on June 17, 1928. Betsy, as she was known, graduated from Sarah Lawrence College in 1950 and married Curtis Jones in 1952; they had three children. In 1961 she traveled to Greece and thereafter enrolled in graduate studies at the University of Pennsylvania where she studied with Rodney Young, Roger Edwards, James Pritchard and George Bass. In 1965 she joined the University of Pennsylvania Museum's excavations at Gordion (Turkey) and in 1967 she excavated in Italy near Sybaris.





After her divorce from Jones, in 1969, she married Edwin C. (Jack) Whitehead who founded the biomedical research firm, Technicon Corporation. In 1971 she was appointed General Secretary of the Archaeological Institute of America (AIA) serving there for seven years. At the AIA she created a number of initiatives including the AIA Committee on American Archaeology and the AIA Committee on East Asian Archaeology. She was named an AIA 'Honorary Fellow for Life.' In 1978 she retired from the AIA to devote her time to the American School of Classical Studies at Athens (ASCSA). She had become a trustee of the school in 1972 and President of the Board in 1976.





She was instrumental in raising the funds for the ASCSA Centennial Campaign, which solidified the endowment and put the school on a firm footing with the Gennadius Library, the installation of the Ibycus system and the ASCSA Newsletter publication. Besides being elected as a trustee for Sarah Lawrence College, she served on many boards including the Society of Professional Archaeologists, the American Institute of Nautical Archaeology and the Institute for Advanced Study at Princeton. Having fought pulmonary fibrosis for ten years she died in 1983. The ASCSA endowed two named professorships in memory of her dedication and devotion.
Author of biography: Doreen C. Spitzer
Includes bibliography? Yes
Download biography (in PDF format)