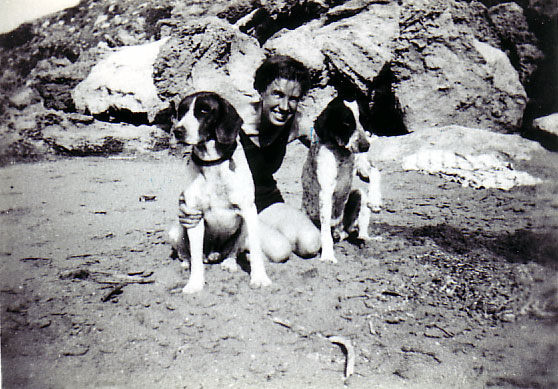 Veronica Seton-Williams with dogs. Courtesy N. Hirschfield.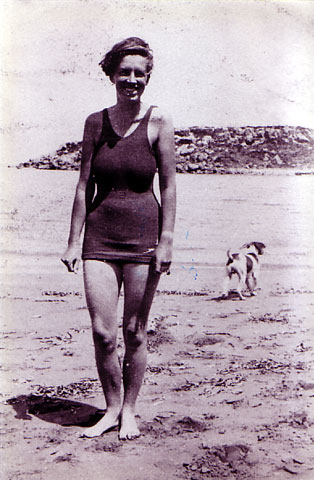 Veronica Seton-Williams on a beach. Courtesy N. Hirschfield.
Australian-born archaeologist for the Near East, who as a young girl of seven was already attracted to ancient Egypt. Later she majored in History at the University of Melbourne, while studying hieroglyphs with a tutor. Seton-Williams left for England in 1934 and dug that summer with the Wheelers in Dorset, enjoying the experience of field archaeology. She followed their advice to enter the field of British Prehistory in which she earned a post-graduate diploma. She also attended the classes of Egyptologist Margaret Murray at University College London and through her influence was chosen to join Petrie to dig in the Sinai. Thus in 1935, Seton-Williams finally visited Egypt. Next she was invited to join John Garstang at Jericho. During the summer of 1936, she joined Wheeler again at Maiden Castle and there met Joan du Plat Taylor, with whom she shared the rest of her life. Another season with Garstang in Southern Turkey followed. Summer was spent on Cyprus, working with du Plat Taylor in its museum at Nicosia. For years this pattern of winter fieldwork in Western Asia and summer duty on Cyprus would continue. Finally Sydney Smith persuaded Seton-Williams to get a professional degree in Near Eastern archaeology, which she did under Max Mallowan. She began teaching adult education courses in London, succeeding Margaret Murray in the ancient Egypt courses. The Second World War saw her in civil defense and more bureaucratic positions. By the 1960's she was engaged by Swan Nile Cruises to lecture and would accompany one hundred of these. The Egypt Exploration Society asked her to take charge of their concession in the Delta at Tell el-Fara'in, which due to lack of funds was not a success and she quit the site in 1968. In retirement Seton-Williams was an Honorary Research Fellow at University College London and produced several books. Her career took her over a large swath of the Old World and she mastered many languages, cultures and time periods and as a person was fearless, dedicated, tenacious and single minded in pursuit of accurate facts.
Author of biography: Barbara S. Lesko
Includes bibliography? Yes
Download biography (in PDF format)