Dov Sax
Associate Professor
Email: dov.sax@gmail.com
Office: (401) 863-9676

CV Publication PDFs
Dov's work examines species' responses to climate change, the impacts of species invasions, the timing of species extinctions, and the mertis of alternative conservation strategies.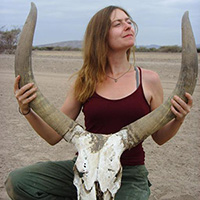 Sarah Ivory
Voss Postdoctoral Fellow
https://sarahivorypollen.wordpress.com/
Sarah's work in the Sax Lab examines how paleoecological and modern data can be used in complimentary ways to understand the factors that limit species distributions and how species will respond to future changes in climate.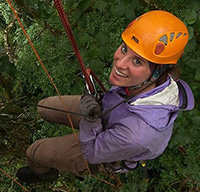 Emily Hollenbeck
PhD Student

Emily's dissertation explores whether tropical species can mitigate the effects of climate change through elevational range shifts. She is studying epiphytic species along climatic and elevational gradients in Monteverde, Costa Rica. Her work integrates biogeographic and local scale data to investigate the controls on species' niche boundaries, with an aim of predicting species' risks from climate change.

Donny Perret
PhD Student

Donny is interested broadly in global change ecology. He has a special interest in understanding how species geographic distributions will shift in response to changes in climate.
Sam vanDeurs
Research Technician

Sam is interested broadly in ecology and global change. She is a key leader in the labs's efforts to explore the factors that limit the geographic distributions of plants, using naturalized and horticultural distributions as a novel source of insight on the importance of climate in setting range boundaries.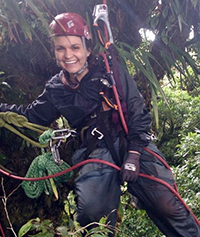 Yesenia Valverde
Undergraduate Researcher

Yesenia is interested broadly in tropical forest biology and conservation. After studying epiphytes in Monteverde, she invested time in learning mist netting techniques for birds and bats. She is now conducting a senior thesis exploring change in avian communities in response to climate change using data she collected mist netting birds in Costa Rica.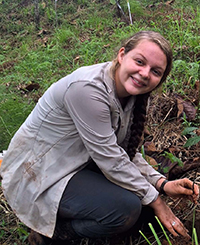 Bailey McLaughlin
Undergraduate Researcher

Bailey is interested in the conservation challenges associated with global change. Her senior thesis investigates the evidence that tree species in North America that were once dispersed by megafauna (such as now extinct mastodons, giant ground sloths and camels) have native range extents that underrepresent the climatic conditions in which these species can thrive.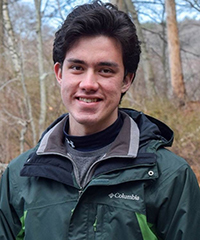 Kenji Hayashi
Undergraduate Researcher

Kenji is broadly interested in biogeographical patterns with a particular interest in latidudinal gradients. His current research in the lab explores how ecosystem function (such as plant productivity rates) are influenced by the intersection of two factors: climate conditions and the fraction of a species assemblage dominated by non-native species.
Lab Alumni
Postdoctoral Associates
Dr. Kathryn Amatangelo
Assistant Professor,
State Univesity of New York, Brockport

Dr. Regan Early
Lecturer,
University of Exeter
Dr. Heinke Jaeger
Research Scientist,
Charles Darwin Foundation
Dr. Jacquelyn Gill
Assistant Professor,
University of Maine
Dr. John Zinda
Assistant Professor,
Cornell University
PhD Student

Matt Heard
Assistant Professor,
Winthrop University

Undergraduate Thesis Students
Ada Bersoza Hernandez
Master's student, University of Florida
Erin Capra
Master's student, Brown University
Phoebe Hopkins
Natural History and Travel
Maddie Johnston
Sustainable Farming and Education
Emily Longman
Research Technician, Northeastern University
Birch Malotky
Natural History and Travel
Madison Miketa
PhD student, Georgetown University

Kyle Rosenblad
Tutor & Musician (& current Sax Lab collaborator)
Liz Ryan
PhD student, Univ. of California, San Diego
Emma Suchland
Research Technician, Univ. of Washington
Ariana Spawn
Sea Grant Knauss Marine Policy Fellow
Megan Whelan
Golden Gate National Parks Conservancy