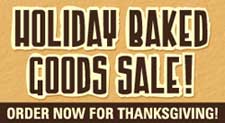 Order by Monday 11/24 at noon!
Thanksgiving Baked Goods Sale!
Order pies, cheesecakes, rolls and other seasonal favorites from the Brown Bakeshop for your holiday party.
These daily menu items are in addition to the sandwiches, wraps, salads, fresh fruit, desserts and beverages available every day at the Ivy Room.
Monday 11/24 - Lunch at the Ivy Room
Tuesday 11/25 - Lunch at the Ivy Room
Wednesday 11/26 - Lunch at the Ivy Room
Thursday 11/27 - Lunch at the Ivy Room
Friday 11/28 - Lunch at the Ivy Room