Brown's concern for your well-being extends to the whole you. Attend a lunchtime talk on topics such as cholesterol awareness, diabetes prevention, or how to keep your brain healthy. Participate in a nutritious cooking demonstration. Explore new ways of moving through a variety of fun programs such as Zumba. Try ancient healing modalities such as acupuncture and Reiki. And when life gets complicated or stressful, we invite you to get the help you need through our Faculty & Staff Assistance Program. This is just a sampling of our many wellness offerings. See the pages below for more information.
Wellness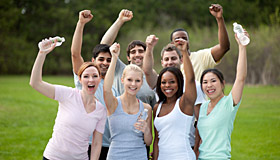 The Work/Life Program and Wellness At Brown! are conducting a survey in an effort to make your programs more appealing and accessible. Click here to complete the survey.
We are pleased to announce that Brown University has contracted with a new vendor, LifeScope (formerly Wellness Corporation), to administer our Faculty & Staff Assistance Program (FSAP).