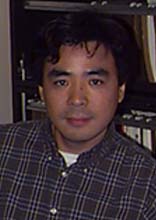 Y. Eugene Chin, Ph.D., NYU, 1994
Associate Professor of Surgery (Research)
Surgery
Work
:
+1
401
-
444
-
0172
Research in our laboratory has been focused on signal transduction in response to cellular environmental changes for cell differentiation and development under physiological and diseased conditions (e.g., inflammatory and transformed). We recently discovered that cytokines and growth factors trigger acetylation/methylation cascade in mammalian cells for signal transduction. Utilizing antibody array and nanometer technologies, we are uncovering novel protein posttranslational modifications for distinct signal transduction and transcription events involved in normal, inflammatory, and cancer cellular development.
Biography
Chin was appointed an assistant professor of Pathology Department Brown University in October, 1998 after completing the postdoctoral training at Pathology Department, Yale Medical School. Chin relocated his lab in Surgery Department of Rhode Island Hospital in April, 2002. Chin was promoted as associate professor in 2004. Chin's laboratory was the first to develop antibody array technology for protein profile analysis in mammalian cells. His lab uncovered the role of reversible lysine acetylation process in regulating oncogene STAT3 activity in signal transduction and transcription in prostate and breast cancer cells. Recent publications from his lab revealed an important role of acetylation and deacetylation in cytokine receptor signal transduction.
Institutions
RI Hospital
Research Description
Tyrosine phosphorylation has long been considered to play a prominent role in signal transduction. STAT family members are signaling and transcription proteins activated by different transmembrane receptors of cytokines and growth factors. Our laboratory studies whether acetylation and methylation also play a critical role in signal transduction process. We are exploring different STAT family members for their differential acetylation and methylation patterns in gene regulation under both physiological and pathological conditions. The principle of yin-yang, the balance between opposing natural forces emphasized in Oriental medicine, can be epitomized as the property of signal transduction and gene regulation in cells. Acetylation and deacetylation, methylation and demethylation, such a balance creates a dynamic state that is responsive for cell differentiation, development, and homeostasis. Derangements of dynamically controlled balances between these opposite forces can seriously upset homeostasis in a cell. We are exploring how acetylation/methylation cascade triggered by cellular environmental changes for a cell develops from normal to inflammatory and to cancer type. We are interested in exploring how inflammatory signals mediated by cytokine recetors and STAT proteins transform cells; whether STAT form differential enhanceosomes during inflammation and transformation; and whether restoring the balance between acetylation/methylation and deacetylation/deacetylation of STAT can restrict invasive growth and metastasis of cancer cells.

Antibody array technology was first developed in our laboratory for protein profile in mammalian cells. By printing hundreds or thousands different antibodies on a solid support, we can screen protein-protein interaction and protein posttranslational modifications in mammalian cells. Based upon this method, enhanceosome precipitation assay (EPA) has been developed for promoter binding transcription factor complex identification in inflammatory or cancer cells. To develop the antibody array into a more sensitive and global protein profile analysis tool, we are screening antibodies from the single-chain fragment variable (scFv) recombinant antibody library and applying nanometer technique for probing.
Grants and Awards
Fellowship: NIH Individual Postdoctoral Fellowship, 1996-1998

Patents: (i) Methods and compositions for stimulating apoptosis and cell death or
for inhibiting cell growth and cell attachment, US Patent # 20030105057, 1998
(ii) Antibody array method to detect proteins, US Patent # 6197599, 1998

Teaching Award: Brown Medical School Dean's Teaching Excellence Award 2001, 2002

Honored Degree: Gradu Artium Magistri Ad Eundem Brown University 2008
Affiliations
American Cancer Society Member, 1994-present
American Association for the Advancement of Science, 1994-present
American Society for Microbiology, 1998-present
Chinese Biological Investigators Society, 2000-present
Funded Research
STAT in TNF--induced apoptosis (Completed and pending for revision)
PI: Eugene Chin
Agency: National Institutes of Health/National Cancer Institute RO1 CA-82549 $175,000/year
Period: 03/2001 - 02/2005

STAT3 Acetylation and deacetylation in metastasis
PI: Eugene Chin
Agency: National Institutes of Health/National Cancer Institute RO1 CA-102128 $200,000/year
Period: 06/2005 – 05/2011

Development of antibody arrays for proteomics study
PI: Eugene Chin
Agency: National Institutes of Health RO1 (under revision)

Acetylation and deacetylation in signal transduction
PI: Eugene Chin
Agency: National Institutes of Health RO1 (under revision)
Teaching Experience
I taught Bio279 and Bio280 systemic pathology and gave lectures and case analysis for alternative medicine class for the medical students.
Selected Publications
Ma L, Gao JS, Guan YJ, Shi XY, Zhang H, Zhang Z, Ayrapetov M, SetoE, Kim M, and Chin YE. Acetylation modulates PRLR dimerization. Submitted, 2010. (2010)
Sun Z, Chin YE, Zhang DD. (2009) Acetylation of Nrf2 by p300/CBP augments promoter-specific DNA binding of Nrf2 during the antioxidant response. Mol Cell Biol. 29, 2658-2672. (2009)
Tang X, Gao JS, Guan YJ, McLane KE, Yuan ZL, Ramratnam B, Chin YE. Acetylation-dependent signal transduction for type I interferon receptor. Cell. 2007 Oct 5;131(1):93-105. (2007)
Darnowski JW, Goulette FA, Guan YJ, Chatterjee D, Yang ZF, Cousens LP, Chin YE.Stat3 cleavage by caspases: impact on full-length Stat3 expression, fragment formation, and transcriptional activity. J Biol Chem. 2006 Jun 30;281(26):17707-17. (2006)
Yuan ZL, Guan YJ, Chatterjee D, Chin YE.Stat3 dimerization regulated by reversible acetylation of a single lysine residue. Science. 2005 Jan 14;307(5707):269-73. (2005)
Chung AS, Guan YJ, Yuan ZL, Albina JE, Chin YE. Ankyrin repeat and SOCS box 3 (ASB3) mediates ubiquitination and degradation of tumor necrosis factor receptor II. Mol Cell Biol. 2005 Jun;25(11):4716-26. (2005)