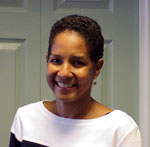 Angela Anderson, MD
Associate Professor of Pediatrics
Pediatrics
Work
:
+1
401
-
444
-
6680
Toxicology
Biography
ANGELA ANDERSON, MD, a graduate of Case Western Reserve University School of Medicine in Cleveland, Ohio, is currently on staff at Hasbro Children's Hospital Emergency Department, where she was awarded a 2003 Brite Lite.


Residency Training: Pediatrics, Yale New Haven Hospital.


Fellowships: Pediatric Emergency Medicine at Children's Hospital in Boston. Clinical Pharmacology/Toxicology Fellowship at Massachusetts Poison Control Center in Boston, MA



Board Certified: Pediatrics, Pediatric Emergency Medicine, and Medical Toxicology.
Institutions
RIH