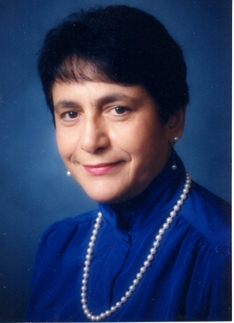 Faiza Fawaz Estrup, Associate Dean
Clinical Professor Emerita of Medicine
Medicine
Dean Estrup's recent research interests include Osteoarthritis, pathogenesis, diagnosis and therapy of gold lung disease in rheumatoid arthritis,and clinical manifestations of human parvovirus infection.She lectures extensively on the rheumatic diseases and especially on osteoporosis, osteoarthritis, the COX-2 inhibitors and the newer therapies for rheumatoid arthritis.

Grants: NSF, NIH, NIAMS
Biography
Dean Estrup received her BA degree in Physics from Boston University and her M.S. and Ph.D. in molecular biophysics and biochemistry from Yale University, where she was a Higgins Scholar. She then did a year of postdoctoral fellowship at the University of Geneva. After returning to the United States she helped set up the first research Biophysics Lab at the Bell Labs in New Jersey. Prior to coming to Brown she was a visiting assistant professor of chemistry and molecular biology at Haverford College. She obtained her M.D. degree in 1975 from Brown University School of Medicine. She then did two years of residency training at Rhode Island Hospital and a third year at Memorial Hospital, where she was chief resident. After a two-year fellowship in rheumatology at the Brown affiliated hospitals, Dr. Estrup opened an office for the practice of rheumatology where she was medical director of the Arthritis Center of RI. For a number of years, in addition to seeing private patients, she also served as Chief of Rheumatology at Memorial Hospital. She is a Fellow of the American College of Physicians, and a Founding Fellow of the American College of Rheumatology. In 1999 Dr. Estrup was appointed as the first Associate Dean of Medicine for Clinical Faculty and has initiated several new programs for the clinical faculty and continues to be active in teaching. Dean Estrup was voted the RI Woman Physician of the Year 2002 by the Board of the RI Medical Women's Association (RIMWA), and is the recipient of the 2002, Brown Medical School Excellence in Teaching Award. Dr Estrup was chosen as one of America's Top Physicians for the years 2003 to 2007 by the Consumers Research Council Of America.
Institutions
MHRI
Research Description
Dean Estrup's previous research activities dealt with physical studies on soluble transfer RNA, determining the radiation-sensitive molecular weight of t-RNA by the decrease of amino acid binding power produced by 1 Mev electrons from a Van De Graaf generator, and obtaining the action spectrum for the inactivation of the biological activity of t-RNA by ultraviolet radiation. She also studied the binding of metal ions to DNA, RNA, and synthetic polynucleotides using NMR. She studied 50 S ribosomal proteins using immunochemical techniques. More recent research interests include the pathogenesis, diagnosis and therapy of gold lung disease in rheumatoid arthritis, and clinical manifestations of human parvovirus infection. She lectures extensively on the rheumatic diseases and especially on osteoporosis, osteoarthritis, the COX-2 inhibitors and the newer therapies for rheumatoid arthritis.

As co-principal investigator for a major seven years( 2002-2009) NIH-NIAMS grant of 8.96 million dollars, on the Osteoarthritis Initiative, based at Memorial Hospital of RI, Dr Estrup and her colleagues will try to uncover the biological markers that help predict who will develop the most common form of arthritis. They will study surrogate markers for osteoarthritis of the knees in 1,250 subjects over the age of 50 who do not have the diagnosis of osteoarthritis initially, but who will eventually develop the disease over the study period. A subgroup of subjects with mild or early osteoarthritis will be studied to follow the progression of the disease. Subjects will be chosen if they have one of the following risk factors, such as a history of trauma, obesity, diabetes mellitus, or a family history of osteoarthritis. X-rays and MRIs of the knees, as well as blood studies for genetic and biochemical markers, will be obtained to eventually help predict who is most likely to develop osteoarthritis.

Publications in some of the following Journals:
Biophysica et Biochimica Acta
Journal of Chemical Physics
Journal of Molecular Biology,
AMA Journal of Internal Medicine.
Annals of Rheumatic Diseases
Seminars in Arthritis and Rheumatism
Journal of Rheumatology
Grants and Awards
POSTGRADUATE HONORS AND AWARDS

Research Fellow - Italian Center for Experimental Studies, Milan, Italy
Sigma Pi Sigma - Physics Honorary Society
Higgins Scholar, Yale University
Fellow of the Fonds National Suisse pour la Recherche Scientifique - University of Geneva, Switzerland
Marquis' Who's Who in American Men and Women of Science
Marquis' Who's Who in American Education, Leaders in American Science Edition
Sigma Xi - Science Honorary Society, Brown University
Director, Rheumatology Specialists Arthritis Center of Rhode Island
Board of Governors, RI Chapter of the Arthritis Foundation
Medical and Scientific Committee, Arthritis Foundation
Marquis' Who's Who in Medical Specialists
Guest Lecturer - Combined Annual Meetings of the RI Chapter of the The American College of Physicians and The American College of Surgeons - Boca Raton, FL
Fellow of The American College of Physicians
Council Member of the RI Chapter of The American College of Physicians, RI Chapter, and Chairman of CME Credits
Marquis' Who's Who in American Science
"Physician's Recognition Award"-American Medical Association
Founding Fellow of The American College of Rheumatology
Award from The Arthritis Foundation for Educating People with Arthritis
Board of Governors, RI Chapter of the Arthritis Foundation
International Who's Who of Professionals
American Directory of Who's Who
Marquis' Who's Who in American Women
Marquis' Who's Who in Science and Engineering
Marquis' Who's Who in the World
Biography in 2000 Outstanding Scientists of the 20th Century published by International Biographical Centre, Cambridge, England
Fellow, Wayland Collegium, Brown University
Editorial Board, Brown Medicine Magazine
Marquis' Who's Who in America
Distinguished Teacher Award, Brown University School of Medicine
Healthcare Advisory Board.
Brown University Excellence in Teaching Award
Physicians Advisory Board
Voted the RI Woman Physician of the year 2002 by the Board of RIMWA.
Northeast Region, Rheumatology Advisory Board-Centocor
Marquis' Who's Who in Medicine and Health
GENACTIS Research Board Member
Society for Women's Health Research
Salutation and Appreciation from Brown Medical School at a Gala Celebration on May 24, 2003
Marquis' Who's Who In Higher Education
AMERICA'S TOP PHYSICIANS -CONSUMERS RESEARCH COUNCIL
Top Physician Strathmore Who's Who
Affiliations
Past and present Affiliations:
Biophysical Society
American medical Society(AMA)
RI Chapter of AMA
RI Women's Medical Association
Fellow of the American College of Physicians
Member American Rheumatism Association
Founding Fellow of the American College of Rheumatology
RI Medical Association
Pawtucket Medical Association
Chief Division of Rheumatology Memorial Hospital of RI , Brown Univ
Physician at Rhode Island Hospital, Miriam Hospital and Roger Williams Medical Center
Funded Research
Italian Center for Experimental Studies, Milan, Italy
Fond Nationale Suisse Pour La Recherche Scientifique, Geneva, Switzerland.
National Science Foundation
National Institute of Health
National Institute of Developmental Biology
National Institute of Heath and National Institute Of Musculoskeletal Diseases
Teaching Experience
Lectures and Grand Rounds to medical students, fellows and attending physicians on Rheumatological diseases, their pathophysiology and therapies' given at Brown University and its affiliated hospitals
Presentations at National and International conferences.