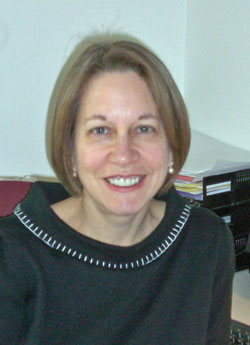 Roberta Goldman, PHD, MA
Clinical Professor of Family Medicine
Family Medicine
Work
:
+1
401
-
729
-
2924
The focus of Roberta Goldman's work is to apply issues of social context to community— and primary care-based studies and health behavior interventions. Her expertise is in multi-method qualitative research with immigrants and minority populations, low income, low literacy, and older adults in the areas of women's health and aging, physician-patient communication, medication safety, cancer, cardiovascular (CVD) prevention, other chronic disease, and health information technology. A recent focus of her research is evaluation of medical practice transformation for Patient-Centered Medical Homes.
Biography
PhD, Sociocultural Anthropology, University of Florida, 1989

MA, Anthropology and Master's Certificate in Latin American Studies, UF, 1983

Cl. Prof. of Family Medicine, Alpert Medical School, Brown University
2008-present
Adj. Professor, Harvard School of Public Health, 2009-present
Institutions
MHRI
Research Description
Roberta Goldman, anthropologist, is a core faculty member and researcher in the Brown Center for Primary Care and Prevention at Memorial Hospital of RI. She has worked collaboratively on multidisciplinary research teams for over 2 decades with MD and PhD investigators from a wide variety of academic backgrounds, and with minority and immigrant community groups. An important focus of her work concerns applying issues of social context to research design, community- and primary care-based health behavior interventions, clinical teaching, and curriculum development. She has consulted broadly on the use of qualitative methods in health care research and cultural issues in patient care, and has led qualitative components of numerous federally funded studies. She teaches a yearly graduate course at the Harvard School of Public Health, "Qualitative Research Methods for Public Health". She speaks English, Spanish, and Portuguese, and has done qualitative research in Peru, Mexico, Alaska, and Portugal, and in Cape Verdean, Portuguese, Hispanic, African American, West Indian, and European-American communities in New England.

Currently, much of Dr. Goldman's research at Brown revolves around health services delivery. She directs the Evaluation Unit for the Brown Primary Care Transformation Initiative, a HRSA-funded study of practice transformation along the Patient-Centered Medical Home model.

She has participated in numerous multidisciplinary team collaborations for federally-funded health IT projects where she has provided research design planning and oversight for all aspects of qualitative research and application of qualitative findings to design of the electronic programs. She was co-PI for an AHRQ-funded intervention to develop low-literacy educational DVDs to enhance medication safety among older adults. She was PI of a study exploring the combination of qualitative research methods and internet-based disease prevention interventions among Spanish-speaking Latina women in midlife; PI of a longitudinal study investigating the impact of full electronic medical record implementation in a family medicine residency clinic; PI of a study of cancer screening among Latinos, and PI of a community-engaged research study of substance use among Latino and Black youth. She has been a co-investigator for a great variety of other federally-funded studies aimed at disease prevention through behavior change, and improving patient safety, disease management, patient-physician communication and patient self-management.
Grants and Awards
Distinguished Research Paper Award, Society of Teachers of Family Medicine, 2003

Marx Family Fellowship, Dana-Farber Cancer Institute, 2002

Faculty Partnership and Leadership Award,
Brown University Swearer Center for Public Service, 1998
Affiliations
North American Primary Care Research Group (NAPCRG)
AcademyHealth
Society of Teachers of Family Medicine
Funded Research
ONGOING RESEARCH PROJECTS
1R18HL093090-01A1 (Parker-PI) 07/01/09-06/30/14
NIH/NHLBI
Translating COPD Guidelines into Primary Care Practice
Co-I: Evaluation of the translation of the Gold (the Global Strategy for the Diagnosis, Management, and Prevention of Chronic Obstructive Pulmonary Disease) COPD guidelines into primary care practice. Dr. Goldman is conducting focus groups and responsible for qualitative data analysis and translation into use for tool development.

1R21CA152833-01A1 (PI-Diaz) 04/01/11-03/31/2013
NIH/NCI
Development of Tailored Intervention to Promote CRC Screening Among Latino Men
Colorectal cancer screening rates are low, especially among Latinos with limited English proficiency. "Positive deviants" or "successful peers" are those individuals in a community who practice a healthy behavior (e.g. colorectal cancer screening) when the majority do not. This project will use a "positive deviance" approach to create a culturally and linguistically appropriate innovative personalized video intervention to promote colorectal cancer screening among Spanish-speaking Latino men.

1D54HP20675-01-00 (PI-Borkan) 08/01/10-07/31/2015
HRSA
Academic Administrative Unit Grant to Expand Leadership in Patient-Centered Medical Home Transformation
Co-I: The purpose of this grant is to significantly expand the Department of Family Medicine at the Alpert Medical School of Brown University as an Academic Administrative Unit by substantially building upon our current position as leaders in primary care practice transformation using the Patient-Centered Medical Home (PCMH) model of care. Dr. Goldman is leading the Evaluation Unit for this PCMH transformation initiative.

1D58HP20805 (Anandarajah-PI) 09/01/10-06/30/15
HRSA
Family Medicine Residency Training in Primary Care
Co-I: This project builds on the robust foundation of our long-standing, successful residency program, faculty expertise, and institutional support to train the next generation of family doctors to play key roles in addressing health disparities, increasing the primary care workforce and improving the overall health of our nation.

1D56HP20688-01-00 (Taylor-PI; Anthony-Co-I) 09/01/10-6/30/15
HRSA
Pre-Doctoral Training in Primary Care
Co-I: The overall purpose of this grant is to train medical students at Alpert Medical School of Brown University to provide outstanding primary care for underserved populations. The project has three overarching goals: 1) to increase the number of m=graduation medical students who intend to practice primary care in underserved communities. 2) to prepare 100% of AMS graduates to care for underserved patients regardless of their specialty of choice, and 3) to comprehensively evaluate the impact of the first two goals.

SELECTED COMPLETED RESEARCH PROJECTS
1 R18 HS017150-01 (Lapane-PI) 10/01/07-09/30/10
AHRQ
Optimizing Medication History Value in Clinical Encounters with Elderly Patients
Co-I: This study uses triggers and training in a clinical trial in physicians' offices to enhance the use of electronic medication history at the point of e-prescribing to promote partnerships with patients and empower caregivers to participate in treatment decisions. Dr. Goldman is leading the qualitative components of the study, as well as contributing to development of intervention modules for physicians.

1 R18 HS016281-01 (Lapane-PI) 10/01/07-09/30/10
AHRQ
Tailored DVD to Improve Medication Management for Low Literate Elderly Patients
Co-I/PI on subcontract: Developing and testing interventions to improve the patient experience of care through health IT, improved shared decision making and patient-clinician communication, as well as self-management of chronic conditions. Dr. Goldman is leading the qualitative components of the study and intervention materials.

RI-DHHS (Goldman-Site PI) 10/01/07-09/30/09
Issues Contributing to Substance Abuse among Minority Youth in Providence, RI
PI for subcontract with the Center for Hispanic Policy and Advocacy (CHisPA): This qualitative study consists of focus groups with Latino and African American youth in Providence, RI, to explore the social, economic, cultural, and political issues that contribute to substance abuse.

1 R01 CA111310-01A1 (Sorensen-PI) 07/01/05-06/30/09
NIH/NCI
Determinants of Cancer Risk in Low-Income Housing
Co-I: This study assessed behavioral and environmental cancer risks among residents of low-income housing in the Boston area. Dr. Goldman was responsible for oversight of all qualitative research design, implementation, and data analysis as well as translation of qualitative findings for application to survey development.

1 R01 CA098486-01A1 (Lee-PI) 08/04/03-07/31/07
NIH/NCI
Enhancing Doctor-Patient Communication in Hematology/Oncology Consultations
Co-I: The study worked towards the overall goal of enhancing communication, improving patient understanding and decision-making, and facilitating psychosocial adaptation to life-threatening illness. Dr. Goldman led the qualitative component of the study involving in-depth patient interviews.
Teaching Experience
Director of the program in Scholarly Development in the family medicine residency.

Sociocultural Medicine Seminar Series in the family medicine residency: teaching about social, community and cultural issues in health, illness and health care delivery.

Social and Community Context program in the family medicine clerkship: a half-day community immersion experience in Central Falls, RI.
Selected Publications
Block JP, Gillman MW, Linakis SK, Goldman RE. "If it tastes good, I'm drinking it": Qualitative Study of Beverage Consumption among College Students. J Adolesc Health. In Press. (IN PRESS)
Diaz JA, Roberts MB, Clarke JG, Simmons EM, Goldman RE, Rakowski W. Colorectal Cancer Screening: Language is a Greater Barrier for Latino Men than Latino Women. J Immigr Minor Health. 2012 Jun 30. [Epub ahead of print] (2012)
Alexander SC, Sullivan AM, Back AL, Tulsky JA, Goldman RE, Block SD, Stewart SK, Wilson-Genderson M, Lee SJ. Psychooncology. 2012 Mar;21(3):297-306. E-Publication ahead of print, Feb 4, 2011. (2012)
Haines J, O'Brien A, McDonald J, Goldman RE, Evans-Schmidt M, Price S, King S, Sherry B, Taveras E. Television viewing and televisions in bedrooms: Perceptions of racial/ethnic minority parents of young children. J Child Fam Stud, In Press 2012. (2012)
Doyle R, Wang N, Anthony D, Borkan J, Shield RR, Goldman RE. Computers in the examination room and the electronic health record: physicians' perceived impact on clinical encounters before and after full installation and implementation. Family Practice. Oct 2012;29(5):601-8. Epub 2012 Feb 29. (2012)
Goldman RE, Simon S. Treating hypertension and hyperlipidemia in an emerging accountable care organization: Understanding physicians' perspectives. International Journal of Person-Centered Medicine, 2012; 3(2):352-360. (2012)
Goldman RE, Quilliam B, Lapane K. Talking about medicines: Older adults' perceptions of communication with their physicians. International Journal of Person-Centered Medicine, Sept 2012;2(3):352-360. (2012)
Quilliam B, Goldman RE, Lapane K. Medication management beliefs and practices of low income older adults from diverse racial/ethnic backgrounds. International Journal of Person-Centered Medicine, In Press 2012. (2012)
Lapane K, Goldman RE, Quilliam B, Hume A, Eaton C, Zayas-Cabán T. Tailored DVDs: A novel strategy for educating racially and ethnically diverse older adults about their medicines. International Journal of Medical Informatics, 2012; Dec;81(12):852-60. (2012)
Shelton RC, Goldman RE, Emmons KM, Sorensen G, Allen JD. An investigation into the social context of low-income, urban Black and Latina women: implications for adherence to recommended health behaviors. Health Educ Behav. 2011 Oct;38(5):471-81. (2011)
McDonald J, Goldman RE, O'Brien A, Ayash C, Mitchell K, Marshall R, Simon SR, Taveras EM. Health information technology to guide pediatric obesity management. Clin Pediatr (Phila). 2011 Jun;50(6):543-9. PMID: 21565885 (2011)
Nothnagle M. Anandarajah G, Goldman R, Reis S. Struggling to be self-directed: Residents'paradoxical beliefs about learning. Academic Medicine, 2011 Dec;86(12):1539-1544. (2011)
Loberiza Jr FR, Swore-Flecther BA, Block SD, Back AL , Goldman RE, Tulsky JA, Lee SJ. Coping Styles, Health Status and Advance Care Planning in Patients with Hematologic Malignancies. Leukemia & Lymphoma, 2011 Dec;52(12):2342-8. Epub 2011 Aug 18. PMID:21851220 (2011)
Diaz J, Goldman R, Arellano N, Borkan J, Eaton C. Brief Report: Exploration of colorectal cancer risk perceptions among Latinos. Journal of Immigrant and Minority Health. 2011 Feb;13(1):188-92. (2011)
McDonald J, Goldman R, O'Brien A, Ayash C, Mitchell K, Marshall R, Simon S, Taveras E. Health Information Technology to Guide Pediatric Obesity Management. Clinical Pediatrics; 2011; 50: 543. (2011)
Alexander SC, Sullivan AM, Back AL, Tulsky JA, Goldman RE, Block SD, Stewart SK, Wilson-Genderson M, Lee SJ. Information giving and receiving in hematological malignancy consultations. Psyhco-Oncology, 2011 Feb 4. doi: 10.1002/pon.1891. [Epub ahead of print] PMID: 21294221. (2011)
Hume A, Quilliam B, Goldman RE, Eaton C, Lapane K. Alternatives to Potentially Inappropriate Medications For Use in e-Prescribing Software: Triggers and Treatment Algorithms. BMJ Quality & Safety, In Press 2011. (2011)
Eaton C, Parker D, Borkan J, McMurray J, Roberts M, Lu B, Goldman R, Ahern D. Translating cholesterol guidelines into primary care practice: A multimodal clustered randomized trial. Ann Fam Med, 2011;9:528-537. (2011)
Shelton RC, Goldman RE, Emmons KM, Sorensen G, Allen JD. An investigation into the social context of low-income, urban Black and Latina women: implications for adherence to recommended health behaviors. Health Educ Behav. 2011 Oct;38(5):471-81. Epub 2011 Aug 19. PMID: 21856885 (2011)
Nothnagle M, Goldman R, Quirk M, Reis S. Promoting Self-Directed Learning Skills in Residency: A Case Study in Program Development. Academic Medicine. 2010;85(12):1874-9. (2010)
Goldman RE, Dube C, Lapane KL. Beyond the basics: Refills by electronic prescribing, Int. J. Med. Inform. 2010 Jul;79(7):507-14. (2010)
Diaz J, Goldman R, Arellano N, Borkan J, Eaton C. Exploration of colorectal cancer risk perception among Latinos. J Immigr Minor Health. 2010 Jan 9 E-pub ahead of print. PMID: 20063065 (2010)
Goldman RE, Soran CS, Hayward GL, Simon SR. Physicians' perceptions of laboratory monitoring in clinical practice. Journal of Evaluation in Clinical Practice. 2010 Dec;16(6):1136-1141.PMID: 21176004 (2010)
Shield RR, Goldman RE, Anthony DA, Wang N, Doyle RJ, Borkan J. Gradual Electronic Health Record Implementation: New Insights on Physician and Patient Adaptation. Annals of Family Medicine 2010;8:316-326. (2010)
Goldman RE, Diaz JA, Ivone K. Perspectives of colorectal cancer risk and screening among Dominicans and Puerto Ricans: Stigma and misperceptions. Qualitative Health Research 2009;19(11):1559-1568. (2009)
Eaton C, Parker D, Goldman R, Ahern D. Using eHealth to improve cholesterol management in primary care practice. The Journal of Medical Practice Management. 2009;24(4):224-230. (2009)
Goldman R, Sullivan A, Back A, Alexander S, Matsuyama R, Lee S. Patients' reflections on communication in the second-opinion hematology-oncology consultation. Patient Education and Counseling. 2009;76(1):44-50. (2009)
Borkan J, Culhane-Pera K, Goldman R. Integrating culture and ethnicity into a framework for quality healthcare: Towards culturally competent healthcare in culturally diverse Rhode Island. Medicine and Health Rhode Island, Special Issue on Anthropological Perspectives on Medicine 2008;91(12):361-364. (2008)
Goldman R, Kingdon C, Wasser J, Clark M, Goldberg R, Papandonatos G, Hawrot E, Koren G. Rhode Islanders' attitudes toward the development of a state-wide genetic biobank. Personalized Medicine 2008;5(4):339-359. (2008)
Parker D, Goldman, R, Eaton C. A Qualitative study of individuals at-risk or who have chronic obstructive pulmonary disease: What do they understand about their disease? Lung 2008 Sep-Oct;186(5):313-6. Epub 2008 May 8. (2008)
Goldman R, Sanchez-Hernandez M, Ross-Degnan D, Piette JD, Trinacty CM, Simon S. Developing an automated telephone diabetes intervention for health plan members. International Journal for Quality in Health Care 2008; 20(4):264-70. (2008)
Parker DR, Gramling R., Goldman RE, Eaton CB, Ahern D, Cover RT, M.A., Borkan J. Physicians' perceptions of barriers and facilitators regarding adoption of the National Cholesterol Education Program Guidelines. Preventive Cardiology 2008 Winter;11(1):29-35. (2008)
Allen JD, Shelton R, Harden E, Goldman R. Follow-up of abnormal screening mammograms among low-income, ethnically diverse women: Findings from a qualitative study. Patient Education and Counseling 2008; 72(2):283-92. (2008)
Goldman RG, Barbeau E, Hunt MK, Acevedo-Garcia D, Gagne J, Emmons K, Sorensen G. Perceptions of Health Promotion and Cancer Prevention among Working-Class Adults. Health Education and Behavior 2008;35(6):777-90. Epub 2006 Aug 30. (2008)
Diaz JA, Roberts MB, Goldman RE, Weitzen S, Eaton CB. Effect of language on colorectal cancer screening among Latinos and non-Latinos. Cancer Epidemiology, Biomarkers & Prevention 2008;17(8):2169-73. (2008)
Smith S, Goldman R, Dollase R. Assessing medical students in nontraditional competencies. Medical Teacher 2007 Sep;29(7):711-6. (2007)
Sorensen G, Barbeau E, Stoddard A, Hunt MK, Goldman R, Smith A, Brennan A. Tools for Health: The efficacy of a tailored intervention targeted for construction laborers. Cancer Causes and Control 2007;18:51-59. (2007)
Hunt MK, Barbeau E, Lederman R, Stoddard A, Chetkovitch C, Goldman R, Wallace L, Sorensen G. Process evaluation results from the Healthy Directions-Small Business Study. Health, Education and Behavior 2007;34:90-108. (2007)
David SP, Eaton CB, Culpepper L, Goldman RE, Lavallee LK, Simmons EM. Building a successful research enterprise in family medicine: the Brown experience. Med Health R I 2006 Aug;89(8):281-4. (2006)
Goldman RG, Parker D, Eaton C, Borkan J, Cover R, Ahern D. Patients' perceptions of cholesterol and cardiovascular disease risk. Annals of Family Medicine 2006;4:205-212. (2006)
Barbeau E, Goldman R, Roelofs C, Sorensen G. A New Channel for Health Promotion: Building Trades Unions. American Journal of Health Promotion 2005;19:297-303. (2005)
Borkan JM, Zarcadoolas C, Pleasant A, Goldman R, Thomas M, Bell J, Scott HD. The view from the trenches: Primary care practitioners' views of family medicine, internal medicine, and pediatrics. Medicine and Health/Rhode Island 2004;87:347-349. (2004)
David S, Taylor J, Monroe A, Goldman R, et al. Evaluation of an educational intervention to promote competency in social and community determinants of health for medical students. Annals of Behavioral Science and Medical Education 2004;10:68-73. (2004)
Goldman R, Risica P. Perceptions of breast and cervical cancer risk and screening among Dominicans and Puerto Ricans in Rhode Island. Ethnicity and Disease 2004;14;32-42. (2004)
Goldman R. Promoting a culturally engaged approach to maternal/child health care. Annals of Behavioral Science and Medical Education, 2003;9(2):101-105. (2003)
Hunt MK, Stoddard A, Barbeau E, Goldman R, Wallace L, Gutheil C, Sorensen G. Cancer prevention in working class, multiethnic populations through small businesses: The Healthy Directions Study. Cancer Causes and Control 2003;14(8):749-60. (2003)
Gans K, Kumanyika S, Lovell J, Risica P, Goldman R, et al. The development of SisterTalk: A cable-TV delivered weight control program for black women. Preventive Medicine 2003;37(6):654-667. (2003)
Goldman R, Hunt MK, Dacey-Allen J, Hauser S, Emmons K, Maeda M, Sorensen G. The Life History Interview Method: Applications to Intervention Development. Health Education and Behavior 2003;30(5);564-581. (2003)
Sorensen G, Emmons K, Hunt MK, Barbeau E, Goldman R, Peterson K, Kuntz K, Stoddard A, Berkman L. Model for incorporating the social context in health behavior interventions: Applications for cancer prevention for working-class, multi-ethnic populations. Preventive Medicine 2003;37(3):188-197. (2003)
Goldman R. Communication across contextual fields: A framework for culturally responsive care. Annals of Behavioral Science and Medical Education 2002;8(1):55-56. (2002)
Beeker C, Kraft J, Goldman R. Community-based strategies to promote colorectal cancer screening in African Americans: Lessons learned from other health problems. Journal of Psychosocial Oncology 2001;19(3/4):113-132. (2001)
Goldman R, Monroe A, Dubé C. Cultural self-awareness: a component of culturally responsive patient care. Annals of Behavioral Science and Medical Education 1996;3(1):37-46. (1996)
Shelton RC, Puleo E, Bennett GG, McNeill LH, Goldman R, Emmons KM. Racial Discrimination and Physical Activity among Low-income Housing Residents. In press, American Journal of Preventive Medicine. 2009 Dec;37(6):541-5.PMID: 19944922 (1994)
Goldman R, Dubé C, Monroe A. A conceptual framework for the teaching of a culturally responsive approach in addressing alcohol and other drug problems in the primary care setting. Annals of Behavioral Science and Medical Education 1994;1(2):16. (1994)
Oliver-Smith A, Goldman R. Planning goals and urban realities: post-disaster reconstruction in a third world city. City & Society 1988;2(2). (1988)
Translating cholesterol guidelines into primary care practice: A multimodal clustered randomized trial. Ann Fam Med, 2011;9:528-537. ()