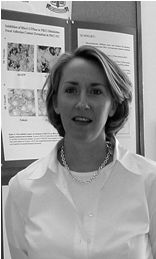 Elizabeth Harrington, Ph.D., Hahnemann University
Associate Professor of Medicine (Research)
Medicine
Work
:
+1
401
-
273
-
7100,
-
ext
-
3651
My research focuses on characterizing intracellular signaling mechanisms which regulate endothelial cell functions and/or responses to environmental cues. Vascular injury has been implicated in the pathogenesis of disorders such as sepsis and acute respiratory distress syndrome (ARDS). Identification of molecules key in regulating endothelial cell functions may lead to therapeutic strategies for controlling vascular tissue damage and enhancing repair.
Biography
Saint Joseph's University, Philadelphia, PA, Biology, B.A.

Hahnemann University, Philadelphia, PA, Biological Chemistry, Ph.D.

Beth Israel Hospital, Cardiovascular Division, Harvard Medical School, Department of Medicine, Boston, MA, post-doctoral fellowship
Institutions
VAMC
Research Description
My laboratory is interested in understanding signaling mechanisms important in regulating endothelial cell function as it pertains to the pulmonary circulation. Our work investigates endothelial barrier function, migration, angiogenesis, apoptosis, and autophagy. More recently we have been looking at the role of endocytosis in modulating endothelial monolayer permeability. Additional work has focused on understanding signaling molecules which influence the response of the pulmonary circulation to oxidative stress.
Grants and Awards
Individual National Research Service Award, National Institutes of Health, 1 F32 HL09023-01A1, "Protein kinase C gene family and endothelium", 9/1994-9/1996

American Heart Association, Rhode Island Affiliate, Beginning Grant-in-Aid Award, 986005T, "Role of Protein Kinase C Isoenzymes in Endothelial Cell Adherens Junctions", 7/1998-10/1998

American Cancer Society, Institutional Grant IN-45-39, "Protein Tyrosine Phosphatase Modulation by Protein Kinase C and Endothelial Cell Function", 12/1997-11/1998

Department of Veterans Affairs, Merit Review Award, Type II, "Role of Protein kinase C isoenzymes in endothelial cell adherens junctions", 10/1998-9/2001

Department of Veterans Affairs, Merit Review
"Signaling in Hypoxic Pulmonary vs. Systemic Endothelium"
Period of Support: 7/2004-9/2007
Principal Investigator
Affiliations
American Heart Association
American Society for Cell Biology
American Society for Biochemistry and Molecular Biology
American Thoracic Society
Funded Research
National Institutes of Health (NIH)/ National Heart, Lung, and Blood Institute (NHLBI) HL67795
"Endothelial Barrier Function Modulation by PKCdelta-"
Period of Support: 8/2001-1/2012
Principal Investigator

American Heart Association, Founders Affiliate Grant-in-Aid
"Signal Transducers of Lung Endothelial Barrier Dysfunction"
Period of Support: 7/1/2010-6/30/2013
Principal Investigator
Selected Publications
Grinnell, KL, Chichger, H, Braza, J, Duong, H, Harrington, EO. Protection Against LPS-Induced Pulmonary Edema Through The Attenuation of PTP1B Oxidation. American Journal of Respiratory Cell and Molecular Biology 46:623-632. (2012)
Grinnell KL, Duong H, Newton J, Rounds S, Choudhary G, Harrington EO. Heterogeneity in apoptotic responses of microvascular endothelial cells to oxidative stress. Journal of Cellular Physiology 227:1899-1910. (2012)
Grinnell KL, Harrington EO. Interplay between FAK, PKCδ, and p190RhoGAP in the regulation of endothelial barrier function. Microvascular Research, 83:12-21. (2012)
Lu, Q, Sakhatskyy, P, Grinnell, KL, Newton, J, Ortiz, M, Wang, Y, Sanchez-Esteban, J, Harrington, EO, Rounds, S. Cigarette Smoke Causes Endothelial Barrier Dysfunction via Oxidative Stress-Mediated Inhibition of RhoA and Focal Adhesion Kinase. American Journal of Physiology 301:L847-L857. (2011)
Casserly, B, Mazer, J, Vang, A, Harrington, EO, Klinger, JR, Rounds, S, Choudhary, G. C-type Natriuretic Peptide Is a Pulmonary Vasodilator, But Does Not Improve Severe Pulmonary Hypertension. Life Sciences 89:460-466. (2011)
Choudhary, G, Troncales, F, Martin, D, Vang, A, Harrington, EO, Klinger, J. Effect of bosentan on right ventricular hypertrophy and fibrosis. Journal of Heart and Lung Transplantation, 30:827:833. (2011)
Lu, Q, Harrington, EO, Newton, J, Casserly, B, Radin, G, Warburton, R, Zhou, Y, Blackburn, MR, and Rounds, S. Adenosine protected against pulmonary edema through transporter- and receptor A2-mediated endothelial barrier enhancement. .American Journal of Physiology, 298:L755-767. (2010)
Lu, Q, Jankowich, M, Newton, J, Harrington, EO, Rounds, S. Alterations in Molecular Chaperones and eIF2α during Lung Endothelial Cell Apoptosis. American Journal of Physiology, 298:L501-L508. (2010)
Grinnell KL, Casserly B, Harrington EO. Role of protein tyrosine phosphatase SHP2 in barrier function of pulmonary endothelium. American Journal of Physiology, 298:L361-L370. (2010)