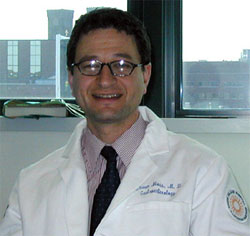 Steven Moss, MD
Professor of Medicine
Medicine
Work
:
+1
401
-
444
-
6713
Steven Moss studies the role of the bacterium, Helicobacter pylori, in gastric (stomach) cancer.

H. pylori is found commonly in the human stomach and is highly adapted for infection lasting decades. Its presence is associated with peptic ulcer disease, chronic gastritis and gastric adenocarcinoma, but how this bacterium causes disease is not well understood. We examine interactions between H. pylori and the human gastric epithelium which may be relevant to the pathogenesis of these diseases. Our current focus is on the effects of H. pylori in modulating gastric epithelial cell cycle control, via decreasing the expression of gastric p27(kip1), an important cell cycle regulatory and tumor suppressor protein.
Biography
Steven Moss is a UK-trained physician-scientist whose research focuses on the role of H. pylori infection in gastric cancer. He is a clinical gastroenterologist at Rhode Island Hospital and Director of the Brown Gastroenterology Fellowship Training Program.
Institutions
Rih
Research Description
Chronic bacterial infection by H. pylori is common and is strongly associated epidemiologically with the development of gastric (stomach) cancer. H. pylori causes a chronic inflammatory state in the stomach of all infected individuals, yet only a small proportion of infected individuals develop cancer. By exploring bacterial- and host-related factors that determine clinical outcome following infection, we aim to understand the mechanisms contributing to cancer following H. pylori infection. Our work has demonstrated that H. pylori perturbs the cell cycle of gastric epithelial cells by inducing apoptosis and compensatory epithelial hyperproliferation. Currently we are using cell culture and animal models to investigate specifically how H. pylori decreases gastric epithelial cell expression of p27, an important cell cycle regulatory and tumor suppressor protein. We also utilize p27-deficient mice as a mouse model for gastric cancer induced by H. pylori. We translate our findings between the basic sciences and clinical conditions associated with H. pylori infection. By investigating the pathogenesis of H. pylori we aim to also shed light upon other chronic inflammatory conditions associated with increased cancer risk.
Grants and Awards
Wellcome Trust Research Fellow, 1991-3
Glaxo-Wellcome Basic Research Awards, 1997-8 and 1998-9.
American Gastroenterology Association, Funderburg Award for Gastric Cancer Research, 2002
Affiliations
American Gastroenterology Association
American Association for Cancer Research
American Association for Advancement of Science
Funded Research
CURRENT
National Institutes of Health (NIH)-"Center for Cancer Research Development" (CCRD) 1P20 RR17695-01
PI: D.C. Hixson. 10/1/02-9/31/07
Steven Moss' project is to investigate the mechanism of decreased p27 in H. pylori infection and to explore mechanisms of apoptosis-resistance induced by H. pylori.
Total grant award: $8.2 million (direct costs)

NIH - "A genome-derived, epitope-driven, Helicobacter pylori vaccine" 1R43 AI065036-01
NIH National Institute for Allergy and Infectious Diseases (NIAID) Small Business Innovation Research (SBIR).
PI: A. De Groot, 6/01/2005 – 5/31/07.
This SBIR is to develop an epitope-driven Helicobacter pylori vaccine using immuno-informatics. Candidate vaccines will be tested in human MHC II transgenic mice, and then their effects against gastric cancer will be determined in H. pylori-infected, p27-deficient mice. Steven Moss is a Co-investigator, with specific responsibility for the p27-deficient mouse model.
Total grant award: $610,000 (direct costs)

NIH - "p27 and apoptosis resistance in gastric cancer." R01CA111533-01.
PI: S. Moss, 2006 – 2011.
This project will investigate mechanisms by which H. pylori post-translationally decreases p27 expression, and utilise the p27-deficient mouse as a preclinical model to test the effects of H. pylori eradication on gastric cancer prevention.
Total grant award: $655,000 (direct costs)

RECENT PAST
"Regulation of gastric epithelial p27kip1 by H. pylori"
American Gastroenterology Association Foundation for Digestive Health and Nutrition "Funderburg" Research Scholar Award in Gastric Biology Related to Cancer, 2001-2
PI: S.F. Moss, M.D. 1/1/02-12/31/03
This project investigated the effect of H. pylori on the cyclin-dependent kinase inhibitor p27kip1 in gastric epithelial cells.
Total grant award: $50,000 (direct costs)

"Helicobacter pylori eradication and the occurrence of gastroesophageal reflux as assessed by questionnaire, manometry and 24 hr ph monitoring" Janssen Pharmaceutical (#RAB-USA-34)
PI: S. F. Moss, M.D., 1/2001-6/2003
This was a clinical study to examine whether the eradication of H. pylori alters gastroesophageal motor function in patients with non-ulcer dyspepsia. Patients were recruited from the gastrointestinal clinic of Rhode Island Hospital.
Total grant award: $35,000 (direct costs)
Teaching Experience
Director of the Brown Gastroenterology Fellowship Training Program
Selected Publications
Resnick MB, Sabo E, Kim SS, Cho YS, Meitner P, Kim HK, Tavares R, Moss SF. Global analysis of the human gastric epithelial transcriptome altered by H. pylori eradication in vivo. Gut 2006 (in press). (2006)
Zhang Y, Cristofaro P, Silbermann R, Pusch O, Boden D, Konkin T, Hovanesian V, Monfils PR. Resnick M, Moss SF, Ramratnam B. Engineering mucosal RNA interference in vivo. Mol Ther. 2006 (in press). (2006)
Shirin H, Moss SF, Stark B, Holt PR, Weinstein IB, Sordillo EM. Inhibition of H. pylori by the nonsteroidal anti-inflammatory drug sulindac. J Gastroenterol Hepatol 2006 (in press). (2006)
Kim SS, Meitner P, Konkin TA, Cho YS, Resnick MB, Moss SF. Altered Expression of Skp2, c-Myc and p27 proteins but not mRNA after H. pylori eradication in chronic gastritis. Mod Pathology 2006;19:49-58. (2006)
Malfertheiner P, Fass R, Quigley EMM, Modlin IM, Malagelada JR, Moss SF, Holtmann G, Goh K-L, Katelaris P, Stanghellini V, Talley NJ, Tytgat GN, Wright NA. Review article: From gastrin to gastro-oesophageal reflux disease - a century of acid suppression. Aliment Pharmacol Ther 2006; 23: 683-690. (2006)
Kuzushita N, Rogers AB, Monti NA, Whary MT, Park MJ, Aswad BI, Shirin H, Koff A, Eguchi E, Moss SF. p27kip1 Deficiency confers susceptibility to gastric carcinogenesis in Helicobacter pylori infected mice. Gastroenterology 2005; 129: 1544-1556. (2005)
Resnick MB. Gavilanez M, Newton E, Konkin T, Bhattacharya B, Britt DE, Sabo E, Moss SF. Claudin expression in gastric adenocarcinomas: a tissue microarray study with prognostic correlation Hum Pathol. 2005;36:886-92. (2005)
Kethu SR, Davis GC, Reinert SE, Ramzan UC, Moss SF. Low utility of endoscopy for suspected upper gastrointestinal bleeding occurring in hospitalized patients. S. Med J 2005; 98: 170-175. (2005)
Moss SF, Reis T. Media Watch. Historical resources at Ivy League universities: Brown University. Lancet Oncology 2005; 6: 748. (2005)
Shirin H, Kravtsov V, Shahmurov M, Boaz M, Petchenko P, Bruck R, Moss SF, Avni Y, Avinoach I. p27kip1 expression is inversely related to the grade of gastric MALT lymphoma. Int J Gastrointest Cancer 2005; 35: 25-32. (2005)
Moss SF, Blaser MJ. Mechanisms of Disease: inflammation and the origins of cancer. Nature Clinical Practice Oncology 2005; 2: 90-97. (2005)
Xu H, Chaturvedi R, Cheng Y, Bussiere FI, Asim M, Yao MD, Potosky D, Meltzer SJ, Rhee JG, Kim SS, Moss SF, Hacker A, Wang Y, Casero RA, Wilson KT. Spermine oxidation induced by Helicobacter pylori results in apoptosis and DNA damage: Implications for gastric carcinogenesis. Cancer Res 2004; 64: 8521-25. (2004)
Levine A, Shevah O, Shabat-Sehayek V, Aeed H., Boaz M. Moss SF, Niv Y, Avni Y, Shirin H. Masking of 13C urea breath test by proton pump inhibitors is dependent on type of medication: Comparison between omeprazole, pantoprazole, lansoprazole and esomeprazole. Aliment Pharmacol Ther 2004;20:117-22. (2004)
Eguchi H, Carpentier S, Kim SS, Moss SF. p27kip1 regulates the apoptotic response of gastric epithelial cells to Helicobacter pylori. Gut 2004; 53: 797-804. (2004)
Modlin IM, Moss SF, Kidd M, Lye KD. Gastroesophageal Reflux Disease - Then and Now. J Clin Gastro 2004; 38: 390-402. (2004)
Kethu SR, Moss SF. Gastritis and peptic ulcer disease. In: Conn's current therapy. Rakel RE & Bope E, eds. 56th ed. WB Saunders, Philadelphia, PA, 2004. (2004)
Moss SF, Shirin H. Epidemiology and Molecular Epidemiology of Gastric Cancer. In: Principles and Practice of Gastrointestinal Oncology. Abbruzzese J, Evans DB, Willett C, Hamilton S, Eds. Oxford University Press, NY, 2004. (2004)
Shirin H, Sadan O, Shevah O, Bruck R, Boaz M, Moss SF, Everon S, Glezerman M, Avni Y. Positive serology for Helicobacter pylori and vomiting in pregnancy. Arch Gynecol Obstet 2004;270:10-4. (2004)