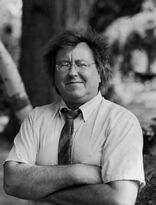 Edward Stopa, MD
Professor of Pathology & Laboratory Medicine and Professor of Neurosurgery
Pathology & Laboratory Medicine
Work
:
+1
401
-
444
-
5057
Alzheimer's disease (AD) is generally regarded as a degenerative disease, but many normal physiological processes are increased in AD patients. My research deals with proteins involved in three major physiological processes in the brain: cell growth and differentiation; maintaining the environment between neurons (the extra-cellular matrix); and the inflammatory response. The question is whether these proteins and physiological processes play a critical role in initiating the disease or whether they are increased as a result of the disease.
Biography
Dr. Stopa began his academic appointment at Brown University School of Medicine in 1993 and is presently a Professor (Research Scholar Track) in the Department of Pathology. Dr. Stopa is also the current Director of the Neuropathology Division at Rhode Island Hospital, one of Brown's seven affiliated hospitals. In addition, Professor Stopa oversees the Brown Brain Bank, which provides human tissue for purposes of basic and translational research for the Department of Neuroscience.

Before arriving at Brown, Dr. Stopa had a distinguished career as an Assistant Professor of Pathology at Tufts University School of Medicine, and as an Associate Professor of Pathology at the State University of New York. Since 1985, he has continued to serve as a research affiliate in Neuropathology for Harvard Medical School's McLean Hospital Human Brain Tissue Research Center. He was the recipient of a Physician Scientist Award from the National Institute on Aging, and trained in the laboratories of Dr Joan King and Dr Seymour Reichlin . He has over 80 articles to his credit in such prestigious publications as Science, Proceedings of the National Academy of Sciences, Brain Research, Endocrinology, New England Journal of Medicine and Annals of Neurology.

While affiliated with Brown, Dr. Stopa has made great strides in the understanding and treatment of aging and Alzheimer's disease through close collaborations with both basic and clinical neuroscientists. He has also been interested in neuroendocrinology, and has contributed extensively to our knowledge of the hypothalamic mechanisms that are responsible for human reproduction and circadian rhythmicity.
Institutions
Rih
Research Description
The Human Circadian Clock in Aging and Dementia. Alzheimer patients exhibit behavioral disorders including agitation, sleep-wake disturbances, motor restlessness, delusions and violence. The suprachiasmatic nuclei (SCN) and optic nerves are brain structures thought to be important for maintaining normal circadian rhythmicity. Our work utilizes morphometric analysis of postmortem tissues obtained from patients whose circadian parameters were categorized during life, to assess the changes which occur in the SCN as a function of aging and dementia.

Growth Factors in Alzheimer's Disease. Alzheimer's disease is associated with alterations in the regulatory mechanisms governing patterns of cytoskeletal protein expression. Growth factors are responsible for maintaining normal cellular homeostasis and gene expression, and may be critical determinants of the morphologic alterations typically seen in Alzheimer's disease. We have previously demonstrated that bFGF is abnormally increased in Alzheimer's disease. We are currently investigating the role of bFGF and various other growth factors in the pathogenesis of Alzheimer's disease using molecular, biochemical, and morphologic analyses.
Grants and Awards
McGill University, Faculty of Medicine Summer Research Award (1975-1978)

Physician Scientist Award, National Institute on Aging (1985-1990)

Dean's Excellence in Teaching Award (2005, 2006)

Alzheimer's Association, Temple Discovery Award for Innovative Therapies of Alzheimer's Disease (2003)
Affiliations
Massachusetts Medical Society
American Association of Neuropathologists
American Association for the Advancement of Science
Society for Neuroscience
Society for Research on Biological Rhythms
International Academy of Pathology
New York Academy of Sciences
Society for the Light Treatment of Biological Rhythm Disorders
Rhode Island Neurological Society
New England Society of Pathologists
Rhode Island Society of Pathologists
Funded Research
"Blood/CSF Barrier Function in Aging and Alzheimer's Disease"
Principal Investigator: Edward Stopa, M.D.
Agency: Alzheimer's Association
Period: January 1, 2004 to December 31, 2007
Type: Temple Foundation Discovery Award for Innovative Therapies of Alzheimer's Disease
Effort: 10%
The goal of this project is to study the short and long term effects of FGF-2 infusion into the brains of APP transgenic mice.

"Sleep, Circadian Rhythms and Dementing Illnesses"
Principal Investigator: David Harper, Ph.D.; Co-Investigator: Edward Stopa, M.D.
Agency: National Institutes of Health
Period: October 1, 2003 to September 30, 2008
Type: 1RO1 AG020654-01A1
Effort: 10%
The goal of this project is to study patients with dementing illnesses by collecting core-body temperature, polysomnographic, and locomotor activity rhythm data for correlation with post mortem neuropathological studies.

"Genetic Models of Human Dementias (sub project)"
Principal Investigator: John Sedivy, M.D., Justin Fallon, Ph.D.; Co-Investigator: Edward Stopa, M.D.
Agency: NIH/NCRR
Period: September 1, 2000 to August 31, 2005
Type: COBRE RFA RR-00-003
Effort: 10%
The goal of this project is to create transgenic mouse models of human dementias.

"Peptide Regulation of the Choroid Plexus—CSF System"
Principal Investigator: Conrad Johanson, Ph.D.; Co-Investigator: Edward Stopa, M.D.
Agency: National Institutes of Health
Period: August 1, 1999 to July 31, 2003
Type: 1RO1NS27601-06
Effort: 4%
The goals of this project are: (1) to evaluate the ability of fibroblast growth factor (FGF-2) and transforming growth factor beta 1 to modulate choroid plexus and CSF function in immature and aged rats; (2) to characterize the hydrocephalic state resulting from an excess of either FGF-2 or TFG-b1 infused into ventricular cerebrospinal fluid; and (3) to assess the role of FGF-2 and TGF-b1 in the response of the choroid plexus to transient forebrain ischemia.

"Heart Disease, CNS Dysfunction & Outcome in the Elderly"
Principal Investigator: Ron Cohen, Ph.D.; Co-Investigator: Edward Stopa, M.D.
Agency: National Institutes of Health
Period: April 1, 2000 to March 31, 2005
Type: 5RO1 AG17975-02
Effort: 10%
This study will assess cardiovascular and neurocognitive function and correlate these data with brain MRI and autopsy findings.
Teaching Experience
Lecturer, Neurosciences 262
Student Mentor, Bio 195/196 Independent Research
Lecturer, Biomed 285
Research Supervisor, Masters in Medicine Program
Director, Neuropathology Fellowship Training Program
Courses Taught
Neuroscience, Independent Research, Graduate Program in Pathobiology (262, 195/196, 285)
Selected Publications
Johanson CE, Donahue JE, Spangenberger A, Stopa EG, Duncan JA, Sharma HS. Atrial natriuretic peptide: its putative role in modulating the choroid plexus-CSF system for intracranial pressure regulation.Acta Neurochir Suppl. 2006;96:451-6. (2006)
Chan C, Moore BE, Cotman CW, Okano H, Tavares R, Hovanesian V, Pinar H, Johanson CE, Svendsen CN, Stopa EG. Musashi1 antigen expression in human fetal germinal matrix development.Exp Neurol. 2006 Jun 13. (2006)
Zipser BD, Johanson CE, Gonzalez L, Berzin TM, Tavares R, Hulette CM, Vitek MP, Hovanesian V, Stopa EG. Microvascular injury and blood-brain barrier leakage in Alzheimer's disease. Neurobiol Aging. 2006 Jun 15. (2006)
Maclean AV, Woods R, Alderson LM, Salloway SP, Correia S, Cortez S, Stopa EG. Spontaneous lobar haemorrhage in CADASIL. J Neurol Neurosurg Psychiatry. 2005 Mar;76(3):456-7. (2005)
Harper DG, Volicer L, Stopa EG, McKee AC, Nitta M, Satlin A. Disturbance of endogenous circadian rhythm in aging and Alzheimer disease. Am J Geriatr Psychiatry. 2005 May;13(5):359-68. (2005)
Johanson CE, Duncan JA, Stopa EG, Baird A. Enhanced prospects for drug delivery and brain targeting by the choroid plexus-CSF route. Pharm Res. 2005 Jul;22(7):1011-37. (2005)
Chang HT, Cortez S, Vonsattel JP, Stopa EG, Schelper RL. Familial frontotemporal dementia: a report of three cases of severe cerebral atrophy with rare inclusions that are negative for tau and synuclein, but positive for ubiquitin. Acta Neuropathol (Berl). 2004 Jul;108(1):10-6 (2004)
Sampath P, Weaver CE, Sungarian A, Cortez S, Alderson L, Stopa EG. Cerebrospinal fluid (vascular endothelial growth factor) and serologic (recover in) tumor markers for malignant glioma. Cancer Control. 2004 May-Jun;11(3):174-80. (2004)
Harper DG, Stopa EG, McKee AC, Satlin A, Fish D, Volicer L. Dementia severity and Lewy bodies affect circadian rhythms in Alzheimer disease. Neurobiol Aging. 2004 Jul;25(6):771-81. (2004)
Luo L, Stopa EG. Thyrotropin releasing hormone inhibits tau phosphorylation by dual signaling pathways in hippocampal neurons. J Alzheimers Dis. 2004 Oct;6(5):527-36. (2004)
Petersson KH, Pinar H, Stopa EG, Sadowska GB, Hanumara RC, Stonestreet BS. Effects of exogenous glucose on brain ischemia in ovine fetuses. Pediatr Res. 2004 Oct;56(4):621-9. (2004)