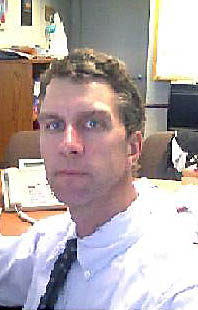 Nicholas Ward, MD
Associate Professor of Medicine
Medicine
Work
:
+1
401
-
444
-
8760
Prior research has focused on mediators of inflammation in Acute Lung Injury and Sepsis and mechanical ventilation of patients with ARDS. I continue to work in clinical trial on sepsis and other ICU infections.
Current research focuses on ethics, rationing, and intensive care unit utilization.
Biography
Dr. Ward joined the Brown faculty in 1999 after completing his pulmonary/critical care training at Yale- New Haven Hospital. His past research interests have included mechanisms of acute lung injury, mechanical ventilation of acute lung injury, and sepsis. His current research focuses on rationing, ethics and ICU resource utilization. In addtion to research, Dr. Ward attends in the Medical Intensive Care Unit, the Neuro ICU, and the pulmonary consultation service. He also lectures in the Pulmonary Pathophysiology course and is the co- course director. Dr. Ward is a member of the Medical Schoool curriculum committee, the Rhode Island hospital ethics committee, and is the pulmonary/critical care fellowship director.
Institutions
Rih
Grants and Awards
Fellow, American College of Chest Physicians
Brown Medical School, nominee for Greenwall Faculty Scholars Program in Bioethics, 2005
Dean's Teaching Excellence Award, Brown University School of Medicine
– pulmonary pathophysiology course 2001.
– pulmonary pathophysiology course 2002.
– pulmonary pathophysiology course 2003
– pulmonary pathophysiology course 2004
– clerkship in medicine 2004
– pulmonary pathophysiology course 2005
– clerkship in medicine 2005
– pulmonary pathophysiology course 2006
– clerkship in medicine 2006
Society of Critical Care Medicine – Presidential Citation for outstanding contributions to the SCCM 2006
Affiliations
American College of Chest Physicians – Fellow
American Thoracic Society – member,
-international Conference program committee for critical care 2005
Society of Critical Care Medicine
- Program Committee,-International Summer conference,
- representative for NIH Consensus conference on End of life research 2004
- International Congress Program Committee, 2006-2009
- chairman: working group on Physician/Patient ratios

Partnership for Excellence in Critical Care – steering committee (2003)
Values, Ethics, and Rationing Critical Care (VERICC) Taskforce – Project leader
Ocean State Ethics Network - member
Selected Publications
Ward, NS and Dushay, K., Concise Definitive Review: COPD and Mechanical Ventilation, invited review for Critical Care Medicine - in press (IN PRESS)
Ward, NS, and Levy, MM., Rationing in Critical Care Medicine. Invited Review for Critical Care Medicine Supplement Organizational and Management Ethics in the Intensive Care Unit Guest Editors: Stanley H. Rosenbaum, MD and Dan R. Thompson, MD, MA, FCCM. – in press. (IN PRESS)
Halpern, SD, Sophia A. Hussen, SA, Metkus, TS, Ward, NS, Luce, JM, and Curtis, JR, Development of an e-mail Database of US Intensive Care Physicians, Journal of Critical Care, 22; 28, 2007 (2007)
Ward, NS, Interleukin-6 in Encyclopedia of Respiratory Medicine, Geoffrey J Laurent and Steven D Shapiro editors; Elsevier Ltd., 2006 Oxford, UK (2006)
Current Opinion in Critical Care. 11(6):629-632, December 2005. (2005)
Teno, J, Mor, V., Ward, N., Roy, J., Clarridge, B., Wennber, J., and E. Fisher. Bereaved Family Member Perceptions of Quality of End-of-Life Care in U.S. Regions with High and Low Utilization of ICU Care. J Am Geriatr Soc. 2005 Nov;53(11):1905-11. (2005)
1. Ward, NS and Levy, MM End of Life Issues for the Critical Care Physician in Textbook of Critical Care 5th edition; M. Fink, E. Abraham, JL Vincent, P. Kochanek editors, Elsevier Science. Philadelphia. 2004. (2004)
14. Waxman, AB, Ward, NS, Thompson, T., Lilly, CM, Lisbon, A., Hill, N., Nasraway SA, Heard, S., Corwin, H., and M.M. Levy, Roundtable debate: controversies in the management of the septic patient – desperately seeking consensus. Critical Care (online journal), 8, August 2004. (2004)
11. Ward, NS and Teno, J. A Death Worth Dying For (editorial), 2004, Medical Care 42(5):1 (2004)
4. Ward, N.S., Snyder, J., Ross, S., Haze, D., and Levy, M.M. Comparison of a commercially available Clinical Information System with other methods of measuring ICU outcomes data. Journal of Critical Care, 2004 19(1):10-15. (2004)
10. Ward, NS and M.M. Levy, Blood Transfusion Practice Today, H. Corwin and P. Hebert ed., in Critical Care Clinics. WB Saunders, Philadelphia vol. 20, 2004. (2004)
13. Ward, NS, The Accuracy of Clinical Information Systems (a Review), 2004 Journal of Critical Care, (2004)
12. Ward, NS. Using Computers in ICU Research, 2003, Respiratory Care, 49(5); 487. (2003)
9. Ward, N.S. and Levy, M.M., 2003, Methods for determining optimal PEEP in patients with ARDS: Clinical Applications, Netherlands Journal of Critical Care 7(3):149. (2003)
8. Ward N.S., 2003 Anti-inflammatory mediators. In J. L. Vincent and M. M. Levy editor. Sepsis: Pathophysiologic insights and current management. Society of Critical Care Medicine monograph. (2003)
7. Ward, N.S. and Levy, M.M., 2002 Titrating Optimal PEEP at the Bedside: where are we now? In J.L.Vincent editor. Yearbook of Intensive Care and Emergency Medicine. Springer-Verlag, Berlin (2002)
5. O'Brien, A., Ward, N.S., 2002, Inhaled corticosteriods in COPD, Medicine and Health Rhode Island, 85(2):52-55. (2002)
4. Ward, N.S., O'Brien, A., 2002, End-of-life issues in the Critically Ill, Medicine and (2002)
3. Ward, N.S. and N. S. Hill, 2002. Pulmonary Function Testing in Patients with (2002)
3. Ward, N.S., Lin, D.Y., Nelson, K.L., Houtchens, J., Schwartz, W.A., Klinger,J. R., Hill, N.S., and M.M. Levy, Successful Determination of Lower Inflection Point and Maximal Compliance in a Population of Patients with ARDS, Critical Care Medicine, 2002. 30(5):963. (2002)
the literature, 2002. M.M. Levy editor. In Critical Care Clinics. W.B. Saunders, Philadelphia (2002)
2. Ward, N.S. and M.M. Levy, 2001. Clinical Information Systems in the ICU. In J.L.Vincent editor. Yearbook of Intensive Care and Emergency Medicine. (2001)
2. Khun, C., Homer, R., Zhou, Ward, N.S., Z., Flavell, R.A., Geba, G., and J.E. Elias, Airways hyperresponsiveness and airways obstruction in transgenic mice: morphologic correlates in mice overexpressing interleukin-11 and interleukin-6 in the lungs. American Journal of Respiratory Cell and Molecular Biology. 2000. 22:289. (2000)
1. Ward, N.S., Waxman, A.B., Homer, R.J., Einarrson, O., Du, Y.F., and J.A. Elias, IL-6 induced protection in hyperoxic lung injury. American Journal of Respiratory Cell and Molecular Biology.2000. 22(5):535. (2000)
1. Ward, N.S. and M. M. Levy, 2000. Pulmonary Oxygen Toxicity in Man: Emerging Concepts in Pathogenesis and Prevention. In J.L. Vincent, editor. Yearbook of Intensive Care and Emergency Medicine, Springer-Verlag, Berlin. 206-216. (2000)
1. Ward, NS, Teno, JM, Curtis, JR, Rubenfeld, GD, and MM Levy, Perceptions of Cost Constraints, Resource Limitations, and Rationing in United States Intensive Care Units: results of a National survey – submitted for publication ()
16. Ward, NS, and Levy, MM., Rationing in Critical Care Medicine. Invited Review for Critical Care Medicine Supplement Organizational and Management Ethics in the Intensive Care Unit ()
19(4) p.121-124. ()
6. Ward, N.S., The Effects of Prone Positioning in ARDS: an evidence based review of ()
Neuromuscular Disease, G. Chupp editor. In Clinics in Chest Medicine. W.B. Saunders, Philadelphia 769-81. ()
Springer-Verlag, Berlin, 685-694. ()
Halpern, SD., Metkus, TS, Fuchs, BD, Ward, NS, Siegel, MD, Luce, JM, and JR Curtis. Nonconsented HIV Testing among Critically Ill Patients: Intensivists' Practices and the Influence of State Laws, - Archives of Internal Medicine. - in press ()
Health Rhode Island, 85(2):60-62. ()
15. Ward, NS, Rationing critical care medicine: recent studies and current trends. ()
2. Ward, NS, Levy, MM and Teno, JM, Quality of the end-of-life experience in the ICU compared to non-ICU hospital settings: results of a national survey – in revisions. ()