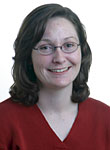 Jessica Whiteley, PhD
Adjunct Assistant Professor of Psychiatry & Human Behavior (Research)
Psychiatry & Human Behavior
Work
:
+1
401
-
793
-
8228
Professor Whiteley's research interests are in the areas of women's health, physical activity promotion, smoking cessation, Internet technology, dissemination of interventions and gynecological cancers.
Biography
Jessica Whiteley, PhD, is an assistant professor of psychiatry and human behavior at The Miriam Hospital and Brown Medical School. She received her BA in psychology from Bates College in 1993 and received her PhD in clinical psychology from Virginia Tech in 2001. She completed her clinical psychology internship at the Medical University of South Carolina in 2001.
Institutions
MH
Grants and Awards
Invited Presentation. Whiteley, J.A. and Lewis, B. "Interactive Technologies in Physical Activity, Weight Management, and Diabetes Prevention." Featured Session, Lifestyle Interventions for the Prevention and Treatment of Type 2 Diabetes: Current Evidence and Future Directions, 2004 Annual Meeting American College of Sports Medicine, Indianapolis, IN, June, 2004.


Invited Presentation. Whiteley, J.A. "Physical activity and the stages of change." Food Stamp Nutrition Education Program Conference, Annapolis, MD, September, 2003.
Affiliations
UMass Boston
Assistant Professor
Exercise and Health Sciences Department
Jessica.Whiteley@umb.edu
Funded Research
Active
Smoking Cessation for Women at Risk of Cervical Cancer
Jessica Whiteley, PhD (PI)

The aim of this study is to conduct the formative work necessary to adapt a smoking cessation program that utilizes exercise as an aid for smoking cessation to a population of women who are at risk of cervical cancer.

Computerized Physical Activity Promotion in Primary Care
Jessica Whiteley, PhD (Co-I)

The goal of this study is to investigate the efficacy of computerized reports to encourage patients to become physically active and to encourage and guide physician counseling for physical activity.

Previous

Building Interdisciplinary Research Careers in Women's Health (BIRCWH) Program at Women & Infants Hospital
Jessica Whiteley, PhD (PI, subcontract).

The goal of this project is to promote career development for junior investigators in Women's Health.

Evaluating Self-Help Programs for Exercise Adoption and Maintenance in Women
Jessica Whiteley, PhD (Co-I)

The purpose of this study is to evaluate two self-help print programs for increasing physical activity among women. This project is unique in that recruitment and assessments are being conducted directly in the communities where women live and work. Thus, this study aims to gather further information regarding the effectiveness of the programs when disseminated more broadly within a public health context.
Selected Publications
Boardman, L.A., Cooper, A.S., Clark, M., Weitzen, S., Whiteley, J.A., Peipert, J.F. (in press) Human Papillomavirus, Cervical Neoplasia and Smoking: Knowledge and Smoking Behaviors among Colposcopy Patients. Journal of Reproductive Medicine. (IN PRESS)
Bock, B.C., Graham, A.L., Sciamanna, C.N., Krishnamoorthy, J., Whiteley, J., Carmona-Barros, R., Niaura, R.S. & Abrams, D.B. (2004). Smoking Cessation Treatment on the Internet: Content, Quality and Usability. Nicotine & Tobacco Research, 6(2), 201-219. (2004)
Whiteley, J.A. & Hiott, W.D. (2003). Case Presentation: Social Phobia, Specific Phobia and Obsessive Compulsive Disorder. Sleep Well: Pediatrics, Psychiatry and Neurology. Vol. 3. In Janice D. Key, D. Walter Hiott, and Timothy Carter (Eds). (2003)
Whiteley, J. A. & Winett, R. A. (2000). Enhancing Women's Health through Principled Exercise Training. Handbook of Gender, Culture and Health, In Richard M. Eisler and Mischel Hersen (Eds.). (2000)
Winett, R. A., Anderson, E. S., Whiteley, J. A., Wojcik, J., Winett, S., Rovniak, L., Graves, R., Galper, D. (1999). Church-based health behavior programs: Using social cognitive theory to formulate interventions for at-risk populations. Applied and Preventive Psychology, 8, 129-142. (1999)
Winett, R.A, Roodman, A. A., Winett, S. G., Bajzek, W., Rovniak, L. S., & Whiteley, J. A. (1999). The Effects of the Eat4Life Internet-based Health Behavior Program on the Nutrition and Activity Practices of High School Girls. Journal of Gender, Culture, and Health, 4(3), 239-254. (1999)
Winett, R. A., Whiteley, J. A., Rovniak, L., Galper, D. I., & Graves, K. D. (1999). Blueprint for Motivation: Theory and Applications for Exercise Training. Blueprint for Strength and Fitness, In Matt Brzycki (Ed.), Indianapolis: Masters Press. (1999)
Brown, R. A., Burgess, E. S., Sales, S. D., Whiteley, J. A., Evans, D. M., & Miller, I. (1998). Reliability and validity of a smoking time-line follow-back interview. Psychology of Addicted Behaviors, 12(2), 101-112. (1998)