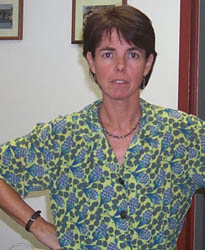 Julie Wilson, PhD, MN
Clinical Assistant Professor of Psychiatry & Human Behavior
Psychiatry & Human Behavior
Work
:
+1
401
-
729
-
6200
Follow-up study of children diagnosed with dyslexia to ascertain treatment effectiveness in a community sample.

Retrospective study of potential effects of lead exposure on intelligence, language development and memory in children and adolescents
Biography
Clinical involvement in psychological assessment of children and adolescents with neurodevelopmental disabilities including ADHD, Tics and Tourette Syndrome, Dyslexia and other Learning Disabilities, Executive function Deficits,Autism Spectrum disorders and co-morbid conditions including anxiety and depression. Provision of clinical and research supervision to residents and fellows in pediatric neuropsychology. Research interests in ADHD, Dyslexia and Sequelae of lead exposure.
Institutions
Mhri
Affiliations
American Psychological Association
National Association Of Pediatric Nurse Assosciates and Practitioners
Rhode Island Branch of International Dyslexia Association