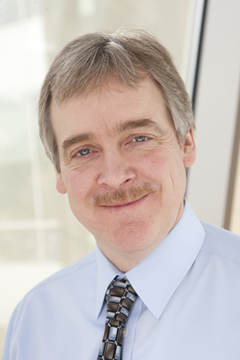 Joseph Bliss, MD, PhD
Associate Professor of Pediatrics
Pediatrics
Work
:
+1
401
-
274
-
1100
Joseph Bliss is interested in the weaknesses in the immune system of premature infants that lead to an increased risk of infection with the fungus, Candida. In particular, he is studying how one type of immune molecule, antibodies, may be able to help the immature immune system of these infants to fight these serious infections. The goal of his studies is to develop strategies to improve the function of the babies' immune system in order to better treat or prevent these infections.
Biography
Joseph Bliss is a neonatologist with a special interest in fungal infections in premature infants. He obtained his BA in Biology from Ithaca College in 1990, and his MD and PhD degrees from the University of Rochester in 1998. After completing his residency and fellowship training, he joined the Brown faculty in 2003. In addition to his clinical work, he studies host-defense mechanisms against infection with the fungus, C. albicans with special emphasis on the premature infant.
Institutions
WIH
Research Description
Joseph Bliss studies the fungal pathogen, Candida, and the role of antibody in host defense against this organism. Although the importance of cell-mediated immunity is well known, there is increasing evidence supporting a role for antibody in defense against Candida infections. Our work involves monoclonal antibody fragments directed against surface determinants of the organism that have been recently isolated and characterized. Current emphasis involves the identification of the cognate antigens recognized by these antibodies and the development of assays to evaluate their capacity to augment damage to the fungus by host effector mechanisms.

The premature neonate is at particularly high risk for developing serious infections with Candida, and these infections carry a significant rate of mortality. The susceptibility of this population is due in part to the immaturity in the immune function of these patients. The mechanisms by which the neonate defends against fungal infection and the specific deficiencies that increase risk are poorly understood. We are using the antibodies and assays of immune function to investigate the development of immunity in the neonate and potentially develop novel immunotherapies for these patients at risk.
Grants and Awards
Eastern Society for Pediatric Research Faulty Young Investigator Award, Finalist, 2007
Alpha Omega Alpha, 1998
USA Today All-Academic First Team, 1990
Affiliations
American Academy of Pediatrics
American Society for Microbiology
Eastern Society for Pediatric Research
Society for Pediatric Research
American Pediatric Society
Funded Research
"Antigenic Targets of Candida albicans Specific Antibody Fragments", Rhode Island Research Alliance Collaborative Grant Award, $200,000/yr, 2/1/11-1/31/12.

NCRR/NIH "COBRE for Perinatal Biology", Principal Investigator for Project 1: "Neonatal Candidiasis and Immune Compromise during Development" Grant Amount—$175,000/yr, 2008-2013.

March of Dimes Basil O'Connor Starter Scholar Research Award, "The Role of Specific Antibody in Host-Defense Against Neonatal Candidiasis". Grant Amount—$150,000, 2006-2008.

NIH, "Antibody in Defense Against Neonatal Candida Infections". Grant amount—$370,000, 2005-2009.
Selected Publications
Shintaku, T., Glass, K.A., Hirakawa, M.P., Longley, S.J., Bennett, R.J., Bliss, J.M. and Shaw, S.K. Human Endothelial Cells Internalize Candida parapsilosis via N-WASP Mediated Endocytosis. Infect. Immun., 81:2777-2787, 2013. (2013)
Linden, J.R., De Paepe, M.E., Laforce-Nesbitt, S.S., and Bliss, J.M. Galectin-3 Plays an Important Role in Protection against Disseminated Candidiasis. Med. Mycol., in press, 2013. (2013)
Pammi, M., Holland, L., Butler, G., Gacser, A., and Bliss, J.M. Candida parapsilosis Is a Significant Neonatal Pathogen: A Systematic Review and Meta-analysis. Pediatr. Infect. Dis. J., 32:e206-e216, 2013. (2013)
Linden, J.R., Kunkel, D., Laforce-Nesbitt, S.S., and Bliss, J.M. The Role of Galectin-3 in Phagocytosis of Candida albicans and Candida parapsilosis by Human Neutrophils. Cell. Microbiol., 15:1127-1142, 2013. (2013)
Bliss, J.M., Wong, A.Y., Bhak, G., Laforce-Nesbitt, S.S., Taylor, S., Tan, S., Stoll, B.J., Higgins, R.D., Shankaran, S., and Benjamin, Jr., D.K. for the Candida Subcommittee of the Eunice Kennedy Shriver National Institute of Child Health and Human Development Neonatal Research Network. Candida Virulence Properties and Adverse Clinical Outcomes in Neonatal Candidiasis. J. Pediatr., 161:441-447.e2, 2012. (2012)
Chow, B.D.W., Linden, J.R., and Bliss, J.M. Candida parapsilosis and the neonate: epidemiology, virulence and host defense in a unique patient setting. Expert Rev. Anti. Infect. Ther., 10: 935-946, 2012. (2012)
Tsai, N.Y., Laforce-Nesbitt, S.S., Tucker, R. and Bliss, J.M. A murine model for disseminated candidiasis in neonates. Ped. Research 69:189-193, 2011. (2011)
Al-Rawi, N., Laforce-Nesbitt, S.S., and Bliss, J.M. Deletion of Candida albicans SPT6 is not lethal but results in defective hyphal growth. Fung. Genet. Biol. 47: 288-296, 2010. (2010)
Linden, J.R., Maccani, M.A., Laforce-Nesbitt, S.S., and Bliss, J.M. High Efficiency Opsonin-Independent Phagocytosis of Candida parapsilosis by Human Neutrophils. Med. Mycol. 48: 355-364, 2010. (2010)
Destin, K.D., Linden, J.R.., Laforce-Nesbitt, S.S., and Bliss, J.M. Oxidative Burst and Phagocytosis of Neonatal Neutrophils Confronting Candida albicans and Candida parapsilosis. Early Hum. Develop. 85: 531-535, 2009. (2009)
Bliss, J.M., Basavegowda, K.P., Watson, W.J., Sheikh, A.U., and Ryan, R.M. Vertical and Horizontal Transmission of Candida albicans in VLBW Infants Using DNA Fingerprinting Techniques. Pediatr. Infect. Dis. J. 27: 231-235, 2008. (2008)
Laforce-Nesbitt, S.S., Sullivan, M.A., Hoyer, L.L., and Bliss, J.M. Inhibition of Candida albicans Adhesion by Recombinant Human Antibody Single-Chain Variable Fragment Specific for Als3p. FEMS Immunol. Med. Microbiol. 54: 195-202, 2008. (2008)