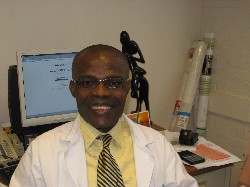 Awewura Kwara, MBchB; MPH&TM
Associate Professor of Medicine
Medicine
Work
:
+1
401
-
793-2463
Dr. Kwara's research is focussed on understanding the molecular, biological and clinical factors underylying the inter-individual variability in HIV and TB treatment response in individuals with HIV and TB coinfection.
Biography
Dr Kwara is an Infectious Diseases Specialist with training in Public Health and Tropical Medicine. He is an Associate Professor of Medicine, Warren Alpert Medical School of Brown University. He obtained MbChB from University of Ghana Medical School in 1992. He completed Internal Medicine Residency at Cook County Hospital and Infectious Disease Fellowship at Tulane University Health Sciences Center, both in the USA. Dr Kwara's research focuses on the optimal mangement of HIV and TB coinfection. He has broad expertise in the area Global Health, Infectious Diseases and HIV and tuberculosis coinfection research. Dr Kwara is a Co-Program Director of the Brown University-University of Ghana Higher Education Initiative for HIV/AIDS. The initiative is funded by USAID and Higher Education for Development (HED) and provides an excellent opportunity to build the capacity of University of Ghana to train researcher and care providers in the area of HIV/AIDS. Dr. Kwara has provided mentorship for pre-doctoral, post-doctoral students as well as junior faculty and trainees interested in translational research related to the infectious diseases in resource-limited setting.
Institutions
MH
Research Description
My research has focused on HIV and TB coinfection and improved co-treatment of the two infections in the same individual. The treatment of TB and HIV often require the co-administration of 7 or more different drugs. Individual differences in drug metabolism, drug-drug, as well as drug-gene interactions may lead to ineffective therapy due to low drug concentrations or toxicities due to high drug concentrations of some of the drugs. My work with key collaborators in the United States and Ghana seeks to unravel the molecular basis of inter-individual variability in anti-tuberculosis (anti-TB) and antiretroviral drugs pharmacokinetics, and drug-drug interactions in individuals with HIV and TB coinfection. The research focuses on understanding the role of genetic, biological as well as clinical factors on the inter-individual variability in drug response with the ultimate goal of developing personalized therapy. We have already identified genetic variants that influence the metabolism of important antiretrovirals such as zidovudine and efavirenz. We have also identified a potential mechanism explaining why some individuals paradoxically develop higher (rather than the expected lower) concentrations of efavirenz during rifampin-containing TB therapy: http://www.eatg.org/eatg/Global-HIV-News/TB-Malaria/Genetic-polymorphism-affects-efavirenz-levels-in-HIV-TB-patients-on-rifampin. A major focus of other research with colleagues in Ghana is to address the lack of pharmacokinetic data for anti-TB and antiretroviral drugs in children. Without such data, rational decisions about prescribing anti-TB and HIV medications in children are not possible. In work funded by National Institute of Health, we seek to determine the pharmacokinetics of the first-line anti-TB and antiretrovirals (ARVs) in children in Ghana, West Africa. We will also characterize the factors that lead to variable pharmacokinetics and drug-drug interactions and treatment responses in children with HIV and Tb infections. The studies will generate fundamental data for the commonly prescribed medications, as well as provide insights into predictors of the variable metabolism and treatment responses in children. Ultimately, our research will inform rational decisions about ARVs prescribing in HIV and TB co-infected persons, and will advance research that could accelerate translation of pharmacogenomics into clinical application.
Grants and Awards
Wetmore Foundation Fellow in TB/HIV, 2001
Affiliations
American college of Physicians
American Society of Tropical Medicine and Hygiene
Infectious Diseases of America
American Society of Microbiology
Funded Research
NIH/NICHD 7/15/12-4/31/17
1 R01HD071779-01A1 $503,058/yr
Title: Pharmacokinetics of anti-tuberculosis and antiretroviral drugs in children
The goal of this grant is develop a long-term program to study the pharmacokinetics and pharmacogenetics of HIV therapy in children at the Komfo Anokye Teaching Hospital, Kumasi, Ghana.
Role: Principal Investigator

NIH/NAID (PI) 6/1/11-8/31/12
1 R56 AI091448 $389,188

Title: Pharmacogenetics and Drug to Drug Interactions during HIV/TB Therapy
The goal of this grant is to to develop and validate an in vitro model for studying drug-drug and drug-gene interactions between TB and HIV drugs.
Role: Principal Investigator

USAID (Flanigan, PI) 7/1/11-6/30/13
Award # AEG-A-00-05-00007 $550,000
University of Ghana/Brown University Academic Partnership to Address HIV/AIDS in Ghana. The goal of this grant is to build capacity of the University of Ghana to conduct research, train and provide community service that contributes to enhanced response to the challenges of HIV/AIDS in Ghana.
Role: Co-Principal Investigator
Selected Publications
12. Burton NT, Forson A, Lurie MN, Kudzawu S, Kwarteng E, Kwara A. Factors associated with mortality among patients with tuberculosis attending a Teaching Hospital Clinic in Accra, Ghana.Trans R Soc Trop Med Hyg 2011;105:3527-33. (2011)
10. Vanhomwegen J, Kwara A, Martin M, Gillani F, Muntungi P, Crellin J, Obaro S, Hart C, Carter EJ, Rastogi N. Impact of immigration on the molecular epidemiology of tuberculosis in Rhode Island J Clin Microbiol 2011;49:834-44. (2011)
9. Lartey M, Sagoe K, Kenu E, Oliver-Commey J, Bioma V, Makafui S, Mingle JAA, Machan J, Kwara A. Plasma HIV RNA Dynamics in Response to Efavirenz-based HAART in HIV/TB Co-infected compared to HIV-Mono-infected Patients. Clin Infect Dis 2011;52:547-550. (2011)
8. Kwara A, Lartey M, Sagoe KW, Court MH. Paradoxically Elevated Efavirenz Concentrations in HIV/TB Co-infected Patients with CYP2B6 516TT Genotype on Rifampin-containing Antituberculous Therapy (Research Letter). AIDS 2011;25:388-390. (2011)
11. Kwara A, Tashima K, Poethke P, Kurpewski J, Kashuba ADM, Court M. Modest but variable effects of rifampin on steady-state plasma pharmacokinetics of efavirenz in healthy African American and Caucasian Volunteers. Antimicrob Agents Chemother 2011;55:3527-3533. (2011)
7. Kwara A, Ramachandran G, Swaminathan S. Dose adjustment of the nonnucleoside reverse transcriptase inhibitors during concurrent rifampicin-containing tuberculosis therapy: one size does not fit all. Expert Opin Drug Metab Toxicol 2010;6:55-68. (2010)
6. Kwara A, Lartey M, Sagoe WC, Kenu E, Court MH. CYP2B6, CYP2A6 and UGT2B7 genetic polymorphisms are predictors of efavirenz mid-dose concentration in HIV-infected patients. AIDS 2009;23:2101-6. (2009)
5. Kwara A, Lartey M, Boamah I, Rezk N, Oliver-Commey J, Kenu E, Kahusba ADM, Court MH. Pharmacokinetics of NRTIs in TB/HIV co-infected patients: The UGT2B7*1c haplotype tagSNP c.735A>G is associated with higher zidovudine glucuronidation. J Clin Pharmacol 2009;49:1079-1090. (2009)
4. Kwara A, Lartey M, Sagoe KW, Rezk N, Court MH. CYP2B6 (c.516G→T) and CYP2A6 (*9B and/or *17) Polymorphisms are Independent Predictors of Efavirenz Plasma concentrations in HIV-infected Patients. Br J Clin Pharmacol 2009; 67:427-436. (2009)
3. Kwara A, Lartey M, Sagoe KW, Xexemeku F, Kenu E, Oliver-Commey J, Boima V, Sagoe A, Boamah I, Greenblatt DJ, Court MH. Pharmacokinetics of efavirenz when co-administered with rifampin in TB/HIV co-infected patients: pharmacogenetic effect of CYP2B6 variation. J Clin Pharmacol 2008;48:1032-1040. (2008)
2. Kwara A, Flanigan TP, EJ Carter. Highly active antiretroviral therapy (HAART) in adults with tuberculosis: current status. Int J Tuber Lung Dis 2005;9:248-257. (2005)
1. Kwara A, Carter EJ, Rich JD, Flanigan TP. Development of opportunistic infections after diagnosis of active tuberculosis in HIV-infected patients. AIDS Patient Care and STDS 2004;18:341-347. (2004)