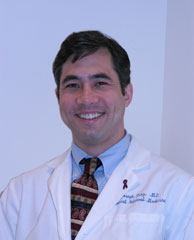 Joseph Anthony Diaz, MD, MPH
Associate Professor of Medicine
Medicine
Joseph Diaz has the following research interests: cancer control and prevention; language barriers and access to healthcare; disparities in cancer screening; and medical education.
Biography
Joseph Diaz, MD joined the medical faculty at Memorial Hospital in July, 2001 in the Department of Medicine. Originally from Pennsylvania, he received his undergraduate training at Boston College where he majored in history. He did Post Baccalaurate work at Bryn Mawr College from 1991 to 1992. Dr. Diaz attended the Brown University Medical School from 1992- 1996. Following graduation, he entered the General Internal Medicine Residency Program at Rhode Island Hospital, graduating in 1999. He remained at RIH for an additional two years in the General Internal Medicine Fellowship Program.


Dr. Diaz has an appointment at Brown University as Associate Professor of Medicine and has research interests in cancer prevention and control, cancer screening disparities, and medical education. In addition to his clinical and research work, he is the co-coordinator of the Department of Medicine's medical exchange program to the Dominican Republic.
Institutions
MHRI
Research Description
Dr. Diaz' current research projects focus on colon cancer screening and screening disparities. He is in the process of developing and validating a bilingual (English and Spanish) survey instrument to evaluate the effectiveness of colorectal cancer decision aids for patients considering screening. His current study, "Colorectal Cancer Decision Aids in Primary Care", focuses on: (1) identifying patients' beliefs and potential misconceptions about colorectal cancer screening via focus groups; (2) developing an evidence-based instrument to measure patients' knowledge, judgments and level of decisional conflict regarding screening; and (3) via a cross-sectional study of primary care patients, validating the instrument and simultaneously assessing patients' baseline levels of knowledge, judgments, and decisional conflict about colorectal cancer screening. Once developed, the instrument will help to elucidate how colorectal cancer screening decision-aids impact the decision making process by examining potential mediating variables between decision aids and eventual screening behaviors. Thus, the instrument will be an important asset in the process evaluation of current and future colorectal cancer decision aids.
Grants and Awards
July 2001 Dean's Teaching Excellence Award, Brown Medical School, Providence, RI

November 2001 Mentoring Program for Beginning Faculty, Brown Medical School, Providence, RI

December 2002 Innovation in Medical Education, Brown Medical School, Providence, RI

May 2003 Profiles in Competence Award – Ability IV "Self-Care, Self-Awareness and Personal Growth", Brown Medical School, Providence, RI

May 2003 Faculty recipient - Arnold P. Gold Humanism in Medicine Award, Brown Medical School, Providence, RI

June 2003 Excellence in Teaching Award, Internal Medicine Residency Program, Memorial Hospital of RI/ Brown Medical School, Pawtucket, RI

May 2004 Chairman's Award for Outstanding Teaching, Department of Medicine, Brown Medical School, Providence, RI

May 2004 Faculty Marshal, Commencement, Brown Medical School, Class of 2004, Providence, RI

May 2005 Medical Convocation Faculty Speaker, Brown Medical School Class of 2005, Providence, RI

October 2005 Outstanding Volunteer Service Recognition, "Good Health Starts with Good People", RI Free Clinic / BC&BS of RI, Providence, RI

May 2006 Faculty Marshal, Commencement, Brown Medical School, Class of 2006, Providence, RI

May 2007 Faculty Award, MD Class of 2007, Warren Alpert Medical School of Brown University, Providence, RI

March 2008 Medical Educator of the Year, New England Region – Society of General Internal Medicine

May 2009 Faculty Teaching Award, MD Class of 2009, Warren Alpert Medical School of Brown University, Providence, RI
Affiliations
American College of Physicians
Society of General Internal Medicine
American Society of Preventive Oncology
Funded Research
NIH/NCI K07CA106780
5/2/06 - 5/1/11
Colorectal Cancer Decision Aids in Primary Care

NIH/NCI Admin Supplement 3K07CA106780-04S1
09/30/09-09/29/2011
Colorectal Cancer Decision Aids in Primary Care
Teaching Experience
UNIVERSITY TEACHING ROLES

October 2001 – 2006 Site Director, Internal Medicine Clerkship, Memorial Hospital of Rhode Island / Brown Medical School

October 2001 – 2006 Co-Coordinator, Objective Structured Clinical Exam for third-year core clerkship in internal medicine, Brown Medical School

October 2004 – present Co-Coordinator, Dominican Republic Medical Exchange, Clinical Program, Department of Medicine, Brown Medical School
Selected Publications
Diaz, JA, Sciamanna CN, Stamp MJ, Evangelou E, Ferguson T. What Types of Internet Guidance Do Patients Want from Their Physicians? Journal of General Internal Medicine. 2005; 20:683-685. (2005)
Diaz JA and Stamp MS. Primer on Medical Professionalism. Journal of the American Podiatric Medical Association. J Am Podiatr Med Assoc. 2004; 94(2):206-209. (2004)
Diaz, JA, Stamp MJ. Caught in the Web? The prospects of online health information for patients. Chest. 2003; Nov;124(5):2032. (2003)
Diaz, JA, Griffith RA, Ng, JJ, Friedmann PD, Reinert S, Moulton AW. Patients' Use of the Internet for Medical Information. Journal of General Internal Medicine. 2002; 17:180-185. (2002)