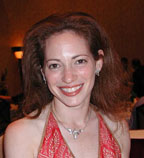 Deborah Gutman, MD, MPH
Assistant Professor of Emergency Medicine
Emergency Medicine
Work
:
+1
401
-
793
-
8640
I am conducting research in medical education including high fidelity medical simulation, as well as, novel means of evaluating medical training.
Biography
DEBORAH GUTMAN, MD, MPH, a graduate of Brown Medical School, is an attending physician at Rhode Island Hospital. Dr. Gutman is Curriculum Coordinator for the Warren Alpert School of Medicine Department of Emergency Medicine. Medical School: Brown University 1999; Residency Training: Emergency Medicine at Brown Medical School '03; Board Certified: Emergency Medicine 2004
Institutions
RIH
Research Description
Currently developing a Curriculum in Geriatric Emergency Medicine using High Fidelity Medical Simulation.

Conducting a survey of women's health and gender based medicine curricula in post graduate Emergency medicine training.
Grants and Awards
1997 Delta Omega Public Health Honor Society
Affiliations
American College of Emergency Physicians
Society of Academic Emergency medicine
Funded Research
Geriatrics Education for Specialty Residents Training Grant
Role: Principal Investigator
Agency: American Geriatrics Society
Period: July 1, 2005 – June 30, 2007
Total Costs: $32,000

Rhode Island Emergency Medical Services for Children Targeted Issues Grant
Role: Development and Implementation of Hispanic Injury Prevention Outreach Program
Co-Project PI: Angela Anderson, MD and Dale Steele, MD
Agency: Department of Health and Human Services
Period: 1997-1999
Total Costs: $150,000
Selected Publications
Gutman D, Biffl WL, Suner S, Cioffi WG. The Station Nightclub Fire and Disaster Preparedness in Rhode Island. Medicine and Health Rhode Island. 86 (11):344-346. November 2003 (2003)
Gutman D, Savitt D, Storrow A. Atlas of Emergency Medicine, second edition. Chapter 11: Extremity Trauma: pp289-346, KJ Knoop, LB Stack, AB Storrow Eds., McGraw Hill, New York, 2002. (2002)