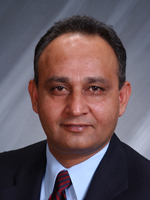 Aman Nanda, MD
Associate Professor of Medicine
Medicine
Work
:
+1
401
-
444
-
5248
Aman Nanda, an associate professor in medicine, is interested in the home health care related issues of home bound older persons. Also interested in health care issues related to nursing home care in older persons and dizziness in older persons.
Biography
Dr. Nanda is a Program Director of Geriatric Medicine Fellowship Program, Brown Medical School. He came to Brown after completing his one year Fellowship in Geriatric Medicine from St. Louis University School of Medicine followed by two more years of Fellowship in Geriatric Medicine and Clinical Epedemiology from Yale School of Medicine.
Institutions
RIH
Research Description
Aman Nanda's research interests include issues related to end of life care and other issues in home care and nursing home settings, as well as dizziness in older persons. In one study he examined the perception of not receiving enough home health services and its association with the last place of care prior to death. The results showed that about one in four family members reported an unmet need for home health. The last place of care for these decedents was more likely to be a nursing home. In another study he tried to determine the temporal relationships among dizziness,depressive symptoms,and antidepressants. The results showed that dizziness was a common complaint among patients with depressive symptoms even prior to the initiation of antidepressants. It also showed variable relationship between dizziness, antidepressants, and depressive symptoms.
Grants and Awards
Excellence in Research award (PGY-3 Resident) for the year 1997-98, Dept. of Medicine, New
York Flushing Hospital Medical Center, Flushing, NY.

"Hospice Physician Champion" for dedication and excellence in End of Life Care by Home & Hospice Care of Rhode Island, February 2007.

Nominee for "Medical Director of the Year" award at National AMDA annual meeting, March 2007.

Best Doctors in America

Best Doctors in Rhode Island, 2010
Affiliations
Brown University
Rhode Island Hospital
The Miriam Hospital
American Geriatric Society
American Medical Director Association
Funded Research
Donald W. Reynold Foundation Mandatory Geriatric Education for Brown Medical School: Comprehensive Curriculum Redisign. (Richard Besdine- PI) $2,000,000, 4 year award begining July 01, 2006. (30%)
Teaching Experience
Dr. Nanda is a preceptor for Community Medicine Clerkship (Geriatric Medicine Elective). He is a preceptor for Medical Students, Internal Medicine Residents in the Ambulatory Care and Nursing Homes. He is a Program Director of Geriatric Medicine Fellowship Program.
Selected Publications
Rhodes R, Nanda A. IMAGES IN MEDICINE. Medicine and Health, Rhode Island. Journal by Rhode Island Medical Society. 2005;88(2):53. (2005)
Nanda A, Besdine RW. CHRONIC DIZZINESS. In. Hazzard WR et al, editors. Principles of Geriatric Medicine and Gerontology. 5th ed. New York. McGraw-Hill; 2003. (2003)
Nanda A, Tinetti ME. CHRONIC DIZZINESS AND VERTIGO. In. Cassel CK, Leipzig RM,Cohen HJ, Larson EB, Meier DE, editors. Geriatric Medicine. 4th ed. New York: Springer-VerlagNew York Incorporated; 2003. (2003)
Tinetti ME, Baker D, Gallo W, Nanda A, Charpentier P, O'Leary J. TRIAL OF A RESTORATIVE MODEL FOR OLDER PERSONS RECEIVING AN ACUTE EPISODE OF HOME CARE. JAMA. 2002;287:2098-2105. (2002)
Kao A, Nanda A, Williams CS, Tinetti ME. VALIDATION OF DIZZINESS AS A POSSIBLE GERIATRIC SYNDROME. (Paper). Journal of American Geriatric Society. 2001;49:72-75. (2001)