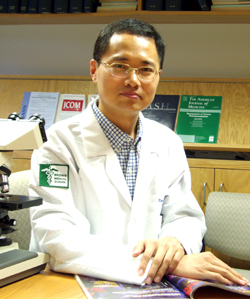 Rujun Gong, M.D., Ph.D.
Associate Professor
Department of Medicine
Work
:
+1
Tel:
-
(401)
-
444
-
0989
-
(office)
The overarching goal of my research is to bring clinical questions to bench research and then translate bench research findings into clinical care of human kidney disease. The ongoing research of my lab focuses on understanding the mechanisms of kidney injury, repair and regeneration. Current research projects in my lab include:

1) Pathogenic mechanisms and novel treatments of glomerulopathies;

2) Pathogenic mechanisms of acute kidney injury;

3) Cell signaling mechanisms involved in chronic renal fibrogenesis or scarring;

4) The pathogenesis and treatment of renal inflammation.
Biography
Rujun Gong, MD, PhD is currently Associate Professor and Physician Scientist at the Nephrology Division of Brown Medical School. Dr. Gong earned his MD and PhD degrees from Nanjing University School of Medicine in Nanjing, China. The Research Institute of Nephrology at Nanjing University is the largest and premier clinical and investigative nephrology program in China. There, he received systemic and intensive residency training in internal medicine and renal fellowship training in both clinical nephrology and molecular nephrology. After that, he completed his research fellowship training at Brown and was recruited to the Faculty of Medicine at Brown in 2004. Dr. Gong's research interests center on pathogenesis and therapy of glomerulopathies, in particular podocytopathies and nephrotic syndrome; and pathogenic mechanisms of renal fibrogenesis and inflammation. His other research interests include epistasis in common kidney diseases; immunopathogenesis of lupus nephritis; and mechanisms of acute and chronic kidney injury, repair and regeneration. His research has been well funded by National Institutes of Health, private foundations and industry, and has been very active and productive with over 30 original scientific publications as well as book chapters and patents.
Institutions
RIH
Research Description
Inflammation, which is characterized by tissue infiltration by leukocytes, is a basic, yet complex biological reaction that is part of the innate immune response to harmful stimuli, such as pathogens, antigens, damaged cells, toxicants and irritants. Inflammation is a protective attempt by the body to remove the injurious stimuli, as well as to initiate the healing process. An inflammatory response of appropriate magnitude and timing is crucial to tissue repair and homeostasis. Most inflammatory responses are acute and self-limiting; however, an excessive inflammatory reaction may result in critical and fatal conditions, such as systemic inflammatory response syndrome, severe acute respiratory syndrome, and acute renal failure. In addition, if the inflammatory response is prolonged or frequently relapsing, chronic persistent inflammation develops, which may promote fibrosis and loss of organ function. NSAIDs and immunosuppressants are widely used to treat excessive or chronic inflammation; however, no currently available therapy is completely effective. Moreover, a considerable number of patients suffer from the side effects of these treatments. Therefore, it is imperative to develop a novel therapy that could effectively control inflammation without significant adverse effect. Recent studies from our lab and other groups reproducibly proved that the potent anti-inflammatory action of hepatocyte growth factor and other growth factors and cytokines is mediated by the glycogen synthase kinase (GSK) 3 beta signaling.

The ongoing research of my lab centers on the regulatory role of GSK3beta signaling in the pathogenesis and development of inflammatory injury in diseased kidney. In addition, our research also focuses on the role of GSK3beta signaling in the pathogenesis of glomerular disease and renal fibrogenesis.

Other research interests of my lab include:

1) Population genetics and epistasis in common kidney disease;

2) Pathogenesis and corticotropin therapy for patients with idiopathic nephrotic syndrome;

3) Immunopathogenesis of lupus nephritis;

4) Mechanisms of acute kidney injury and repair;

5) Pathogenic role of aldosterone in renal and cardiovascular injuries.
Grants and Awards
Yong Investigator Award Finalist, 12th Annual Research Celebration, Lifespan & Brown Medical School, 2004

Young Investigator Award, the Foundation for Health, 2005

Northwestern Cardiovascular Young Investigator Award Finalist. Chicago, IL, 2006

Young Investigator Award, Chinese American Society of Nephrology, 2011.
Affiliations
American Society of Nephrology (ASN)
American Heart Association (AHA)
International Society of Nephrology (ISN)
Chinese American Society of Nephrology (CASN)
Funded Research
Completed:
1. Project Title: Regulation of proinflammatory phenotype of renal tubular epithelial cells by HGF.
Role: Principal Investigator
Agency: Foundation for Health
Period: 2005~ 2007

2. Grant Title: Role of a signaling transducer in pathogenesis of inflammatory kidney disease.
Role: Principal Investigator
Agency: Rhode Island Foundation
Period: 2008~ 2009

3. Grant Title: A novel therapy for lupus nephritis.
Role: Principal Investigator
Agency: Lifespan Development Grant
Period: 2007~ 2009

Active
1. Grant Title: Effect of a drug on progressive kidney disease.
Role: Principal Investigator
Agency: Pharmaceutical Company
Period: 2008~ 2010

2. Grant Title: Therapeutic mechanisms of renoprotective drugs.
Role: Principal Investigator
Agency: Pharmaceutical Company.
Period: 2009~ 2010

3. Grant Title: A novel therapy for lupus nephritis.
Role: Principal Investigator
Agency: University Medicine Foundation
Period: 2010~ 2011

4. Grant Title: Therapeutic targeting of GSK3beta.
Role: Principal Investigator
Agency: NIH NIDDK RO1 grant
Period: 2011~ 2016
Teaching Experience
Dr. Rujun Gong has successfully mentored or advised many medical students, residents, nephrology fellows and postdoctoral research fellows in his research program. At the end of the training, all trainees have a brief view of the design, execution and result interpretation of related renal research projects.

Internal Medicine Residents:
Susan Eckert, MD
Thejaswini Kempananjappa, MD
Elisabeth Liang, MD

Nephrology Fellows:
Michael W. Ham, MD
Moses Y. Aboagye-Kumi, MD
Amit Joshi, MD
Abha Sexena, MD
Charles Stuart, MD
Wirasat Hasnain, MD
Saeed Shaffi, MD

Postdoctoral or Research Fellows:
Chen Yu, MD, PhD
Shan Chen, MBBS, MSc, PhD
Jin Si, PhD
Hao Bao, MD, PhD
Li Tian, MD
Selected Publications
28. Si J, Ge Y, Zhuang S, Wang LJ, Chen S, Gong R*. Adrenocorticotropic hormone ameliorates acute kidney injury by steroidogenic-dependent and -independent mechanisms. Kidney International 83(4):635-646, 2013. (1029)
27. Brem AS, Morris DJ, Li X, Ge Y, Shaw S, Gong R*. Adrenalectomy amplifies aldosterone induced injury in cardiovascular tissue: An effect attenuated by adrenally derived steroids. Steroids 78(3):347-55, 2013. (1028)
26. Gong R*. The renaissance of corticotropin therapy in proteinuric nephropathies. Nature Reviews Nephrology 8(2):122-128, 2012. (1027)
25. Bao H, Ge Y, Zhuang S, Dworkin L, Liu Z, Gong R*. Inhibition of glycogen synthase kinase 3β prevents NSAID-induced acute kidney injury. Kidney International 81(7):662-673, 2012. (1026)
24. Brem A, Morris D, Gong R*. Aldosterone Induced Fibrosis in the Kidney: Questions and Controversies. American Journal of Kidney Disease 58(3):471-479, 2011. (1025)
23. Luo J, Li Y, Gong R*. The mechanism of atopic march may be the 'social' event of cells and molecules. International Journal of Molecular Medicine 26:779-785, 2010. (1024)
22. Ge Y, Si J, Tian L, Zhuang S, Dworkin L, Gong R*. Conditional ablation of glycogen synthase kinase 3b in postnatal mouse kidney. Laboratory Investigation 91(1):85-96, 2011. [Cover Story] (1023)
21. Brem AS, Morris DJ, Ge Y, Dworkin L, Tolbert E, Gong R*. Direct Fibrogenic Effects of Aldosterone on Normotensive Kidney: An Effect Modified by 11ß-HSD Activity. American Journal of Physiology Renal Physiology 298:F1178-F1187, 2010. (1022)
20. Si J, Ge Y, Zhuang S, Gong R*. Inhibiting nonmuscle myosin II impedes inflammatory infiltration and ameliorates progressive renal disease. Laboratory Investigation 90(3):448-458, 2010. Featured article with commentary: Putting the brakes on inflammatory cell motility. Laboratory Investigation 90(3): 346-347, 2010. (1021)
19. Gong R*. Multi-target anti-inflammatory action of hepatocyte growth factor. Current Opinion in Investigational Drugs 9(11):1163-1170, 2008. (1020)
18. Gong R, Latif S, Morris DJ, Brem AS. Co-localization of glucocorticoid metabolizing and prostaglandin synthesizing enzymes in rat kidney and liver. Life Sciences 83(21-22):725-731, 2008. (1019)
17. Chen S, Ge Y, Si J, Rifai A, Dworkin LD, Gong R*. Candesartan suppresses chronic renal inflammation via a novel antioxidant action independent of AT1R blockade. Kidney International 74(9): 1128-1138, 2008. Featured article with commentary: Candesartan and oxidative stress. Kidney International 74(9):1103, 2008. Macconi D, Remuzzi G. Candesartan and renal protection: more than blocking angiotensin type 1 receptor? Kidney International 74(9):1112-1114, 2008. (1018)
16. Gong R*, Ge Y, Chen S, Liang E, Esparza A, Sabo E, Yango A, Gohh R, Rifai A, Dworkin LD. Glycogen synthase kinase 3b: a novel marker and modulator of inflammatory injury in chronic renal allograft disease. American Journal of Transplantation 8(9):1852-1863, 2008. (1017)
15. Gong R*, Rifai A, Ge Y, Chen S, Dworkin LD. Hepatocyte growth factor suppresses proinflammatory NF-kB activation through GSK3b inactivation in renal tubular epithelial cells. Journal of Biological Chemistry 283(12):7401-7410, 2008. (1016)
14. Gong R, Morris DJ, Brem AS. Variable Expression of 11ß Hydroxysteroid Dehydrogenase (11b-HSD) Isoforms in Vascular Endothelial Cells. Steroids 73(11):1187-1196, 2008. (1015)
13. Gong R, Morris DJ, Brem AS. Human renal 11beta-hydroxysteroid dehydrogenase 1 functions and co-localizes with COX-2. Life Sciences 82(11-12):631-637, 2008. (1014)
12. Yu C, Gong R, Rifai A, Tolbert EM, Dworkin LD. Long-term, high-dosage candesartan suppresses inflammation and injury in chronic kidney disease: nonhemodynamic renal protection. Journal of the American Society of Nephrology 18(3):750-759, 2007. (1013)
11. Gong R, Liu Z, Li L. Epistatic effect of plasminogen activator inhibitor 1 and b-fibrinogen genes on risk of glomerular microthrombosis in lupus nephritis: Interaction with environmental/clinical factors. Arthritis and Rheumatism 57(5):1608-1617, 2007. (1012)
10. Gong R*, Rifai A, Dworkin LD. Hepatocyte growth factor suppresses acute renal inflammation by inhibition of endothelial E-selectin. Kidney International 69(7):1166-1174, 2006. (1011)
9. Gong R*, Rifai A, Dworkin LD. Anti-inflammatory effect of hepatocyte growth factor in chronic kidney disease: Targeting the inflamed vascular endothelium. Journal of the American Society of Nephrology 17(9): 2464-2473, 2006. (1010)
8. Gong R*, Rifai A, Dworkin LD. Activation of PI3K-Akt-GSK3beta pathway mediates hepatocyte growth factor inhibition of RANTES expression in renal tubular epithelial cells. Biochemical and Biophysical Research Communications 330(1):27-33, 2005. (1009)
7. Biswas P, Roy A, Gong R, Yango A, Tolbert E, Centracchio J, Dworkin LD. Hepatocyte Growth Factor induces an Endothelin Mediated Decline in Glomerular Filtration Rate. American Journal of Physiology Renal Physiology 288(1):F8-F15, 2005. (1008)
6. Chen H, Liu Z, Gong R, Tang Z, Zeng C, Zhu M, Wang J, Zhou H, Li L. Lipoprotein glomerulopathy: clinical features and pathological characteristics in Chinese. Chinese Medical Journal 117(10):1513-17, 2004. (1007)
5. Dworkin LD, Gong R, Tolbert E, Centracchio J, Yano N, Zanabli A, Esparza A, Rifai A. Hepatocyte growth factor ameliorates progression of interstitial fibrosis in rats with established renal injury. Kidney International 65(2):409-19, 2004. (1006)
4. Gong R, Rifai A, Tolbert E, Biswas P, Centracchio J, Dworkin LD. Hepatocyte growth factor ameliorates renal interstitial inflammation in nephrectomized rats by modulating tubular expression of MCP-1 and RANTES. Journal of the American Society of Nephrology 15(11):2868-81, 2004. Featured article with commentary: Attacking Renal Inflammation in CKD. Journal of the American Society of Nephrology 15(11):2765–2767, 2004. (1005)
3. Gong R, Rifai A, Tolbert E, Centracchio J, Dworkin LD. Hepatocyte growth factor modulates matrix metalloproteinases and plasminogen activator/plasmin proteolytic pathways in progressive renal interstitial fibrosis. Journal of the American Society of Nephrology 14(12):3047-60, 2003. (1004)
2. Liu Z, Cheng ZH, Gong R, Liu H, Liu D, Li L. Sex differences in estrogen receptor gene polymorphism and its association with lupus nephritis in Chinese. Nephron 90(2):174-80, 2002. (1003)
1. Gong R, Liu Z, Li L: Mannose-binding lectin gene polymorphism associated with the patterns of glomerular immune deposition in IgA nephropathy. Scandinavian Journal of Urology and Nephrology 35(3):228-32, 2001. (1002)
* Corresponding author (1001)