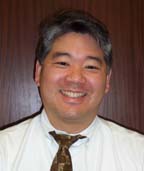 Edward Chien, MD
Associate Professor of Obstetrics & Gynecology
Obstetrics & Gynecology
Work
:
+1
401
-
274
-
1122
Dr. Chien's laboratory is interested in the biology of the cervix during pregnancy. He is laboratory is focused on understanding structure function relationships of the extracellular matrix and how they contribute to its mechanical properties. He is evaluating the effects of reproductive hormones and stretch on cervical extracellular matrix production.
Biography
Edward Chien is an Associate Professor in the Department of Obstetrics and Gynecology, Section of Maternal Fetal Medicine. He received a Bachelor of Science from the University of Illinois in Chemical Engineering in 1984, his Doctor in Medicine in 1988 from the University of Illinois College of Medicine in Chicago. He completed his residency training in 1992 at the University of Michigan and continued sub-specialty training at the University of Chicago in Maternal Fetal Medicine where he continued as a junior faculty member.He joined the Brown Faculty and Women & Infants Hospital in 2004 where he currently directs the Maternal Fetal Medicine Fellowship program.

Dr. Chien is a reviewer for a number of journals including Biology of Reproduction, American Journal of Obstetrics and Gynecology, and Journal of the Society for Gynecologic Investigation. He was the March of Dimes Fellow in the Reproductive Scientist Development Program from 1995-1997 investigating the gene expression in gestational myometrium for which he received the President's Presenter Award from the Society of Gynecologic Investigation in 1996. He has subsequently received a K08 to investigate Differential gene expression in myometrium during pregnancy. He is a co-investigator on the National Children's Study Brown Study Center and a Principal Investigator for the National Standard for Normal Fetal Growth.
Institutions
WIH
Selected Publications
16. Clark K, Ji H, Feltovich H, Janowski J, Carroll C, and Chien EK. Mifepristone Induced Cervical Ripening: Structural, Biomechanical, and Molecular Events. In Press Am J Obstet Gynecol. Oct 2005. (2005)
15. Dixon ME, Chien EK, Osol G,Callas PW, Bonney EA, Failure of Decidual Arteriolar Remodeling in the CBA/J x DBA/2 Murine Model of Recurrent Pregnancy Loss is Linked to Increased Expression of Tissue Inhibitor of Metalloproteinase 2 (TIMP-2). In Press Am J Obstet Gynecol. March 2005. (2005)
14. Feltovich H, Ji H, Janowski J, Delance NC, Moran CC, Chien EK. Effects of Selective and Non-Selective PGE2 Receptor Agonists on Cervical Tensile Strength and Collagen Organization and Microstructure in the Pregnant Rat at Term. Am J Obstet Gynecol. 192:753-760, 2005. (2005)
13. Chien EK, Ji H, Feltovich H, Clark K. Expression of MMP-3 in the Rat Cervix during Pregnancy and in Response to Prostaglandin E2. Am J Obstet Gynecol, 192:309-17, 2005. (2005)
12. Clark K, Viscomi C, Lowell J, Chien EK. Nitroglycerin for uterine relaxation to establish a fetal airway (EXIT procedure). Obstet Gynecol, 103:1113-5, 2004. (2004)
11. Elovitz MA, Wang Z, Chien EK, Rychlik D, Phillippe M. A new model for inflammation-induced preterm birth: the role of platelet activating factor and toll-like receptor-4. Am J Pathol 163:2103-2111, 2003. (2003)
10. Chien EK MacGregor C. Expression and Regulation of the Rat Prostaglandin E2 Receptor Type 4 (EP4) in Pregnant Cervical Tissue. Am J Obstet Gynecol 189:1499-1508, 2003. (2003)
9. Chien EK, Kim TT, Wolff DA, Bieber E, and Phillippe M. Protease activated receptor (PAR) isoform expression in pregnant and nonpregnant rat myometrial tissue. J Soc Gynecol Invest. 10:460-68, 2003. (2003)
8. Rychlik DF, Chien EK, Wolff D, Phillippe S, Phillippe M. Cloning and tissue espression of the tissue prothrombinase Fgl-2 in the Spargue Dawley Rat. J Soc Gynecol Invest. 10:67-73, 2003. (2003)
7. Chien EK, Zhang Y-H, Furuta H, and Hara M. Tissue distribution of KATP-sensitive potassium channels in reproductive rodent tissue. Am J Obstet Gynecol 180:1121-6, 1999. (1999)
1. Phillippe M, Chien EK. Intracellular signaling and phasic myometrial contractions. J Soc Gynecol Invest. 5:169-177, 1998. (1998)
6. Loy G, Lin C-C, Chien EK, Kim JH, Chiang L-M: Cerebral and umbilical vascular resistance response to vibroacoustic stimulation in growth restricted fetuses. Obstet Gynecol 90:947-52,1997. (1997)
5. Chien EK, Hara M, Rouard M, Yano H, Phillippe M, Polonsky KS, Bell GI: Increase in serum leptin and uterine leptin receptor messenger RNA levels during pregnancy in rats. Biochem Biophys Res Comm 237(20):476-80, 1997. (1997)
4. Chien EK, Tokuyama Y, Rouard M, Phillippe M, Bell GI: Identification of genes gestationally regulated in rat myometrium by differential mRNA display. Am J Obstet Gynecol 177:645-52, 1997. (1997)
3. Chien EK, Phillippe M: Mechanisms underlying Bay K 8644 stimulated phasic myometrial contractions. J Soc Gynecol Invest 3:106-112, 1996. (1996)
2. Phillippe M, Chien EK, Freij M, Saunders T: Mechanisms underlying ionomycin stimulated phasic myometrial contractions. Am J Physiol. 269 (Endocrinol. Metab. 32): E779-E785, 1995. (1995)
1. Phillippe M, Chien EK: Potassium chloride effects on the hormonal signal transduction mechanisms underlying phasic myometrial contractions. Journal of Endocrinology 146:485-493, 1995. (1995)
Original Publications In Peer Reviewed Journals: ()
Other Peer-Reviewed Publications: ()