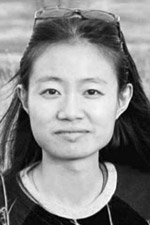 Zhijin Wu, PhD (Biostatistics),The Johns Hopkins University School of Public Health, 2005
Associate Professor of Biostatistics
Public Health-Biostatistics
Work
:
+1
401
-
863
-
1230
Zhijin (Jean) Wu's research interest is in statistical methodology for data from biological experiments, especially those generated from high-throughput biotechnologies.
Biography
Dr Wu is a PhD in biostatistics and MS in molecular biology. Her research focuses on developing statistical methods and softwares for high throughput technologies such as DNA microarrays, second generation sequencing and high throughput screening assays. She is primarily interested in analysis of feature level data.
Visit Dr. Wu's
personal website
for most up-to-date information.
Institutions
The Johns Hopkins University School of Public Health, 2005
Research Description
Zhijin's primary interest is in developing statistical methods for analyzing data from biological experiments. These include second (next) generation sequencing (NGS), microarray, and other high throughput biotechnologies.

She and colleagues proposed the model-based preprocessing method, GCRMA, that adjusts for non-specific background and normalizes raw measurements from microarrays and produces more accurate and precise estimates of gene expression levels. In addition to their original implementation of the method provided through the Bioconductor project, GCRMA has also been incorporated into commercial software for microarray data analysis, such as GeneSpring, and has become a popular alternative to the manufacturer-provided procedure.

Besides gene expression experiments, she continues to work on methods for new applications of the microarray technology, such as detecting single nucleotide polymorphisms (SNPs) and DNA methylation. She is also interested in high-throughput screening (HTS) on cell based assays.
Grants and Awards
Margaret Merrell Award for outstanding research 2005
Affiliations
American Statistical Association
Funded Research
N/A
Selected Publications
Wu, Z and Irizarry, RA (2005) A Statistical Framework for the Analysis of Microarray Probe-Level Data (2005)
Wu, Z and Irizarry, RA, Stochastic Models Inspired by Hybridization Theory for Short Oligonucleotide Arrays . Proceedings of RECOMB 2004 To appear in JCB. (2004)
Wu, Z , Irizarry, RA, Gentleman, R, Martinez Murillo, F, Spencer, F (2004) A Model Based Background Adjustement for Oligonucleotide Expression Arrays . JASA. Vol.99, No. 468, December 2004 pp.909-917. (2004)
Irizarry, RA, Ooi, SL, Wu, Z , and Boeke, Jef (2003) Use of Mixture Models in a Microarray-Based Screening Procedure for Detecting Differentially Represented Yeast Mutants. Statistical Applications in Genetics and Molecular Biology. Vol. 2, Issue 1. (2003)
Cope, LM, Irizarry , RA, Jaffee, H, Wu , Z, Speed, TP (2003) A Benchmark for Affymetrix GeneChip Expression Measures. Bioinformatics 20: 323-331. (2003)