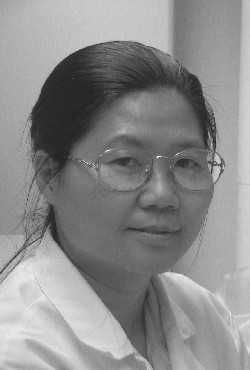 Chun-Shiang Chung, Ph.D.
Assistant Professor of Surgery (Research)
Surgery
Work
:
+1
401
-
444
-
4326
Trauma is the fifth leading cause of death in the United States. Of those trauma victims who survive the initial traumatic insult, sepsis and multiple organ failure are still reported to account for upwards of 40% of the mortality encountered in the surgical intensive unit. Despite the provision of the best surgical/medical/ pharmacological care. Many studies indicate that trauma/sepsis induces a marked suppression in both lymphocyte and macrophage function. In order to design better management of this devastating condition, it is critical to identify the precise mechanisms behind this immunosuppression of trauma/sepsis.
Research Description
Inflammatory cells secret a wide variety of immunoregulatory mediators, such as pro- and anti-inflammatory cytokines, chemokines, prostanoids etc., at different stages during the course of the development of trauma/sepsis. Both pro- and anti-inflammatory cytokines are critical for the host to eliminate invasive agents after injury. However, many of these cytokines have also been implicated in having detrimental effects on organ function and eventual mortality seen in patients with severe traumatic injuries and/or sepsis. Following trauma and shock there appears to be loss of the normal regulatory function controlling the pro-inflammatory response. Over the years, the traditional studies on cytokines have focused on the mechanisms of how they set forth their actions. Recent investigations concerning regulation of the negative feedback of cytokine signaling have advanced considerably. Dysregulation of the negative feedback loops of JAK/STAT pathway has been implicated in autoimmune and inflammatory diseases, hematopoietic disorders, and cancers. Thus, it is important to understand the mechanisms by which signaling through the JAK/STAT pathway is negatively (downregulated) controlled. Several negative regulators of JAK/STAT pathway have been identified such as SH2-containing protein-tyrosine phosphatase (SHP-1), SH2-containing inositol phosphatase (SHIP), PTEN, CD45, and a new family of proteins, the suppressor of cytokines signaling (SOCS) family proteins. Using a mouse model of traumatic injury/shock, current studies are focused on the role of SOCS-1 and SOCS-3 in the immune response after injury. By understanding the molecular mechanism of negative regulatory pathways of the immune system should improve our knowledge of cytokine signaling associated with diseases and their contribution to pathology that could lead to the design of potentially novel therapeutic strategies for the treatment of trauma/shock.
Grants and Awards
Graduate Fellowship, University of Rhode Island 1993
Shock Society, Travel Grant Award 1998
Shock Society, Travel Grant Award 1999
Lifespan Developmental Grant 2004
Rhode Island Foundation, Medical Research Grant 2005
The US Shock Society/Novo Nordisk Fellowship 2005
Affiliations
The Shock Society
The Society for Leukocyte Biology
Funded Research
1. The US Shock Society/Novo Nordisk Grant
P.I.: Chun-Shiang Chung
Project: "Immune Hypo-Responsiveness in Shock: Role of SOCS-1 & SOCS-3 Proteins."

2. NIH Research Grant R01-GM46354-11
P.I.: Alfred Ayala
Project: "Differential Effects of Sepsis on Macrophage Function."
Award: $1,562,905. 2008-2012

3. NIH Research Grant R01-HL63898-01
P.I.: Alfred Ayala
Project: "Regulatory Mechanisms of Acute Lung Injury: Phagocyte Apoptosis."
Award: $1,413,967. 2008-2012

4. NIH Research Grant R01-GM53209-10
P.I.: Alfred Ayala
Project: "Programmed Cell Death: Role In Septic Immune Suppression."
Award: $1,106,943. 2004-2009

5. Lifespan Developmental Grant
P.I.: Chun-Shiang Chung
Project: "Mechanisms of Immune Hypo-responsiveness in Shock."
Award: $28,490. 2004-2005

6. Rhode Island Foundation Grant
P.I.: Chun-Shiang Chung
Project: "Mechanisms of Immune Hypo-responsiveness in Shock."
Award: $10,000. 2005-2005
Selected Publications
Hu , C.K., Venet, F., Heffernan, D.S., Wang, Y.L., Horner, B., Huang, X., Chung, C.S., Gregory, S.H., Ayala, A. 2009. The Role of Hepatic Invariant (i)NKT Cells in Systemic/Local Inflammation and Mortality During Polymicrobial Septic Shock. Journal of Immunology 182(4):2467-75. (2009)
Huang, X., Venet, F., Wang, Y.L., Lepape, A., Yuan, Z., Wang, Y.L., Chen, Y., Swan, R., Kherouf, H., Monneret, G., Chung, C.S., Ayala, A. 2009. PD-1 expression by macrophages plays a pathologic role in altering microbial clearance and the innate inflammatory response to sepsis. P.N.A.S. USA 106:6303-6308. (2009)
Venet, F., Chung, C.S., Huang, X., Lomas-Neira, J., Chen, Y., Ayala, A. Lymphocytes in the development of lung inflammation: a role for regulatory cd4+ t cells in indirect pulmonary lung injury. J. Immunol. (In press). (2009)
Chung, C.S., Chen, Y., Grutkoski, P.S., Doughty, L., Ayala, A. 2007. SOCS-1 is a central mediator of steroid-increased thymocyte apoptosis and decreased survival following sepsis. Apoptosis 12:1143-1153. (2007)
Perl, M., Chung, C.S., Perl, U., Lomas-Neira, J., de Paepe, M., Cioffi, W.G., Ayala, A. 2007. Fas-induced pulmonary apoptosis and inflammation during indirect acute lung injury. Am J Respir Crit Care Med. 176(6):591-601. (2007)
Chung, C.S., Watkins, L., Funches, A., Lomas-Neira, J.L., Cioffi, W.G., Ayala, A. 2006. Deficiency of gd-T lymphocytes contributes to mortality and immunosuppression in sepsis. Amer. J. Physiol. 291:R1338-1343. (2006)
Wesche, D.E., Chung, C.S., Lomas-Neira, J.L., Doughty, L.A., Gregory, S.H., Ayala, A. 2005. In vivo delivery of caspase 8 or Fas siRNA improves the survival of septic mice. Blood 106:2295-2301. (2005)
Perl, M., Chung, C.S., Lomas-Neira, J.L., Rachel, T.M., Biffl, W.L., Cioffi, W.G., Ayala, A. 2005. Silencing of Fas but not caspase-8 in lung epithelial cells ameliorates experimental acute lung injury. Amer. J. Pathol. 290:51-58. (2005)
Lomas-Neira, J.L., Chung, C.S., Grutkoski, P.S., Miller, E.J., Ayala, A. 2004. CXCR2 inhibition suppresses hemorrhage induced priming for acute lung injury in mice. J. Leukocyte Biol. 76:58-64. (2004)
Grutkoski, P.S., Chen, Y., Chung, C.S., Ayala, A. 2003. Sepsis-induced SOCS-3 expression is immunologically restricted to phagocytes. J. Leukocyte Biol. 74:916-922. (2003)
Chung, C.S., Song, G.Y., Lomas, J., Simms, H.H., Chaudry, I.H., Ayala, A. 2003. Inhibition of Fas/Fas ligand (FasL) signaling during sepsis has tissue specific effects on macrophage apoptotic and functional capacity. J. Leukocyte Biol. 74:344-351. (2003)
Ayala, A., Chung, C.S., Lomas, J.L., Song, G.Y., Doughty, L.A., Gregory, S.H., Cioffi, W.G., LeBlanc, B.W., Reichner, J., Simms, H.H., Grutkoski, P.S. 2002. Shock induced neutrophil mediated priming for acute lung injury in mice: divergent effects of TLR-4 and TLR-4/FasL deficiency. Amer. J. Pathology 161:2283-2294. (2002)
Chung, C.S., S.L. Yang, Song, G.Y., Lomas, J., Wang, P., Simms, H.H., Chaudry. I.H., Ayala, A. 2001. Inhibition of Fas signaling prevents hepatic injury and improves organ blood flow. Surgery 130:339-345. (2001)
Chung, C.S., Wang, W., Chaudry, I.H., Ayala, A. 2001. Increased apoptosis in lamina propria B-cells during polymicrobial sepsis is a FasL but not an endotoxin mediated process. Amer. J. Physiol. 280:G812-G818. (2001)
View CV for Full Publication List. ()