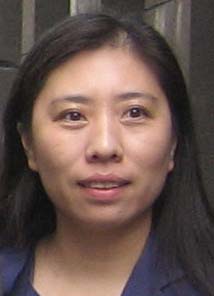 Haiyan Xu, MD, PhD
Associate Professor of Medicine (Research)
Medicine
Work
:
+1
401
-
444
-
0347
My lab focuses on understanding the molecular mechanism of obesity related insulin resistance and type 2 diabetes. We have three major projects:
1) The role of adipose inflammation in imparing insulin signaling in obese state.
2) The role of dysregulated liver glucose homeostasis in oebsity-related hyperglycemia.
3) The role of novel AMPK related kinase in enrgy metabolism
Biography
Haiyan Xu, MD,PhD, joined the faculty as assistant professor of medicine in the division of endocrinology in 2005. Her education includes a MD degree from Beijing Medical University, a MS from the same school and a PhD from Harvard University.She was a researcher in the department of metabolic disease biology at Millennium Pharmaceuticals, Inc. from 2000 to 2003 and moved to the metabolic disease research division at Abbott Laboratories in 2004. Her honors include the Edgar Haber Award in Biological Sciences and the Medical Sigma Xi Harvard-Radcliffe Chapter Scientific Recognition Award from Harvard University as well as Bruce M. Selya research excellence award from Rhode Island Hospital.
Research Description
A major focus of Xu's research is on the mechanisms of obesity-related insulin resistance and type 2 diabetes. Her work is particularly focused on the correlation of adipose inflammation and insulin signaling in obesity, novel factors in the regulation of adipose energy metabolism and mechanisms controlling hepatic gluconeogenesis. Her discovery of obesity-induced macrophage infiltration in adipose tissue has revealed a new mechanism contributing to the systemic inflammatory response that complicates obesity and diabetes. This work was selected as one of the milestone discoveries in the 80-year publication history of the Journal of Clinical Investigation.

Her current research projects include studies on the factors responsible for trigerring obesity-induced adipose macrophage infiltration, the roles of novel AMPK-related kinases in adipocyte biology and the effects of two phosphatases on insulin signaling in liver and adipose tissue.
Grants and Awards
• 2010 Travel award for NIDDK new PI workshop
• 2010 Bruce Selya Excellence in Research Award by Rhode
Island Hospital
• 2000 Edgar Haber Award in Biological Sciences by Harvard
School of Public Health
• 1999 Medical Sigma Xi Harvard-Radcliffe Chapter
Scientific Recognition Award
• 1994 - 1996 Fellowship from Biological Sciences in
Public Health Program at Harvard School of Public
Health
• 1992 - 1994 Guanghua Award for Outstanding Students
• 1987 â€" 1992 Excellent Medical Student Award
Affiliations
• The Endocrine Society since 1998
• The Sigma Xi scientific society Harvard-Radcliffe Chapter
since 2000
• The American Diabetes Association since 2005
• The American Heart Association since 2011
Funded Research
Active

1. Principal Investigator, American Heart Association Scientist Development Grant. "Mechanism and consequence of obesity-related adipose macrophage infiltration".
1/1/2008 to 12/31/2011, total direct cost, $280,000; total cost, $308,000.

2. Principal Investigator, 5 R01 DK080746-01A1, NIH/NIDDK "MAP kinase phosphatase 3 and obesity-related gluconeogenesis". 1/15/2009 to 11/30/2013, total direct cost, $1,080,000; total cost, $1,587,005.

Pending

1. Principal Investigator, 1 R01 DK094782-01, NIH/NIDDK "The role of AMPK related kinase, SNRK, in adipocyte energy metabolism". 5/1/2012 to 4/30 /2017

2. Principal Investigator, American Heart Association grant-in-aid, "Hormonal control of MKP-3 expression and its role in glucose homeostasis". 1/1/12 to 12/31/14

3. Principal Investigator, American Diabetes Association research award, "Hormonal control of MKP-3 expression and its role in glucose homeostasis". 1/1/12 to 12/31/14


Complete

1. Principal Investigator: 3 R01 DK080746-02S1, NIH/NIDDK "MAP kinase phosphatase 3 and obesity-related gluconeogenesis". 1/8/2010 to 3/31/2010, total direct cost, $100,000

2. Mentor, George Bray fellowship, Lifespan (recipient, Dr. Ping Jiao), 2/1/2009 to 1/30/2011. Total direct cost, $30,000.

3. Principal Investigator: Charles H. Hood Foundation Child Health Research Grant "The mechanism of MAP kinase phosphatase 3 (MKP-3) induced gluconeogenesis in obesity and diabetes".
1/1/2006 to 12/31/2007, total direct cost, $136,264; total cost, $150,000.

4. Principal Investigator: The Rhode Island Foundation Medical Research Grant "The function of
salt inducible kinase 2 (SIK2) in adipocyte energy metabolism".
1/1/2006 to 12/31/2006, total direct cost $10,000

5. Principal Investigator: Lifespan Developmental Grant "Role of mitogen activated dual specificity kinase phosphatase 3 (MKP-3) in obesity and diabetes related gluconeogenesis".
1/1/2006 to 12/31/2006, total direct cost $30,000
Selected Publications
1. Haiyan Xu, Qing Yang, Minhui Shen, Xueming Huang, Marlene Dembski, Ruth, Gimeno, Louis A. Tartaglia, Rosana Kapeller, and Zhidan Wu. Dual specificity MAPK phosphatase 3 activates PEPCK gene transcription and increases gluconeogenesis in rat hepatoma cells. J. Bio. Chem. 280: 36013-36018, 2005 (2005)
3. Haiyan Xu, Marlene Dembski, Qing Yang, Daseng Yang, Ann Moriarty, Olga Tayber, Hong Chen, Rosana Kapeller and Louis A. Tartaglia. Dual specificity MAP kinase phosphatase 4 plays a potential role in insulin resistance. J Biol Chem 278: 30187-30192, 2003. (2003)
2. Haiyan Xu, Glenn T. Barnes, Qing Yang, Guo Tan, Daseng Yang, Chieh J. Chou, Jason Sole, Andrew Nichols, Jeffrey S. Ross, Louis A. Tartaglia and Hong Chen. Chronic inflammation in adipose tissue plays a crucial role in the development of obesity-related insulin resistance. J Clin Invest 112: 1821-1830, 2003. (2003)
5. Haiyan Xu, K. Teoman Uysal, J. David Becherer, Peter Arner and Gökhan S. Hotamisligil. Altered TNF-alpha processing in adipocytes and increased expression of transmembrane TNF-alpha in obesity. Diabetes 51 (6), 1876-1883, 2002. (2002)
4. Haiyan Xu, Jiro Hirosumi, K. Teoman Uysal, A. Deniz Guler and Gökhan S. Hotamisligil. Exclusive action of transmembrane TNF-alpha in adipose tissue leads to reduced adipose mass and local but not systemic insulin resistance Endocrinology 143 (4): 1502-11, 2002. (2002)
6. Qiang Tong, Gökhan Dalgin, Haiyan Xu, Chao-Nan Ting, Jeffrey M. Leiden, Gökhan S. Hotamisligil. Function of GATA transcription factors in preadipocyte-adipocyte transition. Science 290: 134-38, 2000. (2000)
7. Haiyan Xu, Jaswinder Sethi, Gökhan S. Hotamisligil. The transmembrane form of tumor necrosis factor alpha inhibits adipocyte differentiation by selectively activating tumor necrosis factor receptor I. J Biol Chem 274: 26287-26295, 1999. (1999)
Representative Publications: ()