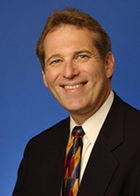 Harry Sax
Adjunct Professor of Surgery
Surgery
Work
:
+1
401
-
793
-
4545
We have a longstanding interest in small bowel function, including the role of various nutrients and growth factors in adaptation and immunology.

Working with behavioral health, we are studying the biopsychosocial aspects of morbid obesity and predictors of success after bariatric surgery
Research Description
Our research interests centered on accelerating adaptation of residual bowel after massive enterectomy. The use of trophic growth factors such as human growth hormone and epidermal growth factor increases enterocyte glutamine transport. These effects are time and site specific.

Our current clinical project involves parenteral glutamine supplementation in critically ill, but nonseptic ICU patients. We hypothesize that GLN will reduce septic complications, in part by improving immune response at the gut level.

My clinical interests in morbid obesity have aligned well with expertise at Brown in eating disorders. We are working on multidisciplinary studies in patients who are candidates for bariatric surgery to identify factors that would predict success.

Finally, we are involved in team dynamics work, using airline training techniques of Crew Resource Management to improve patient safety in the hospital.
Grants and Awards
Stanley J. Dudrick Research Scholar Award, American Society for Parenteral and Enteral Nutrition, 1999
Affiliations
American College of Surgeons 1989 - Fellow 1992
Surgical Education and Self-Assessment Program (SESAP-10), Contributing Editor. 1998
Upstate New York Chapter
Young Surgeon Representative 1997-1998
Councilor 1998 - 2004

American Board of Surgery
Associate Examiner 1996, 2001

American Society for Nutritional Sciences (FASEB), 2000 - present
American Society for Parenteral and Enteral Nutrition 1986 – present
VARS Award Committee 2000-2001
Dudrick Awards Committee 2004 – present
Treasurer – Harry Vars Foundation 2006-

Association for Academic Surgery 1987 - present
Committee on Education 1992 - 1994
Committee on Issues 1994 - 1996
Nominating Committee - 1997

Society of Laparoendoscopic Surgery 2000 - 2003

Society for Surgery of the Alimentary Tract 1993 - present
Abstract Review Committee 2001, 2002

Society of University Surgeons 1996 – present
Executive council 2004 - present

Surgical Biology Club III 1996 – present

Central Surgical Association 1994 –

New York State Medical Society 1990 - present

Rochester Surgical Society 1990 - 2005
Executive Committee 1991 - 1998
President Elect 1994 - 1996
President 1996 – 1998

Rochester Individual Practice Association
Board of Directors, 1993 – 1999, 2001-2005
Demand Management Committee 1994 - 1996
Chair, Nominating Committee 1997 - 1998
Finance Committee 1997 - 2005

Monroe County Medical Society 1990 - present
Continuing Medical Education Committee, 1992 - 1998

Crossbridge Physicians, Inc.
Board of Directors – 2001-2005
Funded Research
GRANTS

1. Efficacy and Mechanisms of GLN Dipeptide in the SICU
National Institutes of Health/National Institute of Diabetes and
Digestive and Kidney Diseases
U01 – DK069322
01/01/06 - 12/31/10
Direct $270,010 Total $377,805
Principal Investigator (Site)

2. CL0600-004: A Study of the Efficacy & Safety of Teduglutide in Subjects with Parenteral Nutrition Dependent Short Bowel Syndrome
NPS Alexis
04/07/04 - 12/31/06
$25,000 (approx. total; funding awared on a per patient basis)
Principal Investigator (Site)

3. Amino Acid Transport After Small Bowel Resection,
National Institutes of Health/National Institute of Diabetes and
Digestive and Kidney Diseases
R01-DK47989
04/01/00-1/31/06
Direct $1,517,384 Total $2,453,897
Principal Investigator

4. Amino Acid Transport After Small Bowel Resection
National Institutes of Health/National Institute of Diabetes and Digestive and Kidney Diseases
1R29 DK47989-01A1
9/30/94 - 9/30/99
Direct $349,705 Total $545,540
Principal Investigator

5. Effects of Enteral and Parenteral Nutrients on the Rodent Gut
Ross Laboratories
9/91 - 9/92
$9,800.00
Principal Investigator

6. Basic Science Research Grant - 5-27192
University of Rochester
1/90 - 1/91
$7,300.00
Principal Investigator
Teaching Experience
Surgeon in Chief The Miriam Hospital
Professor of Surgery, BMS

Site director, surgery residency