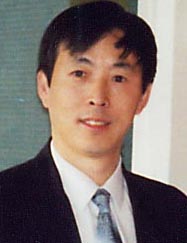 Lei Wei
Associate Professor of Orthopaedics (Research)
Orthopaedics
Work
:
+1
401
-
793
-
8384
Osteoarthritis (OA) is one of the most common musculoskeletal diseases that result in pain and the loss of physical activity. However, the mechanism is unknown. Our study is to understand the mechanism of OA and to develop a novel therapy for treating primary osteoarthritis, based on our recent findings of molecular mechanisms of OA development.
Biography
Dr. Wei got his M.D. from Guiyang Medical Collage in China and Ph.D. from Karolinska Institute in Sweden. He completed his post-doctoral fellowship at Penn State College of Hershy Medical School. Dr. Wei has two grants from the National Institute of Health and one from arthritis research foundation. His research interest includes cartilage molecular biology and osteoarthritis.
Research Description
OA structural changes include cartilage degradation, subchondral bone sclerosis, and formation of osteophytes. Initially believed to be a cartilage disease, evidence points toward subchondral bone involvement. Studies have shown that bone metabolism changes occur before cartilage damage. However, the mechanism of formation of subchondral bone is unknown. OA can be understood only if the relationship between mechanics and biology is fully appreciated. One of my studies is to research the mechanism of subchondral bone formation in OA.
Grants and Awards
Visiting Scholarship, China Government Education foundation (1994-1995).
Research Fellowship, Shrine Hospital for Children , USA (12/1999-8/2001).
New Investigator Recognition Awards, Orthopaedic Research Society (2001)
Young Investigator Award, Osteoarthritis Research Society International (OARSI) (2002)
Young Investigator Award, Osteoarthritis Research Society International (OARSI) (2005)
Young Investigator Award Winner, NIH 2nd Biennial National IDeA Symposium of Biomedical research Excellence (NISBRE). August 6-8, 2008, Washington DC
Webster Jee Travel Awards. International Conference on Osteoporosis and Bone Research (ICOBR). Oct. 22-25, 2008 in Beijing, China.
Best Paper Award on 2008 International Conference on Osteoporosis and Bone Research Oct. 22-25, 2008 in Beijing, China.
The Grace Haussner Memorial Fellow of the Arthritis National Research Foundation (2010).
Chinese Orthopaedic Association Zhao Yisu basic science Awards on The Fifth International Congress of Chinese Orthopaedic Association (COA) on November 11-14, 2010, Pride International Convention Centre, Chengdu, China
The Master of Arts ad Eundem degree 5/26/2013 from Brown University, Providence, RI USA
Affiliations
1999- current: U.S. Orthopaedic Research Society (ORS).
2001- current: International Chinese Musculoskeletal Research Society (ICMRS)(Previously : International Chinese Hard Tissue Society (ICHTS)).
2009-current: International Cartilage Repair Society (ICRS).
2011-current:American Physiological Society
2011-current:Osteoarthritis Research Society International (OARSI)
Funded Research
GRANTS

NIH/NIAMS (Lei Wei, PI) 1R01AR059142-01A1, 02/01/2011-01/31/2016
Histone Deacetylation Regulates Growth Plate Development. Evaluating how HDAC4 Regulation of growth plate development. Total cost: $1,562,353

NIH/ the National Institute of General Medical Science, 2P20-GM104937-06 (previously P20-RR024484), 09/15/2007-07/31/2017. Chen (PI)
Role: Associate Program Director of imaging and molecular biology core / center for biomedical research excellence in skeletal health and repair. Total: $1,155,000.

Arthritis National Research Foundation (lei Wei, PI), 05/01/10-8/31/2012
Principal Investigator, Role of Ihh in OA cartilage. $150,000