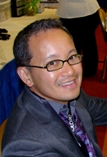 Don S Dizon, MD, FACP
Associate Professor of Obstetrics & Gynecology
Obstetrics & Gynecology and Medicine
Work
:
+1
401
-
453
-
7520
My research interests span four respective areas: 1) novel therapeutics; 2) quality of life in transition; 3) sexuality in cancer survivors; 4) alternative and complementary therapies in oncology.
Biography
My clinical focus is on the treatment of women's cancers. I conduct national and investigator-initiated clinical trials of novel therapeutics including chemotherapy and immunotherapy with an emphasis on recurrent breast or ovarian cancers. I am also interested in quality of life and decision-making in women with breast and gynecologic malignancies; survivorship, and sexual health issues in female cancer survivors.
Research Description
&1) Novel therapeutics: Currently I am running phase II clinical trials in cervical cancer, ovarian cancer, endometrial cancer, and breast cancer. These are run as investigator-initiated studies as a single institution study at Women Infants'; through multi-center studies sponsored by Industry; or through the cooperative group mechanisms of Gynecologic Oncology Group, Cancer and Leukemia Group B, or Brown University Oncology Group.
2) I am currently evaluating the quality of life in women completing curative-intent therapy for breast or ovarian cancer evaluating the herbal combination, Essiac. Details of this are available on the NCI's clinical trials website, clinicaltrials.org.
3) Currently I co-direct the state's only Center for Sexuality, Intimacy, and Fertility for Women with Cancer.
4) I am also involved in the Program in Women's Oncology Integrative Medicine Program and am working with our staff to conduct prospective research evaluating novel treatments, such as massage, hypnosis, and yoga for the management of treatment-related toxicities.
Grants and Awards
Professional/Technical Award, University of Guam, 1991-1995
Career Development Award, American Society of Clinical Oncology, 2002
Robert M Barg Memorial Achievement Award, Today's Caregivers Magazine, 2006
Affiliations
American College of Physicians
American Society of Clinical Oncology
American Association for Cancer Research
Society of Gynecologic Oncologists
International Gynecologic Cancer Society
International Society of Sexuality and Cancer
National Consortium of Breast Centers
European Society of Medical Oncology
Funded Research
NIH 5-T32-CA09207-24 NIH Training Grant, Cancer Chemotherapy Training Program 2000-2001

MSKCC Byrne Institutional Grant NF-kB mediated resistance in ovarian cancer 2002-2003. Amount: $150,000. Role: Principal Investigator.

Department of OB/GYN Seed Grant Essiac in the management of women's cancers 2004-2005. Amount: $9,000. Role: Principal Investigator.

ASCO Career Development Award Modifying platinum resistance in ovarian cancer by manipulating the NF-kB pathway. 2002-2006. Amount: $150,000. Role: Principal Investigator.

NCI Grant/Contract U10-CA27469 Gynecologic Oncology Group

Rhode Island Foundation Medical Research grant: Prolonging the second remission in women with ovarian cancer using immunotherapy: A Phase I/II Evaluation of OKT3 x Herceptin Armed Activated T Cells with Low Dose IL-2 and GM-CSF. 2006-2007. Amount: $10,000. Role: Principal Investigator.

The Integrative Care Program at Women & Infants' Hospital. 2007-2008. Amount: $50,000. Role: Principal Investigator.

American Cancer Society Grant # MRSG-09-091-01 CPPB. Exercise and relaxation intervention for young adult cancer survivors. 2009-2013 Amount: $134,943. PI: Carolyn B. Rabin, PhD (Lifespan/The Miriam Hospital). Role: Co-Investigator.

Department of Defense Grant 00461063. T-cell gene therapy to eradicate disseminated breast cancers. 2009-2014. Amount: $5,910,691. PI: Richard Junghans, MD, PhD (Roger Williams Medical Center). Role: Co-Investigator.

National Cancer Institute Grant R21CA137290-01A2. Social Networks and Care Planning in Women with Cancer. 2010-2012. Amount: $250,000. PI: Melissa A. Clark; Co-PI: Don S. Dizon.
Teaching Experience
My educational objectives are to provide a wide exposure into the complex practice of medical oncology, specifically as it relates to women with cancer. I provide in depth experiences to medical students, residents, and fellows which draws heavily on the clinical care of women with cancer. A large part of my mission is to educate trainees about chemotherapy, its toxicities, and management as well as on issues related to delivering bad news and end of life.
Courses Taught
The Care of Patients with Women's Cancers (OBG498)
Selected Publications
DS Dizon. Where do anti-angiogenic agents belong in the treatment algorithm for ovarian cancer? Accepted to American J Clin Oncol, 2011. (2011)
RS Starikov,R Goldman, DS Dizon,S Kostadinov, SR Carr. Placental masenchymal dysplasia as a twin gestation with complete molar pregnancy. Accepted to Obstetrics & Gynecology, 2011. (2011)
MC Politi, MA Clark, H Ombao, D Dizon, G Elwyn. Communicating uncertainty and its impact on patients' decision satisfaction: A necessary cost off involving patients in shared decision making? Health Expectations 2011; 14: 84-91. (2011)
Sakr BJ and Dizon DS. Breast cancer: adjuvant modalities. Clin Obstet Gynecol 2011; 54:150-6. (2011)
Questions and Answers About Human Papilloma Virus. A Stuckey, DS Dizon, and MA Krychman. Sudbury, MA: Jones and Bartlett, 2010. (2010)
Questions and Answers About Uterine Cancer. LR Duska and DS Dizon. Sudbury, MA: Jones and Bartlett, 2010. (2010)
DxRx Gynecologic Cancers. SM Campos and DS Dizon. Sudbury, MA: Jones and Bartlett, 2010. (2010)
K Robison and DS Dizon. Moving Beyond Standard of Care: Novel Treatments in Gynecologic Cancer. Contemporary Oncology 2010. Published online June 2010. (2010)
K Kilfoyle and DS Dizon. Treating Locally advanced, Recurrent or Metastatic Endometrial Cancer: A Focus on Ixabepilone. European Journal of Medical Oncology. 2010; 2:65-70. (2010)
DS Dizon. Treatment options for advanced endometrial cancer. Gynecologic Oncology 2010; 117:373-81. (2010)
K Kristjansdottir and DS Dizon. HER-Dimerization Inhibitors: Evaluating pertuzumab in women's cancers. Expert Opinion on Biologic Therapy. 2010; 10:243-50. (2010)
L Kuroki, A Stuckey, P Hirway, CA Raker, C Bandera, PA DiSilvestro, CO Granai, RD Legare, BJ Sakr, and DS Dizon. Addressing clinical trials: can the multidisciplinary tumor board improve participation? A study from an academic women's cancers program. Gynecologic Oncology. 2010; 116:295-300. (2010)
A Stuckey, DS Dizon, R Legare, J Wilbur, J Kent, T Tejada-Berges, J Gass. Clinical characteristics and choices regarding prophylactic surgery in BRCA mutation carriers. Gynecologic and Obstetric Investigation. 2010; 69:270-73. (2010)
RT Penson, DS Dizon, SA Cannistra, MR Roche, CN Krasner, ST Berlin, NS Horowitz, PA DiSilvestro, UA Matulonis, H Lee, MA King, SM Campos. Phase II Study of Carboplatin, Paclitaxel, and Bevacizumab with Maintenance Bevacizumab as First Line Chemotherapy for Advanced Mullerian Tumors. J Clin Oncol 2010; 28:154-9. (2010)
S Makhija, LC Amler, D Glenn, F Ueland, M Gold, D Dizon, V Paton, M Birkner, CY Lin, T Januario, K Ng, A Strauss, M Slikowski, U Matulonis. Clinical Activity of Gemcitabine Plus Pertuzumab in Platinum-Resistant Ovarian Cancer, Fallopian Tube, or Primary Peritoneal Cancer: Low MRNA expression of the HER2-Coreceptor HER3 May be Predictive of Pertuzumab Activity. J Clin Oncol 2010; 28:1215-23. (2010)
WM Smit, J Sufliasrsky, TL Werner, DS Dizon, M Wagnerova, HW Hirte, NM Spirtos, A Oza, L Dirix, M El-Hashimy, S Acharyya, EY Tan, D Weber, JHM Schellens. A phase II study of patupilone (EPO906) in patients with platinum-resistant or -refractory ovarian cancer. J Clin Oncol. 2010. Submitted. (2010)
N Kawar and DS Dizon. Ixabepilone as a second-line treatment in advanced endometrial cancer. Asian-Pacific Journal of Hematology and Oncology 2010. Epub online 2/2010. (2010)
Questions and Answers About Human Papilloma Virus. MA Krychman and DS Dizon. Sudbury, MA: Jones and Bartlett, 2010. (2010)
DxRx Cervical Cancer: An approach to preinvasive and invasive malignancies of the cervix. Second Edition. K Robison and DS Dizon. Sudbury, MA: Jones and Bartlett, 2010. (2010)
K Hachey and DS Dizon. Personalizing chemotherapy through genetic profiling: will pharmacogenomics help improve and extend life for cancer patients? Personalized Medicine, 2009; 6:481-4. (2009)
A Stuckey and DS Dizon. Choosing treatments for recurrent ovarian cancer: the platinum-free interval. The European Society of Gynecologic Oncologists' Handbook for Fellows in Gynecologic Oncology. M. Gultekin, Ed. 2009. (2009)
MA Krychman, DS Dizon, A Amsterdam, A Partridge. Cancer and Dyspareunia. In: Female Sexual Pain Disorders: Evaluation and Management. Goldstein, Pukall, and Goldstein, Eds. Towson:Blackwell. In Press, 2009. (2009)
DS Dizon and JS Gass. Perspective: Help or harm: Adjuvant therapies for primary invasive disease and the risk of a second contralateral breast cancer. Am Journal of Hemat and Oncol 2009; Available at: http://www.ajho.com/Help-or-harm-Adjuvant-therapies-for-primary-invasive-disease-and-the-risk-of-a-second-contralateral-breast-cancer/article/141443/. (2009)
MA Kunz and DS Dizon. Sexuality and intimacy following cancer. US Obstetrics & Gynecology 2009; 3:21-23. (2009)
DS Dizon, ME Schutzer, M Politi, C Linkletter, S Miller, MA Clark. Advance Care Planning Decisions of Women with Cancer: Provider Recognition and Stability of Choices. J Psychosocial Oncology 2009; 27:383-95. (2009)
WM Sikov, DS Dizon, R Strenger, RD Legare, KP Theall, TA Graves, JS Gass, TA Kennedy, and MA Fenton. Frequent pathologic complete responses in aggressive stage II-III breast cancers with q4week carboplatin and weekly paclitaxel + trastuzumab: a Brown University Oncology Group study. J Clin Oncology 2009; 27:4693-700. (2009)
DS Dizon. Quality of life after breast cancer: survivorship and sexuality. The Breast Journal. 2009; 15:500-4. (2009)
DS Dizon, JA Blessing, DS McMeekin, SK Sharma, PA DiSilvestro, and RD Alvarez. Ixabepilone as a second-line treatment in advanced endometrial cancer: Phase II Results of Gynecologic Oncology Group Trial 129-P. J Clin Oncol 2009; 27:3104-08. (2009)
J Schwartz, B Toste, DS Dizon. Chemotherapy toxicity in gynecologic cancer patients with a body surface area (BSA) > 2m(2). Gynecol Oncol 2009; 114:53-6. (2009)
N Shah and DS Dizon. New generation platinum agents for solid tumors. Future Medicine 2009; 5:33-42. (2009)
C McCourt, S Dessie, AM Bradley, J Schwartz, L Brard, DS Dizon. Is there a taxane-free interval that predicts response to taxanes as a later line treatment of recurrent ovarian or primary peritoneal cancer?? Int J Gynecol Cancer 2009; 19:343-7. (2009)
DS Dizon, K Perez, P DiSilvestro, C Taneja, D Ilson. Stage IV small bowel carcinoma mimicking advanced ovarian cancer: case report and review of the literature. American Surgeon 2009; 75:864-5. (2009)
S MacLaughlan and DS Dizon. Breast Cancer Follow-Up; Extending the focus beyond survival. Journal Watch Women's Health, March 2009; 14:19-20. (2009)
K. Perez, M Gadgil, and DS Dizon. Sexual ramifications of medical illness. Clinics of Obstetrics and Gynecology 2009; 52:691-701. (2009)
DS Dizon and M Krychman. Sexuality. In: Principles & Practice of Cancer Rehabilitation. M Stubblefield, M O'Dell, C Custodio, and T Fitzpatrick, Eds. New York: Demos. 2009. (2009)
DS Dizon, T Tejada-Berges, MM Steinhoff, CJ Sung, S Koelliker, HI Khalil, B O'Connor, S MacAusland, C Taneja, RD Legare, and JS Gass. Breast Cancer. In: Principles and Practice of Gynecologic Oncology, Barakat, Markman, and Randall, Eds. Lippincott Williams and Wilkins. 2009. (2009)
Gynecologic Tumor Board: Clinical Cases in the Diagnosis and Management of Cancer of the Female Reproductive System. DS Dizon and NA Rustum, Editors. Sudbury, MA: Jones and Bartlett: 2008. (2008)
100 Questions and Answers About Cervical Cancer. DS Dizon, PA DiSilvestro, and MA Krychman. Sudbury, MA: Jones and Bartlett, 2008. (2008)
DS Dizon, CA Duffy, DS Thompson, DL Wiggins. The sexuality clinic in the breast center: sex as a survivorship issue. Breast Cancer Online 2008; 1:1-3. doi:10.1017/S`47090310800802X (2008)
A Kuo, DL Wiggins, and DS Dizon. Sexual dysfunction following breast cancer treatment: common problems, diagnosis, and management. SRM: Sexuality, Reproduction, and Menopause, 2008; 6:17-20. (2008)
DL Wiggins and DS Dizon. Dyspareunia and vaginal dryness after breast cancer treatment. Sexuality, Reproduction, and Menopause, 2008: 18-22. (2008)
DS Dizon, A Restivo, M Lomme, N Charbonneau, L Brard, T Hughes, S Weitzen, R Legare, CO Granai, P DiSilvestro. For Women Receiving Chemotherapy for Clinically Apparent Early Ovarian Cancer, Is There a Benefit to Surgical Staging? American Journal of Clinical Oncology 2008; 31:39-42. (2008)
J Orr, J Kelley, D Dizon, P Escobar, E Fleming, M Gemignani, D Hetzel, W Hoskins, J Lapolla, S Lwein, J Lucci, M Markman, B Pothuri, B Powell, T Tejada-Berges, L Kilgore. Breast cancer Task Force SGO Position Paper. Gynecol Oncol 2008; 110:7-12. (2008)
DS Dizon, J Beheshti, K McDonough, J Gass. The differential diagnosis of dyspnea in a woman with metastatic breast cancer: Consideration beyond pulmonary embolism. The Breast Journal, 2008; 14:90-1. (2008)
DS Dizon, J Schwartz, N Kemeny. Regional chemotherapy: a focus on hepatic artery infusion for colorectal cancer liver metastases. Surg Oncol Clin N Am, 2008; 17:759-71. (2008)
DS Dizon and S Makhija. HER dimerization inhibitors: Developing pertuzumab as an anti-cancer agent in women's oncology. Expert Opinion in Drug Discovery, 2008; 11:1363-69. (2008)
RT Penson and DS Dizon. Long term quality of life and symptoms management for women with cancer. In: Precis: an Update in Obstetrics and Gynecology. Oncology, 3rd Edition. JS Berek, et al, Eds. Washington, DC: American College of Obstetrics & Gynecology, 2008: 126-138. (2008)
DxRx Cervical Cancer: An approach to preinvasive and invasive malignancies of the cervix. K Robison and DS Dizon. Sudbury, MA: Jones and Bartlett, 2007. (2007)
Abstracts Presented at The 17th Annual National Interdisciplinary Breast Center Conference: Breast Center Evolution: 2007 and Beyond- Don S. Dizon and Constance A. Roche, Chaipersons, Abstract Committee, NCBC Annual Meeting 2007. Am J Clin Onc, 2007; 30:444-60. (2007)
DS Dizon, CK McCourt, T Martin-Hanley, L Brard, AM Bradley, C Bandera. Adjuvant therapy for endometrial cancer: "sandwich therapy" of carboplatin and paclitaxel with radiation therapy. The Women & Infants' Hospital experience and review of the literature. Cancer Therapy, 2007; 5:395-400. Available on-line at: www.cancer-therapy.org/articles5B.html. (2007)
DL Wiggins, R Wood, CO Granai, DS Dizon. Sex, Intimacy, and the Gynecologic Oncologist: Survey results of the New England Association of Gynecologic Oncologists (NEAGO). J Psychosocial Oncology, 2007; 25:61-70. (2007)
J Gass, DS Dizon, S Weitzen, MA Clark. Defining Social Support Systems for Women with Breast Cancer. Am J of Surgery, 2007; 194:501-3. (2007)
ML Hensley, D Dizon, F Derosa, E Venkatraman, P Sabbatini, DS Chi, J Dupont, AD Colevas, D Spriggs, C Aghajanian. A phase I trial of BMS-247550 (NSC#710428) and gemcitabine in patients with advanced solid tumors. Invest New Drugs, 2007; 25:335-41. (2007)
DS Dizon, J Gass, C Bandera, S Weitzen, M Clark. Does one person provide it all? Primary Support and Advanced Care Planning for women with cancer. J Clin Oncol 2007; 10:1412-1416. (2007)
J Schwartz, AM Bradley, C Bandera, L Brard, P DiSilvestro, R Legare, R Moore, T Tejada-Berges, CO Granai, DS Dizon. Does the platinum-free interval predict severity or incidence of hypersensitivity reactions to Carboplatin? The experience from Women & Infants' Hospital. Gynecol Oncol 2007; 105:81-83. (2007)
ME Gordinier, DS Dizon, S Weitzen, PA DiSilvestro, RG Moore, CO Granai. Oral thalidomide as palliative chemotherapy in women with advanced ovarian cancer. J Palliat Med 2007;10:61-6. (2007)
T Bandhari, DS Dizon, C Taneja, J Gass, G Masko, R Strenger. Clinical characteristics of women presenting with skin-only recurrences. Am J of Surgery, 2007; 194:494-6. (2007)
J Gass and DS Dizon. Continuing the mission for Interdisciplinary Breast Care: the 2007 National Consortium of Breast Centers Annual Meeting. RT Image Magazine, January 2006. (2007)
S Kalkunte, N Swamy, DS Dizon, L Brard. Benzylisothiocyanate (BITC) induces apoptosis in ovarian cancer cells in vitro. J Exp Ther Oncol. 2006; 5:287-300. (2006)
DS Dizon, T Tejada-Berges, S Koelliker, M Steinhoff, and CO Granai. Ovarian cancer associated with testosterone supplementation in a female-to-male transsexual patient. J Gynecol and Obstet Invest 2006; 62:226-228. (2006)
KS Satyan, NS Swamy, DS Dizon, R Singh, CO Granai, L Brard. Phenethyl isothiocyanate (PEITC) inhibits growth of ovarian cancer cells by inducing apoptosis: Role of caspase and MAPK activation. Gynecol Oncol 2006; 103:261-270. (2006)
ME Gordinier, DS Dizon, EL Fleming, S Weitzen, CO Granai. Short Communication: Palmar-plantar erythrodysesthesia is not related to body mass index in patients receiving pegylated liposomal doxorubicin. Gynecol Oncol 2006; 103:72-4. (2006)
DS Dizon, A Rojan, J Schwartz, J Miller, P DiSilvestro, ME Gordinier, R Moore, T Tejada-Berges, L Pires, R Legare, CO Granai. Two for Good Measure: Six versus Eight Cycles of Carboplatin and Paclitaxel as Adjuvant Treatment for Epithelial Ovarian Cancer. Gynecol Oncol 2006; 100:417-421. (2006)
DS Dizon, J Schwartz, A Rojan, J Miller, L Pires, P DiSilvestro, ME Gordinier, R Moore, CO Granai, and RD Legare. Cross-Sensitivity Between Paclitaxel and Docetaxel in a Women's Cancers' Program. Gynecol Oncol. 2006; 100:149-151. (2006)
P Somasundar, J Gass, M Steinhoff, S Koelliker, DS Dizon, B Cady, C Taneja. Role of ultrasound-guided axillary fine-needle aspiration in the management of invasive breast cancer. American Journal of Surgery 2006; 192:458-61. (2006)
100 Questions and Answers About Ovarian Cancer, Second Edition. DS Dizon and NR Abu-Rustum. Sudbury, MA: Jones and Bartlett, 2006. (2006)
DS Dizon. Blocking HER dimerization: the clinical development of Pertuzumab in ovarian cancer. Advances in Ovarian Cancer, 2005: 3-6. (2005)
C. Aghajanian, DS Dizon, P. Sabbatini, J. Raizer, J. Dupont, and D.R. Spriggs. A Phase I Trial of Bortezomib and Carboplatin in Recurrent Ovarian or Primary Peritoneal Cancer. J Clin Onc 2005; 23:5943-5949. (2005)
ME Gordinier and DS Dizon. Dyspnea during thalidomide treatment for advanced ovarian cancer. Ann Pharmacother. 2005; 39:962-5. (2005)
DS Dizon and DR Spriggs. Persistent and recurrent ovarian cancer. In Chemotherapy for Gynecologic Neoplasms: Current Therapy and Novel Approaches. Penalver M, Angioli R, Panici PB, Kavanagh J, Pecorelli S, editors. New York: Dekker, 2004: 407-432. (2004)
DS Dizon, C Aghajanian, XJ Yan, D Spriggs. Targeting NF-kB to increase the actibity of cisplatin in solid tumors. In Cancer Drug Discovery and Development: Combination Cancer Therapy: Modulators and Potentiators. Schwartz, G.K., editor. Totowa, NJ: Humana Press, 2004:197-207. (2004)
ML Krychman , J Carter, CA Aghajanian , DS Dizon, M Castiel . Chemotherapy-induced dyspareunia: a case study of vaginal mucositis and pegylated liposomal doxorubicin injection in advanced stage ovarian carcinoma. Gynecol Oncol. 2004 May;93(2):561-3. (2004)
P Sabbatini, C Aghajanian, D Dizon, S Anderson, J Dupont, JV Brown, WA Peters, A Jacobs, A Mehdi, S Rivkin, AJ Eisenfeld, D Spriggs. Phase II study of CT-2103 in patients with recurrent epithelial ovarian, fallopian tube, or primary peritoneal carcinoma. J Clin Onc 2004; 15:4523-4531. (2004)
PS Sabbatini, CA Aghajanian, M Leitao, E Venkatraman, S Anderson, J Dupont, D Dizon, C O'Flaherty, J Bloss, D Chi, D Spriggs. Intraperitoneal cisplatin with intraperitoneal gemcitabine in patients with epithelial ovarian cancer: results of a phase I/II trial. Clin Ca Res 2004; 10:2962-2967. (2004)
DS Dizon. Incorporating targeted treatments into standard regimens: whither the role of established doses? Cancer Investigation 2004; 6:954. (2004)
J Dupont, D Dizon and D Spriggs. Management of Ovarian Cancer: Balancing Medical Therapy and Quality of Life. Oncology Spec Ed. 2004. (2004)
DS Dizon and PJ Sabbatini. Management of ovarian cancer: balancing therapy and quality of life. Oncol Spec Ed. 2003; 6:11-17. (2003)
MM Leitao, J Boyd, A Hummer, N Olvera, CD Arroyo, E Venkatraman, R Baergen, D Dizon, RR Barkat, RA Soslow. Clinicopathological analysis of early stage sporadic epithelial ovarian carcinoma treated at a single institution. Am J Surg Path 2003: 28:147-59. (2003)
DS Dizon, J Dupont, S Anderson, P Sabbatini, A Hummer, C Aghajanian, D Spriggs. Treatment of recurrent ovarian cancer: a retrospective analysis of women treated with single-agent carboplatin originally treated with carboplatin and paclitaxel. The Memorial Sloan-Kettering Cancer Center Experience. Gynecol Oncol. 2003: 91:584-90. (2003)
MM Leitao, Jr, A Hummer, DS Dizon, CA Aghajanian, M Hensley, E Venkatraman, and DR Spriggs. Platinum re-treatment of platinum-resistant ovarian cancer after nonplatinum therapy. Gynecol Oncol. 2003: 91:123-9. (2003)
NR Abu-Rustum, Y Sonoda, DS Chi, H Teoman, C Brown, E Poynor, M Gemignani, D Dizon, E Venkatraman, RR Barakat. The effects of CO2 pneumoperitoneum on the survival of women with metastatic ovarian cancer. Gyn Onc 2003: 90:431-434. (2003)
100 Questions and Answers About Ovarian Cancer. DS Dizon, NR Abu-Rustum and AG Brown. Sudbury, MA: Jones and Bartlett, 2003. (2003)
DS Dizon, E Poynor, and ML Hensley. Management of Non-Epithelial Ovarian Cancers. In Atlas of Cancer, M Markman, editor. Philadelphia: Lippincott, Williams, & Wilkins, 2002: 100-105. (2002)
DS Dizon and N Kemeny. Locoregional Chemotherapy for Metastatic Colorectal Cancer to the Liver. In Colorectal Cancer: A Clinical Guide to Therapy. Bleiberg M, Kemeny N, Rougier PH, Wilke HJ, editors. London: Martin Dunitz, 2002:367-374. (2002)
C Aghajanian, S Soignet, DS Dizon, J Adams, P Elliott, S Pezzulli, V Miller, A Daud, DR Spriggs. A Phase I Trial of the Novel Proteasome Inhibitor PS341 in Advanced Solid Tumor Malignancies. Clin Cancer Res 2002: 8:2505-2511. (2002)
DS Dizon, PJ Sabbatini, C Aghajanian, ML Hensley, DR Spriggs. Analysis of patients with epithelial ovarian cancer or fallopian tube carcinoma re-treated with cisplatin after the development of a carboplatin allergy. Gyn Onc. 2002; 84:378-382. (2002)
DS Dizon, ML Hensley, P Sabbatinni, C Aghajanian, E Poynor, E Venkatraman, A Hummer, DR Spriggs. Retrospective analysis of carboplatin and paclitaxel as initial second-line therapy for recurrent epithelial ovarian carcinoma: application toward a dynamic disease state model of ovarian cancer. J Clin Onc. 2002; 20:1238-1247. (2002)
DS Dizon and N Kemeny. Intrahepatic arterial infusion of chemotherapy: clinical results. Sem in Oncol 2002; 29:126-135. (2002)
N Kemeny and DS Dizon. Adjuvant Chemotherapy After Hepatic Resection for Metastatic Colorectal Carcinoma. In Colorectal Cancer: A Clinical Guide to Therapy. Bleiberg M, Kemeny N, Rougier PH, Wilke HJ, editors. London: Martin Dunitz, 2002:359-366. (2002)
DS Dizon and PJ Sabbatini. Management of ovarian cancer: balancing therapy and quality of life. Oncol Spec Ed. 2002; 5:1-6. (2002)
S Srimdkandada, T Fujii, T Wang, SQ Fu, LH Yin, XYD Guo, T Nanakorn, XY Peng, WL Wang, L Zhang, A Canaan, M Anderson, D Dizon, D Lin, M Cooperberg, R Loewe, S Savinov, F Liu, JG Won, D Austin and A Deisseroth A. Methods for Chemoprotection and Chemo-sensitization: MDR-1 For Chemoprotection Using Retroviruses to Modify Hematopoietic Cells and Cytosine Deaminase for Chemosensitization Using Adenoviral Vectors. In Gene Therapy of Cancer: Methods and Protocols. Eds. W. Walther, and U. Stein, Humana Press, Totowa, New Jersey, pp. 609-616, 2000. (2000)