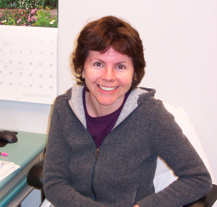 Sheila Haley, Ph.D.
Assistant Professor of Medical Science (Research)
Molecular Biology, Cell Biology, & Biochemistry
Work
:
+1
401
-
863
-
3420
Biography
Carcinoid tumors arise in the gastrointestinal tract from the neuroendocrine enterochromaffin cells of the intestinal epithelium and over the course of years metastasize to the liver and lung. The carcinoid syndrome is caused by the tumor's release of serotonin and other vasoactive substances. As these are small tumors resection is impossible and other current treatments are inadequate. Damage to cardiac tissue is the leading cause of death associated with carcinoid syndrome. Our goal is to determine the critical cellular factors involved in carcinoid tumor growth and secretion of bioactive amines that damage cardiac tissue. These cellular factors will be targeted using specific shRNA and/or other inhibitory factors. These molecules will then be specifically targeted to the tumors using a unique viral delivery method.


Biography
2006-present, Assistant Professor of Research, Brown University, Providence, RI

2003-2006, Post-Doctoral Research Associate, Rhode Island Hospital, Providence, RI

2001-2003, Post-Doctoral Research Associate, Brown University, Providence, RI

1995-2001, Graduate Student, Brown University, Providence, RI

1994-1995, Graduate Student, Georgetown University, Washington DC

1991-1994, Research Associate, National Institute of Dental Research, National Institutes
of Health, Bethesda, MD

1987-1991, Assistant Research Scientist, GeneTrak Systems, Framingham, MA
Grants and Awards
Reviewer for Developmental Biology (from 2001)
Reviewer for Biochimica et Biophysica Acta (from 2003)
Reviewer for Molecular Reproduction and Development (from 2008)

Honors/Societies
American Society of Cell Biology
Society of Developmental Biology
1997-2001 NIH training grant award recipient
2005 Rhode Island Hospital Young Investigator Award finalist

Research Grants
Raymond and Beverly Sackler Foundation
"Targeted Therapies for Carcinoid Syndrome"
Selected Publications
Haley, S.A., Zhao, T., Zou, L., Klysik, J.E., Padbury, J.F., Kochilas, L.K., 2008. Forced Expression of the Cell Cycle Inhibitor p57Kip2 in Cardiomyocytes Attenuates Ischemia-Reperfusion Injury in the Mouse Heart. BMC Physiology, 8:4. (2008)
DePaepe, M.E., Gundavarapu, S., Tantravahi, U., Pepperell, J.R., Haley, S.A., Luks, F.I., Mao, Q., 2008. Fas-Ligand-Induced Apoptosis of Respiratory Epithelial Cells Causes Disruption of Postcanalicular Alveolar Development. Am. J. Pathology, 173(1):42-56. (2008)
Haley, S.A., Wessel, G.M., 2004. Proteolytic cleavage of the cell surface protein p160 is required for detachment of the fertilization envelope in the sea urchin. Dev. Biol., 272(1):191-202. (2004)
Haley, S.A.,Wessel, G.M., 2004. Regulated proteolysis by cortical granule serine protease 1 at fertilization. Mol. Biol. Cell., 15(5):2084-92. (2004)
Wessel, G.M., Brooks, J.M., Green, E., Haley, S.A., Voronina, E., Wong, J., Zaydfudim, V., Conner, S., 2001. The biology of cortical granules. Int. Rev. Cytol., 209:117-206. (2001)
Haley, S.A., Wessel, G.M., 1999. The cortical granule serine protease CGSP1 of the sea urchin, Strongylocentrotus purpuratus, is autocatalytic and contains a low-density lipoprotein receptor-like domain. Dev. Biol., 211(1):1-10. (1999)