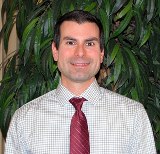 Brandon Gaudiano, Ph.D.
Assistant Professor of Psychiatry & Human Behavior (Research)
Psychiatry & Human Behavior
Work
:
+1
401
-
455
-
6457
Dr. Gaudiano's research focuses on developing and testing novel psychosocial treatments. The ultimate aim of this research is to improve the standard of care for individuals with difficult-to-treat clinical conditions.
Biography
Dr. Gaudiano was born in Pennsylvania and completed his doctorate in clinical psychology at Drexel University in Philadelphia. He came to Brown as a predoctoral clinical psychology intern in 2003 and completed his NIMH-funded T32 postdoctoral fellowship in treatment research under the mentorship of Dr. Ivan Miller, Professor of Psychiatry & Human Behavior. Currently, he is an Assistant Professor (Research) of Psychiatry at Brown Medical School. Dr. Gaudiano is based at Brown-affiliated Butler Hospital, where he conducts research as a faculty member in the Psychosocial Research Program.
Research Description
Dr. Gaudiano's research and professional interests include: cognitive-behavioral therapies, acceptance/mindfuless-based therapies, severe mood disorders, psychosis and other forms of severe mental illness, treatment adherence, suicidality, comorbid substance use, factors influencing medication efficacy, evidence-based practices, critical thinking and pseudoscience in clinical psychology
Grants and Awards
Current Editorial Boards:
Clinical Psychology Review
Journal of Addiction Research and Therapy
Psychology of Consciousness (Associate Editor)

Past Editorial Boards:
Journal of Clinical Psychology
The Scientific Review of Mental Health Practice

Special Issue Journal Editor:
"Issues with Empirically-Supported Treatments," Clinical Psychology Review, in press (with Co-Editor Ivan W. Miller, Ph.D.)
"Cultural Differences and Scientific Mental Health Practices," The Scientific Review of Mental Health Practice, Vol 7(2), 2010, pp. 3-47
"The Placebo Concept in Psychotherapy," Journal of Clinical Psychology, Vol. 61(7), 2005, pp. 787-908 (with Co-Editor, James D. Herbert, Ph.D.)

Books (under contract):
Gaudiano, B. A. (Associate Ed.) (in preparation). Prevention and Treatment. In R. L. Cautin & S. O. Lilienfeld (Editors-in-Chief), Encyclopedia of Clinical Psychology. Wiley-Blackwell: Hoboken, NJ.
Gaudiano, B. A. (Ed.) (in preparation). Mindfulness and acceptance for psychosis. Oxford University Press: New York.

External Grant Reviewer:
German Federal Ministry of Education and Research, Long-Term Studies in Health Research Program, 2007
National Institute of Mental Health, "Recovery after an Initial Schizophrenia Episode" (RAISE), Technical Evaluation Special Emphasis Panel, 2008
Ontario Mental Health Foundation, Research Project Grant, 2008
Italian Ministry of Health, Young Investigator Award (Bando Giovani Ricercatori), 2008
UK National Institute for Health Research (NIHR): Research for Patient Benefit Programme (RfPB), 2009
Guy's and St. Thomas' Charity, New Services and Innovations in Healthcare, 2009
Canadian Institutes of Health Research, Randomized Controlled Trials Committee, 2010
Israel Science Foundation, 2010
Chief Scientist Office (Scotland), Health Services and Population Health Research, 2011
Association for Contextual Behavioral Science Research Development Grant Scheme, 2011
Austrian Science Foundation, Erwin Schroedinger Fellowship, 2012
National Institute of General Medical Sciences, Minority Biomedical Research Support (SCORE), Review Committee, 2012

Awards:
Alpha Lambda Delta, National Academic Honor Society, 1995
Psi Chi, National Honor Society in Psychology, 1997
Alpha Chi, National College Honor Society, 1998
Two-Ten Foundation Scholarships, 1995-1999
St. Vincent College Academic/Leadership Scholarships, 1995-1999
Psychology Department Award, St. Vincent College, 1999
Outstanding Service Award, St. Vincent College, 1999
Maria Leonard Senior Book Award, Alpha Chi Honor Society, 1999
Alumni Tuition Award, MCP Hahnemann University, 1999
Joseph E. Pryor Alumni Fellowship, Alpha Chi Honor Society, 2000
Fellow, Commission for Scientific Medicine and Mental Health, 2003-Present
Research Presentation Award, Brown Medical School, 2004
Loan Repayment Award, National Institutes of Health, 2005
NARSAD Young Investigator Award, 2007 with competitive renewals
Affiliations
American Psychological Association, 1998-2010
Society for a Science of Clinical Psychology (APA Div 12, Sect 3), 2006-Present
Association for Behavioral and Cognitive Therapies, 2000-Present
Association for Contextual Behavioral Science (Charter Member), 2006-Present
Association for Psychological Science, 2010-Present
Funded Research
Current:

Title: RCT of Hatha Yoga for Persistent Depression
Grant Number R01 NR012005
Funding Agency: NINR
Award Period: 2011-2115
Role: Co-Investigator (PI: L. Uebelacker, Ph.D.)

Title: Emergency Department Suicide Screening and Intervention Trial
Grant Number: U01MH088278
Funding Agency: NIMH
Award Period: 2009-2014
Role: Co-Investigator (PIs: Boudreaux, Carmengo, Miller)

Title: Veterans Coping Long Term with Suicide
Grant Number: I01 HX001275-01
Funding Agency: VA HSR&D
Award Period: 2013-2017
Role: Co-Investigator (PI: J. Primack, Ph.D.)

Title: Effectiveness of Psychosocial Treatment for Inpatients with Psychosis
Grant Number: R34MH097987
Funding Agency: NIMH
Award Period: 2013-2016
Role: Principal Investigator
Total Costs: $667,229

Title: Technology-Assisted Assessment of Post-Hospital Adherence in Schhizophrenia
Grant Number: R21MH102000
Funding Agency: NIMH
Award Period: 2013-2015
Role: Principal Investigator (MPI: E. Moitra, Ph.D.)
Total Costs: $408,546

Past:

Title: Development of a Psychosocial Treatment for Psychotic Depression
Funding Agency: National Institute of Mental Health
Grant Number: K23 MH076937
Role: Principal Investigator
Period: 2007-2013
Total Costs: $910,011

Title: Development of an Intervention for Suicide Attempters
Grant Number: R34 MH073625
Funding Agency: NIMH
Period: 2007-2012
Role: Co-Investigator (PI: I. Miller,PhD)

Title: Intervention to Increase Adherence Among Bipolar Substance Abusers
Grant Number: R01 DA023072
Funding Agency: NIDA
Period: 2007-2012
Role: Co-Investigator (PI: I. Miller, PhD)

Title: Training in Treatment Research
Funding Agency: NIMH
Grant Number: T32 MH067553
Role: Postdoctoral Research Fellow (PI: I. Miller, PhD)
Period: 2004-2006
Teaching Experience
Brown University Clinical Psychology Training Consortium:
Adult Track, Butler Hospital Partial Program, Primary Supervisor
Adult Track, Long-Term Outpatient Supervisor
Adult Track, Seminar Presenter

Brown University (2005-Present):
Course Title: CRITICAL THINKING ABOUT HUMAN BEHAVIOR
Course Code: PY901-3A

Description: "Why do many people believe in palm reading, alien abductions, past-life regression therapy, and ghosts? Can what you see in an inkblot reveal hidden aspects of your personality? Is it true that some people have the power to see into the future? This course will introduce students to methods used by psychological science to help answer these common questions about the "unknown."

We will examine common ways in which human thinking leads people to believe strange things and to maintain these beliefs even in the face of contradictory information. Students will develop critical thinking skills for evaluating claims about human behavior, especially claims made in the popular media concerning paranormal or otherwise unusual or extraordinary phenomena. The scientific method will be examined as a unique tool for overcoming cognitive biases. The distinctions between science and pseudo-science will be explored, including the gray areas or "borderlines" of science and science's potential limitations. Illustrations of concepts will be drawn from psychology and medicine.
Courses Taught
Critical Thinking About Human Behavior (PY901-3A)
Selected Publications
Gaudiano, B. A. (2013). Brief acceptance and commitment therapy for the acute treatment of hospitalized patients with psychosis. In C. Steel (Ed.), CBT for schizophrenia: Evidence-based interventions and future directions (pp. 191-212). Wiley-Blackwell: Oxford, UK. (2013)
Gaudiano, B. A. (2013). Attenuated psychosis syndrome: Not ready for primetime. Psychs Talk Blog. http://www.cmeinstitute.com/psychs-talk/?url=gaudiano1.asp (2013)
Gaudiano, B. A., Nowlan, K., Brown, L. A., Epstein-Lubow, G., & Miller, I. W. (2013). An open trial of an acceptance-based behavioral psychotherapy for major depression with psychotic features. Behavior Modification, 37, 324-355. (2013)
Gaudiano, B. A., & Zimmerman, M. (2013). Prevalence of attenuated psychotic symptoms and their relationship with DSM-IV diagnoses in a general psychiatric outpatient clinic. Journal of Clinical Psychiatry, 74, 149–155. (2013)
Gaudiano, B. A., Hughes, J. A., & Miller, I. W. (2013). Patients' treatment expectancies in clinical trials of antidepressants versus psychotherapy for depression: A study using hypothetical vignettes. Comprehensive Psychiatry, 54, 28–33. (2013)
Gaudiano, B. A., & Busch, A. M. (2013). Engaging people with psychosis in mindfulness and ACT. In E. M. J. Morris, L. C. Johns, & J. E. Oliver (Eds.), Acceptance and commitment therapy and mindfulness for psychosis (pp. 76-94). Wiley-Blackwell: Oxford, UK. (2013)
Herbert, J. D., Gaudiano, B. A., & Forman, E. M. (2013). The importance of theory in cognitive behavior therapy: A perspective of contextual behavioral science. Behavior Therapy, 44, 580-591. (2013)
Khoury, B., Lecomte, T., Gaudiano, B. A., & Paquin, K. (2013). Mindfulness interventions for psychosis: A meta-analysis. Schizophrenia Research, 150, 176-184. (2013)
Gaudiano, B. A., & Miller, I. W. (2013). The evidence-based practice of psychotherapy: Facing the challenges that lie ahead. Clinical Psychology Review, 33, 813-824. (2013)
Gaudiano, B. A., & Miller, I. W. (2013). Self-stigma and treatment-related beliefs in depressed patients in a hospital setting. International Journal of Social Psychiatry, 59, 586-591. (2013)
Bach, P., Gaudiano, B. A., Hayes, S. C., & Herbert, J. D. (2013). Acceptance and Commitment Therapy for psychosis: Intent to treat hospitalization outcome and mediation by believability. Psychosis: Psychological, Social, and Integrative Approaches, 5, 166-174. (2013)
Gaudiano, B. A. (2013, Sept. 30). Psychotherapy's image problem [Op-Ed]. The New York Times, A29. Available online at: http://www.nytimes.com/2013/09/30/opinion/psychotherapys-image-problem.html?_r=0 (2013)
Lynn, S. J., Gaudiano, B., Montgomery, G., & Woody, E. Z. (2013). Editorial. Psychology of Consciousness: Theory, Research, and Practice, 1, 1. (2013)
Gaudiano, B. A., Brown, L. A., & Miller, I. W. (2011). Factors associated with critical thinking abilities in psychotherapists. Cognitive Behaviour Therapy, 40, 137-146. (2012)
Epstein-Lubow, G., Gaudiano, B., Darling, E., Hinckley, M., Tremont, G., Kohn, R., Marino, L. J., Salloway, S., Grinnell, R., & Miller, I. W. (2012). Differences in depression severity in family caregivers of hospitalized individuals with depression and family caregivers of outpatients with dementia. American Journal of Geriatric Psychiatry, 20, 815-819. (2012)
Gaudiano, B. A. (2012). The need to develop innovative interventions to improve treatment adherence in co-occurring severe mental illness and substance use disorders. Journal of Addiction Research & Therapy, S8, e001. doi:10.4172/2155-6105.S8-e001 (2012)
Uebelacker, L. A., German, N. M., Gaudiano, B. A., & Miller, I. W. (2011). Concordance between self-report and clinical interview ratings of suicidality in a primary care setting. The Primary Care Companion for CNS Disorders, 13, e1-e6. (2011)
Brown, L. A., Gaudiano, B. A., & Miller, I. W. (2011). Investigating the similarities and differences between practitioners of second and third wave cognitive-behavioral therapies. Behavior Modification, 35, 187-200. (2011)
Gaudiano, B. A., Brown, L. A., & Miller, I. W. (2011). Let your intuition be your guide? Individual differences in the evidence-based practice attitudes of psychotherapists. Journal of Evaluation in Clinical Practice, doi: 10.1111/j.1365-2753.2010.01508.x. (2011)
Febres, J., Rossi, R., Gaudiano, B. A., & Miller, I. W. (2011). Differential relationship between depression severity and family functioning in women versus in men. Journal of Nervous and Mental Disease, 199, 449-453. (2011)
Gaudiano, B. A. (2011). A review of acceptance and commitment therapy (ACT) and recommendations for continued scientific advancement. The Scientific Review of Mental Health Practice, 8, 5-22. (2011)
Gaudiano, B. A., & Hughes, J. (2011). A failure of treatment or a failure of imagination? [Review of the book Cognitive-Behavioral Therapy for Refractory Cases.] Clinical Psychology Review, 31, 1068-1069. (2011)
Gaudiano, B. A., & Zimmerman, M. (2011). Continuing lack of evidence for the psychotic subtyping of PTSD: Authors' reply [Letter]. British Journal of Psychiatry, 198, 156. (2011)
Uebelacker, L. A., Epstein-Lubow, G., Gaudiano, B. A., Tremont, G., Battle, C. L., & Miller, I. W. (2010). Hatha yoga for depression: Critical review of the evidence for efficacy, plausible mechanisms of action, and directions for future research. Journal of Psychiatric Practice, 16, 22-33. (2010)
Gaudiano, B. A. (2010). Evaluating acceptance and commitment therapy: An analysis of a recent critique. International Journal of Behavioral Consultation and Therapy, 5, 311-329. (2010)
Gaudiano, B. A., & Zimmerman, M. (2010). Does comorbid posttraumatic stress disorder affect the severity and course of psychotic major depressive disorder? Journal of Clinical Psychiatry, 71, 442-450. (2010)
Brown, L. A., Gaudiano, B. A., & Miller, I. W. (2010). The impact of panic-agoraphobic spectrum comorbidity on suicidality in hospitalized patients with major depression. Depression and Anxiety, 27, 310-315. (2010)
Epstein-Lubow, G., Gaudiano, B. A., Hinckley, M., Salloway, S., & Miller, I. W. (2010). Evidence for the validity of the American Medical Association's Caregiver Self-Assessment Questionnaire as a screening measure for depression [Letter]. Journal of the American Geriatrics Society, 58, 387-388. (2010)
Epstein-Lubow, G., Gaudiano, B. A., Hinckley, M., Salloway, S., & Miller, I. W. (2010). Evidence for the validity of the American Medical Association's Caregiver Self-Assessment Questionnaire as a screening measure for depression [Letter]. Journal of the American Geriatrics Society, 58, 387-388. (2010)
Gaudiano, B. A., & Zimmerman, M. (2010). The relationship between childhood trauma history and the psychotic subtype of major depression. Acta Psychiatrica Scandinavica, 121, 462-470. (2010)
Uebelacker, L. A., Tremont, G., Epstein-Lubow, G., Gaudiano, B. A., Gillette, T., Kalibatseva, Z. & Miller, I. W. (2010). Open trial of Vinyasa yoga for persistently depressed individuals: Evidence of feasibility and acceptability. Behavior Modification, 34, 247-264. (2010)
Gaudiano, B. A., & Zimmerman, M. (2010). Evaluation of evidence for the psychotic subtyping of post-traumatic stress disorder. British Journal of Psychiatry, 197, 326-327. (2010)
Gaudiano, B. A., Herbert, J. D., & Hayes, S. C. (2010). Is it the symptom or the relation to it? Investigating potential mediators of change in Acceptance and Commitment Therapy for psychosis. Behavior Therapy, 41, 543-554. (2010)
Gaudiano, B. A. (2010). How do we address cultural differences in our empirically supported treatments? The Scientific Review of Mental Health Practice, 7, 3-7. (2010)
Gaudiano, B. A. (2010). A new psychological treatment for paranoia and other psychotic symptoms: Acceptance and commitment therapy. In A. M. Columbus (Ed.), Advances in Psychology Research (Volume 68) (pp. 157-176). Nova Science: Hauppauge, NY. (2010)
Herbert, J.D., Gaudiano, B.A., Rheingold, A.A., Moitra, E., Myers, V.H., Dalrymple, K.L., & Brandsma, L,L. (2009). Cognitive behavior therapy for generalized social anxiety disorder in adolescents: A randomized controlled trial. Journal of Anxiety Disorders, 23, 167-177. (2009)
Gaudiano, B.A., Dalrymple, K.L., & Zimmerman, M. (2009). Prevalence and clinical characteristics of psychotic versus nonpsychotic major depression in a general psychiatric outpatient clinic. Depression and Anxiety, 26, 54-64. (2009)
Gaudiano, B. A., Epstein-Lubow, G., & Miller, I. W. (2009). Does the dexamethasone suppression test reliably discriminate between psychotic and nonpsychotic major depression? An exploratory analysis of potential confounds. Journal of Nervous and Mental Disease, 197, 395-400. (2009)
Gaudiano, B. A. (2009). Öst's (2008) methodological comparison of clinical trials of acceptance and commitment therapy versus cognitive behavior therapy: Matching apples with oranges? Behaviour Research and Therapy, 47, 1066-1070. (2009)
Gaudiano, B. A., Uebelacker, L. A., Epstein-Lubow, G., & Miller, I. W. (2009). Premature conclusions about psychotherapy for dysthymia [Letter]. Journal of Clinical Psychiatry, 70, 1188. (2009)
Gaudiano, B. A., & Brown, L. A. (2009). Self-administered cognitive therapy for psychosis: Untapped potential or premature promotion? [Review of the book Back to life, back to normality]. PsycCRITIQUES, 54, Release 41, Article 4. (2009)
Gaudiano, B. A., Weinstock, L. M., & Miller, I. W. (2009). Improving treatment adherence in bipolar disorder [Polish]. In J. Krzyzowski (Ed.), Difficult clinical problems in psychiatry (pp. 288-323). Poland: MEDYK. (2009)
Gaudiano, B. A. (2008). Cognitive-behavioural therapies: achievements and challenges. Evidence-Based Medicine, 11, 5-7. (2008)
Gaudiano, B. A., Weinstock, L. M., Miller, I.W. (2008). Improving treatment adherence in bipolar disorder: A review of current psychosocial treatment efficacy and recommendations for future treatment development. Behavior Modification, 32, 267-301. (2008)
Gaudiano, B. A., Uebelacker, L. A., & Miller, I. W. (2008). The impact of remitted substance use disorders on the future course of illness in bipolar I disorder: Findings from a clinical trial. Psychiatry Research, 160, 63-71. (2008)
Graf, M. C., Gaudiano, B. A., & Geller, P. (2008). Written emotional expression: A controlled study of the benefits of expressive writing homework in psychotherapy. Psychotherapy Research, 18, 389-399. (2008)
Gaudiano, B. A., Andover, M. S., & Miller, I. W. (2008). The emergence of suicidal ideation during the post-hospital treatment of depressed patients. Suicide and Life-Threatening Behavior, 38, 539-551. (2008)
Redding, R. E., Herbert, J. D., Forman, E. M., & Gaudiano, B. A. (2008). Popular self-help books for anxiety, depression, and trauma: How scientifically grounded and useful are they? Professional Psychology: Research and Practice, 39, 537-545. (2008)
Gaudiano, B. A., Young, D., Chelminski, I., & Zimmerman, M. (2008). Depressive symptom profiles and severity patterns in outpatients with psychotic versus nonpsychotic major depression. Comprehensive Psychiatry, 49, 421-429. (2008)
Gaudiano, B. A. (2008). Review: Individual behavioural therapy reduces symptoms of depression. Evidence-Based Mental Health, 11, 108. (2008)
Gaudiano, B. A., Uebelacker, L. A., & Miller, I. W. (2007). Longitudinal course of psychotic mania: Is mood incongruence important? The Journal of Nervous and Mental Disease, 195, 226-232. (2007)
Dalrymple, K. L., Herbert, J. D., & Gaudiano, B. A. (2007). Onset of illness and developmental factors in Social Anxiety Disorder: Preliminary findings from a retrospective interview. Journal of Psychopathology and Behavioral Assessment, 29, 101-110. (2007)
Gaudiano, B. A., & Miller, I. W. (2007). Dysfunctional cognitions in hospitalized patients with psychotic versus nonpsychotic major depression. Comprehensive Psychiatry, 48, 357-365. (2007)
Gaudiano, B. A., Miller, I. W., & Herbert, J. D. (2007). The treatment of psychotic major depression: Is there a role for adjunctive psychotherapy? Psychotherapy and Psychosomatics, 76, 271-277. (2007)
Gaudiano, B. A., & Epstein-Lubow, G. (2007). Controversies about antidepressants and the promotion of evidence-based treatment alternatives for depression. The Scientific Review of Mental Health Practice, 5, 33-52. (2007)
Gaudiano, B. A., & Herbert, J. D. (2006). Believability of hallucinations as a potential mediator of the relationship between their frequency and associated distress in psychotic inpatients. Behavioural and Cognitive Psychotherapy, 34, 497–502. (2006)
Gaudiano, B. A., & Miller, I. W. (2006). Patients' expectancies, the alliance in pharmacotherapy, and treatment outcomes in Bipolar Disorder. Journal of Consulting and Clinical Psychology, 74, 671-676. (2006)
Gaudiano, B. A. (2006). Is symptomatic improvement in clinical trials of cognitive behavior therapy for psychosis clinically significant? Journal of Psychiatric Practice, 12, 11-23. (2006)
Gaudiano, B. A. (2006). Review: Cognitive behavioural therapy is an effective treatment for depression, panic disorder and generalized anxiety disorder, but may be less effective in severe cases. Evidence-Based Mental Health, 9, 80. (2006)
Bach, P., Gaudiano, B. A., Pankey, J., Herbert, J. D., & Hayes, S. C. (2006). Acceptance, mindfulness, values, and psychosis: Applying ACT to the chronically mentally ill. In R. A. Baer (Ed.), Mindfulness-based treatment approaches: Clinician's guide to evidence base and applications (pp. 93-116). San Diego: Academic Press. (2006)
Gaudiano, B. A. (2006). The "third wave" behavior therapies in context [Review of Hayes et al.'s (2004) Mindfulness and acceptance: Expanding the cognitive-behavioral tradition and Hayes and Strosahl's (2004) A practical guide to Acceptance and Commitment Therapy]. Cognitive and Behavioral Practice, 13, 101-104. (2006)
Gaudiano, B. A. (2006). Cognitive-behavioral treatments for schizophrenia: The state of the art and the evidence. International Journal of Behavioral Consultation and Therapy, 2, 1-11. (2006)
Gaudiano, B. A., & Herbert, J. D. (2006). Acute treatment of inpatients with psychotic symptoms using Acceptance and Commitment Therapy: Pilot results. Behaviour Research and Therapy, 44, 415-437. (2006)
Gaudiano, B. (2006). [Review of the book The bipolar handbook: Real-life questions with up-to-date answers]. Psychiatric Times, 23(14), 25. (2006)
Gaudiano, B. A., & Herbert, J. D. (2006). Self-efficacy for social situations in adolescents with generalized Social Anxiety Disorder. Behavioural and Cognitive Psychotherapy, 35, 209-223. (2006)
Gaudiano, B. A. (2005). Cognitive behavior therapies for psychotic disorders: Current empirical status and future directions. Clinical Psychology: Science and Practice, 12, 33-50. (2005)
Herbert, J. D., & Gaudiano, B. A. (2005). Moving from empirically supported treatment lists to practice guidelines in psychotherapy: The role of the placebo concept. Journal of Clinical Psychology, 61, 893-908. (2005)
Herbert, J. D., Gaudiano, B. A., Rheingold, A.A., Myers, V. H., Dalrymple, K. L., & Nolan, B. M. (2005). Social skills training augments the effectiveness of cognitive behavior group therapy for Social Anxiety Disorder. Behavior Therapy, 36, 125-138. (2005)
Gaudiano, B. A., Beevers, C.G., & Miller, I. W. (2005). Differential response to combined treatment in patients with psychotic versus nonpsychotic Major Depression. The Journal of Nervous and Mental Disease, 193, 625-628. (2005)
Gaudiano, B. A., & Dalrymple, K. L. (2005). EMDR variants, pseudoscience, and the demise of empirically supported treatments? [Review of the book Psychotherapeutic interventions for emotion regulation: EMDR and bilateral stimulation for affect management]. PsycCRITIQUES—Contemporary Psychology: APA Review of Books, 50(8), Article 11. (2005)
Herbert, J. D., & Gaudiano, B. A. (2005). Introduction to the special issue on the placebo concept in psychotherapy. Journal of Clinical Psychology, 61, 787-790. (2005)
Gaudiano, B. A., & Miller, I. W. (2005). Anxiety disorder comorbidity in Bipolar I Disorder: Relationship to depression severity and treatment outcome. Depression and Anxiety, 21, 71-77. (2005)
Gaudiano, B. A., & Herbert, J. D. (2005). Methodological issues in clinical trials of antidepressant medications: Perspectives from psychotherapy outcome research. Psychotherapy and Psychosomatics, 74, 17-25. (2005)
Herbert, J. D., Rheingold, A. A., Gaudiano, B. A., & Myers, V. H. (2004). Standard versus extended cognitive behavior therapy for Social Anxiety Disorder: A randomized-controlled trial. Behavioural and Cognitive Psychotherapy, 32, 131-147. (2004)
Gaudiano, B. A., & Herbert, J. D. (2003). The antidepressant-placebo debate in the media: Balanced coverage or placebo hype? The Scientific Review of Mental Health Practice, 2, 74-77. (2003)
Gaudiano, B. A., & Herbert, J. D. (2003). Preliminary psychometric evaluation of a new self-efficacy scale and its relationship to treatment outcome in Social Anxiety Disorder. Cognitive Therapy and Research, 27, 537-555. (2003)
Gaudiano, B. A. (2003). The disease of pseudoscience and the hope for a cure [Review of the book Science and pseudoscience in clinical psychology]. Skeptical Inquirer, 27(4), 48-49. (2003)
Gaudiano, B. A. (2003, Dec. 28). Therapy maze can be depressing. Los Angeles Times, M5. (2003)
Gaudiano, B. A. (2003). Would an AABT by just any other name smell as sweet? the Behavior Therapist, 26(7), 370-371. (2003)
Gaudiano, B. A. (2002). EMDR and the media: Is change in the wind? The Scientific Review of Mental Health Practice, 1, 201-203. (2002)
Herbert, J. D., Sharp, I. R., & Gaudiano, B. A. (2002). Separating fact from fiction in the etiology and treatment of autism: A scientific review of the evidence. The Scientific Review of Mental Health Practice, 1, 23-43. (2002)
Evans, D. L., Herbert, J. D., Nelson-Gray, R. O., & Gaudiano, B. A. (2002). Determinants of diagnostic prototypicality judgments of the personality disorders. Journal of Personality Disorders, 16, 95-106. (2002)
Gaudiano, B. A. (2002). New developments in the Thought Field Therapy saga. Skeptical Inquirer, 26(2), 7-8. (2002)
Gaudiano, B. A. (2002). [Review of the book From social anxiety to social phobia: Multiple perspectives]. Cognitive and Behavioral Practice, 9, 230-231. (2002)
Gaudiano, B. A. (2002). Examining philosophical counseling…Old wine in new bottles? [Review of the book Plato, not Prozac!]. The Scientific Review of Mental Health Practice, 1, 82-84. (2002)
Herbert, J. D., & Gaudiano, B. A. (2001). The search for the Holy Grail: Heart rate variability and Thought Field Therapy. Journal of Clinical Psychology, 57, 1207-1214. (2001)
Gaudiano, B. A., & Statler, M. A. (2001). The scientist-practitioner gap and graduate education: Integrating perspectives and looking forward. The Clinical Psychologist, 54(4), 12-18. (2001)
Gaudiano, B. A., & Herbert, J. D. (2000). Can we really tap away our problems? A critical analysis of Thought Field Therapy. Skeptical Inquirer, 24(4), 29-33, 36. (2000)