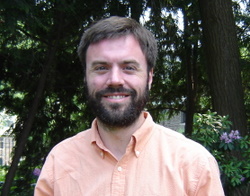 Jeremy Rich, PhD
Assistant Professor of Ecology & Environmental Biology
Ecology & Evolutionary Biology and Center for Environmental Studies
Work
:
+1
401
-
863
-
6748
My research integrates microbial ecology and biogeochemistry, with a current focus on nitrogen cycling in estuarine and marine environments. I use molecular techniques to unravel the microbial diversity driving biogeochemical processes. This complements my work measuring actual process rates and how switching among biogeochemical pathways is influenced by environmental factors. What I find most exciting are interactions among ecological, geochemical, and microbial controls of elemental cycles.
Biography
Dr. Rich's research examines microbial communities and biogeochemical processes in aquatic environments, and specifically the microbial factors that influence nitrogen availability. His current position is Assistant Professor, Research in the Department of Ecology and Evolutionary Biology and the Center for Environmental Studies at Brown University. His research group focuses on microbial ecology and environmental microbiology, with current projects investigating anaerobic ammonium oxidation (anammox) and denitrification in estuarine and marine ecosystems. He teaches a course in Microbial Diversity and the Environment. Dr. Rich received his Ph.D. at Oregon State University in 2003 and postdoctoral work at Princeton University before coming to Brown. Dr. Rich grew up in Wisconsin, graduating from UW-Madison in 1996.
Research Description
Much of my work focuses on the microbial aspects of the nitrogen cycle. Nitrogen is a key limiting nutrient in ecosystems, and human activities have substantially increased inputs of biologically available nitrogen, leading to profound environmental changes. I am currently investigating anaerobic ammonium oxidation (anammox), a newly discovered pathway in the nitrogen cycle, and denitrification. Both pathways lead to the loss of biologically available nitrogen in estuarine and marine environments. I have quantified rates of these processes in the Chesapeake Bay, Eastern Tropical South Pacific (Peru) and Arabian Sea. It's clear from the these studies that either anammox or denitrification can be the dominant process, but it is not clear why. We are currently working with modelers to design experiments and develop predictive models of nitrogen flow through anammox and denitrification. We are measuring anammox and denitrification rates in coastal New England in order to document controls on nitrogen flow. We are also applying molecular techniques to quantify the diversity and abundance of anammox bacteria in marine environments, in order to gain insight into how systems are functioning.
Grants and Awards
2004-2006, National Science Foundation, Postdoctoral Fellowship in Microbial Biology
2003, American Society for Microbiology, Student Member Travel Grant
1999-2001, Oregon State University, Agricultural Research Foundation Grant
1998, American Society for Microbiology, Student Member Travel Grant
1998, University of Maine Alumni Association, Academic Travel Grant
1995, National Science Foundation, Research Experience for Undergraduates Fellowship
Funded Research
2009-2012 ($446,472) National Science Foundation (NSF), Chemical Oceanography. Lead PI Collaborative Research with the Marine Biological Laboratory: Environmental Controls on Anaerobic Ammonium Oxidation (Anammox) and Denitrification in Marine and Estuarine Sediments

2010-2012 ($173,058) National Oceanic and Atmospheric Administration (NOAA) – Rhode Island Sea Grant. Lead PI. Impacts of Anaerobic Ammonium Oxidation (Anammox) in Rhode Island Coastal Waters.
Teaching Experience
My teaching interests cover all aspects of microbes in the environment, from their basic biology to practical applications, like bioremediation, to their role in shaping the biotic conditions on ancient Earth and modern biogeochemical cycles.
Courses Taught
Microbial Diversity and the Environment (ENVS1460/BIOL1460)
Selected Publications
Bulow, S. E., J. J. Rich, H. S. Naik, A. K. Pratihary, B. B. Ward. In press. Denitrification exceeds anammox as a nitrogen loss pathway in the Arabian Sea oxygen minimum zone. Deep Sea Res Part I. (IN PRESS)
Ward B. B., A. H. Devol, J. J. Rich, B. X. Chang, S. E. Bulow, H. Naik, A. Pratihary, A. Jayakumar. 2009. Denitrification as the dominant nitrogen loss process in the Arabian Sea. Nature 461: 78-81. (2009)
Shrestha J, J. J. Rich, J. G. Ehrenfeld, P. R. Jaffe. 2009. Oxidation of ammonium to nitrite under iron-reducing conditions in wetland soils: laboratory, field demonstrations, and push-pull rate determination. Soil Science 174: 156-164. (2009)
Ward B. B., C. B. Tuit, A. Jayakumar, J. J. Rich, J. Moffett, S. W. A. Naqvi. 2008. Organic carbon, and not copper, controls denitrification in oxygen minimum zones of the ocean. Deep Sea Res Part I. 55:1672-1683. (2008)
Rich J. J., O. R. Dale, B. Song, B. B. Ward. 2008. Anaerobic ammonium oxidation (anammox) in Chesapeake Bay sediments. Microbial Ecology 55:311-320. (2008)
Boyle, S. A., J. J. Rich, P. J. Bottomley, K. Cromack, and D. D. Myrold. 2006. Reciprocal transfer effects on denitrifying community composition and activity at forest and meadow sites in the Cascade Mountains of Oregon. Soil Biol Biochem 38: 870-878. (2006)
Bottomley, P. J., A. E. Taylor, S. A. Boyle, S. K. McMahon, J. J. Rich, K. Cromack, and D. D. Myrold. 2004. Response of nitrification and ammonia-oxidizing bacteria to reciprocal transfers of soil between adjacent coniferous forest and meadow vegetation in the Cascade Mountains of Oregon. Microbial Ecology 48: 500-508. (2004)
Rich, J. J., and D. D. Myrold. 2004. Community composition and activities of denitrifying bacteria from adjacent agricultural soil, riparian soil, and creek sediment in Oregon, USA. Soil Biol Biochem 36: 1431-1441. (2004)
Rich, J. J., R. S. Heichen, P. J. Bottomley, K. Cromack, and D. D. Myrold. 2003. Community composition and functioning of denitrifying bacteria from adjacent meadow and forest soils. Appl Environ Microbiol 69: 5974-5982. (2003)
Rich, J. J., and G. M. King. 1999. Carbon monoxide consumption and production by wetland peats. FEMS Microbiol Ecol 28: 215-224. (1999)
Rich, J. J., and G. M. King. 1998. Carbon monoxide oxidation by bacteria associated with the roots of freshwater macrophytes. Appl Environ Microbiol 64: 4939-4943. (1998)