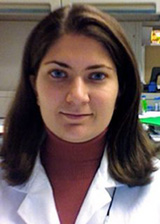 Bahar Bilgen, Ph.D.
Assistant Professor of Orthopaedics (Research)
Orthopaedics
Work
:
+1
401
-
444
-
2999
Dr. Bahar Bilgen studies cartilage tissue engineering using novel cell sources and drug delivery techniques. Engineered cartilage tissues can be used to restore cartilage function after traumatic cartilage injuries and may prevent diseases such as arthritis and osteoarthritis.
Biography
Bahar Bilgen is an Assistant Professor (Research) at the Departments of Orthopaedics and is an investigator at the Providence Veterans Affairs Medical Center. She studied Chemical Engineering specializing in biochemical engineering at Bogazici University, Istanbul, Turkey (BS'98, MS'00). She joined Brown/VA in 2006 after completing her PhD in Chemical Engineering at Northeastern University, Boston, MA. Her research focuses on cartilage tissue engineering using novel cell sources, growth factor delivery techniques and bioreactors.
Research Description
The overall aim is to develop a transplantable biocomposite to restore cartilage of traumatized joints using tissue-engineering techniques. These techniques include the use of autologous adult stem cells, encapsulated drug delivery and biomaterial development. A functional biocomposite will be created for cartilage regeneration, which uses a synovial cell source and a controlled growth factor delivery system.
Grants and Awards
Career Development Award-2, Department of Veterans Affairs, 2011
Career Development Award-1, Department of Veterans Affairs, 2008
Rhode Island Hospital Research Celebration Young Investigator Award Finalist, 2007
Biomedical Engineering Society Annual Meeting Poster Award, 2006
American Society of Mechanical Engineers Summer Bioengineering Conference PhD Student Paper Competition, Cell and Tissue Engineering Podium Session, 3rd Place, 2005
Graduate Assistance in Areas of National Need (GAANN) Fellow, 2000-2004
Affiliations
Orthopedic Research Society
Biomedical Engineering Research Society
American Institute of Chemical Engineers
Turkish American Scholars and Scientists Association
Funded Research
2012 - 2017 VA Career Development Award (CDA-2), "Design of an Engineered Cartilage Biocomposite for Joint Rehabilitation", Department of Veterans Affairs
2008 - 2011 VA Career Development Award (CDA-1), "Tissue Engineered Cartilage Biocomposite for Joint Rehabilitation", Department of Veterans Affairs
Teaching Experience
Dr. Bilgen teaches independent studies for undergraduates, masters and doctoral students.

Primary graduate program affiliation: Biomedical Engineering

Other teaching experience:
2006 Guest Lecture, Northeastern University
CHE G260 Graduate Transport Phenomena (Computational Fluid Dynamics)

2005 Co-Instructor, Northeastern University
CHE G260 Special Topics: Cellular and Tissue Engineering

2002 Essential Teaching Seminars for Engineering Faculty Certification, The American Society of Mechanical Engineers

2000-2001 Teaching Assistant, Northeastern University
CHE 1415 & 1416 Experimental Methods I and II

1999-2000 Teaching Assistant, Bogazici University
CHE 110 Introduction to Chemical Engineering
CHE 321 Chemical Engineering Thermodynamics
CHE 201 & 202: Physicochemical Systems Laboratory I and II
CHE 302 & 401: Chemical Engineering Laboratory I and II
Courses Taught
Directed Research/Independent Studies (BIOL 1950)
Directed Research/Independent Studies (BIOL 1960)
Selected Publications
Bilgen B, Chu D, Stefani R, Aaron RK. Design of a biaxial mechanical loading bioreactor for tissue engineering. J Vis Exp. 2013 Apr 25;(74):e50387. doi: 10.3791/50387. (2013)
Bilgen B, Barabino GA. Modeling of bioreactor hydrodynamic environment and its effects on tissue growth. Methods Mol Biol. 2012;868:237-55. (2012)
Chen Y, Bilgen B, Pareta RA, Myles AJ, Fenniri H, Ciombor DM, Aaron RK, Webster TJ. Self-Assembled Rosette Nanotube/Hydrogel Composites for Cartilage Tissue Engineering. Tissue Eng Part C Methods. 2010 Dec;16(6):1233-43. Epub 2010 Apr 12. (2010)
Ericka M. Bueno, Bahar Bilgen, Gilda A. Barabino. Hydrodynamic Parameters Modulate Biochemical, Histological, and Mechanical Properties of Engineered Cartilage. Tissue Engineering Part A. 2009 Apr;15(4):773-85. (2009)
Bahar Bilgen, Korkut Uygun, Ericka M. Bueno, Philippe Sucosky, Gilda A. Barabino. Tissue Growth Modeling in a Wavy-Walled Bioreactor. Tissue Engineering Part A. 2009 Apr;15(4):761-71. (2009)
Bahar Bilgen, Yuexin Ren, Ming Pei, Roy Aaron, Deborah Ciombor. CD14-Negative Isolation Enhances Chondrogenesis in Synovial Fibroblasts. Tissue Engineering Part A. 2009 Vol. 15, No. 11: 3261-3270. (2009)
Ana Jaklenec, Alexandra Hinckfuss, Bahar Bilgen, Deborah McK. Ciombor, Roy K. Aaron, Edith Mathiowitz. Sequential release of bioactive IGF-I and TGF-beta(1) from PLGA microsphere-based scaffolds. Biomaterials, 2008, Vol. 29 (10), p. 1518-25. (2008)
Bahar Bilgen, Gilda A. Barabino. Location of Scaffolds in Bioreactors Modulates the Hydrodynamic Environment Experienced by Engineered-Tissues. Biotechnology and Bioengineering, 2007, Vol. 98 (Issue 1) p. 282-294. (2007)
Bahar Bilgen, Ester Orsini, Roy K. Aaron, Deborah McK. Ciombor. FBS supresses TGF-beta1-induced chondrogenesis in synoviocyte pellet cultures while dexamethasone and dynamic stimuli are beneficial. Journal of Tissue Engineering and Regenerative Medicine, 2007, Vol. 1 (Issue 6), p. 436 - 442. (2007)
Bahar Bilgen, Philippe Sucosky, Paul G. Neitzel, Gilda A. Barabino. Flow Characterization in a Wavy-Walled Bioreactor for Cartilage Tissue Engineering. Biotechnology and Bioengineering, 2006, Vol. 95 (Issue 6), p. 1009-1022. (2006)
Ericka M. Bueno, Bahar Bilgen, Gilda A. Barabino. The wavy-walled bioreactor supports increased cell proliferation and matrix deposition in engineered cartilage constructs. Tissue Engineering, 2005, Vol. 11(Issue 11/12), p. 1699-1709. (2005)
Bahar Bilgen, I-Hwa Midey Chang-Mateu, Gilda A. Barabino. Characterization of mixing in a novel wavy-walled bioreactor for tissue engineering. Biotechnology and Bioengineering, 2005, Vol. 92 (Issue 7), p. 907-919. (2005)
Ericka M. Bueno, Bahar Bilgen, Rebecca L. Carrier, Gilda A. Barabino. Increased rate of chondrocyte aggregation in a wavy-walled bioreactor. Biotechnology and Bioengineering 2004, Vol. 88. p. 767-777. (2004)