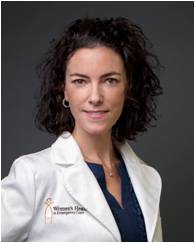 Alyson McGregor, MD, MA
Assistant Professor in Emergency Medicine
Emergency Medicine
Work
:
+1
401
-
444
-
5411
Women's Health
Sex and Gender Differences in Acute Care Medicine
Gender Disparities in Acute Coronary Syndrome
Biography
ALYSON J. MCGREGOR, MD, MA, FACEP, is a graduate of Boston University School of Medicine and Brown University Emergency Medicine Residency. Dr. McGregor is the Director for the Women's Health in Emergency Care Division at The Warren Alpert Medical School Department of Emergency Medicine and Co-Director for Women's Health in Emergency Care Fellowship. Dr. McGregor is an attending physician at Rhode Island Hospital, The Miriam Hospital, and Women and Infants Hospital. Research interests include evaluating gender differences in emergency medicine and women's health.
Research Description
Women's Health and Gender Differences in Emergency Medicine

Gender Disparities in Time-to-ECG
Grants and Awards
Momentum Award, Academy of Women in Academic Emergency Medicine
Outstanding Physician Award, Dept of EM, Brown University
The Robert H. Woolard Resident Academic Achievement Award
The Daniel l. Savitt Resident Teaching Award
Chief Resident, Brown Medical School Emergency Medicine Residency
Affiliations
Office of Women in Medicine at Brown University
Rhode Island Medical Women's Association
Rhode Island Medical Society
American Medical Women's Association
Advancing Women's Health Initiative
Sex and Gender Women's Health Collaborative
Teaching Experience
Co-Director, Women's Health in Emergency Care Fellowship
Co-Director, Women's Health in Emergency Care Resident Elective
The Warren Alpert Medical School Emergency Medicine Residency
Selected Publications
McGregor AJ, Greenberg M, et.al., Focusing a Gender Lens on Emergency Medicine Research: 2012 Update. Academic Emergency Medicine. 20(3). March 2013 (2013)
McGregor AJ, Choo E, Gender-Specific Medicine: Yesterday's Neglect, Tomorrow's Opportunity. Academic Emergency Medicine. Vol 19, Issue 7, 861-865, July 2012 (2012)
Basmah SB, McGregor AJ, et. al., Inclusion of Gender in Emergency Medicine Research. A New Direction, Academic Emergency Medicine.18(2):e1-e4. Feb 2011 (2011)
Roland C Merchant , Alyson J McGregor , Erin M Gee , Beth C Bock , Bruce M Becker , Melissa A Clark, Women's preventive health service preferences in the Rhode Island Hospital Emergency Department. Med Health R I. 2007 Aug ;90 (8):235-7 17867406 (2007)