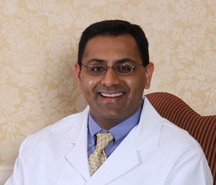 Mahesh Jayaraman, MD
Assistant Professor of Diagnostic Imaging and Neurosurgery
Diagnostic Imaging and Neurosurgery
Work
:
+1
401
-
444
-
5184
My current research interests related to cerebrovascular disease include:

- Understanding natural history and risks associated with treatment of brain arteriovenous malformations (AVMs).

- Evaluating flow dynamics of intracranial aneurysms and their implications on future rupture risk
Biography
Dr. Jayaraman obtained B.Sc. and M.D. Degrees at Brown University, then completed post-graduate training with residency in Diagnostic Imaging at Brown University/Rhode Island Hospital from 1999-2003.

Subsequently, he trained in both Diagnostic Neuroradiology (2003-2004) and Interventional Neuroradiology (2004-2006) at Stanford University. He returned to Brown as faculty in 2006, and currently practices at Rhode Island Hospital
Grants and Awards
Radiology Resident research award RSNA National meeting, November 2002
RSNA Research award –Brown University, June 2003
Fellow of the Year award – Stanford University, June 2004
Affiliations
Senior Member, Society for Neurointerventional Surgery
Senior Member, American Society of Neuroradiology
Member, Radiologic Society of North America
Teaching Experience
I am involved with the education of residents in the Departments of Diagnostic Imaging, Neurosurgery and Neurology on cerebrovascular disease imaging and endovascular therapy.
Selected Publications
Jayaraman M, Cloft HJ. Embolization of Brain Arteriovenous Malformations for Cure: Because We Could or Because We Should? AJNR Am J Neuroradiol. 2009 Jan;30(1):107-8. (2009)
Jayaraman MV, Chang HS, Ahn SH. An easily identifiable anatomic landmark for fluoroscopically guided sacroplasty: Anatomic description and validation with treatment in 13 patients. AJNR Am J Neuroradiol. 2009 Feb 4 [Epub ahead of print] (2009)
Diehn M, Nardini C, Wang DS, McGovern S, Jayaraman M, Liang Y, Aldape K, Cha S, Kuo MD. Identification of noninvasive imaging surrogates for brain tumor gene-expression modules. Proc Natl Acad Sci U S A. 2008 Apr 1;105(13):5213-8. (2008)
Jayaraman MV, Marcellus ML, Hamilton S, Do HM, Campbell D, Chang SD, Steinberg GK, Marks MP. Neurologic Complications of Arterio-venous malformation embolization using liquid embolic agents. AJNR Am J Neuroradiol. 2008 Feb;29(2):242-6. (2008)
Mellion ML, Jayaraman MV. Use of Neuroimaging in the workup of headache. Med Health R I. 2007 Aug; 90(8):249-250. (2007)
Jayaraman MV, Marcellus ML, Do HM, Chang SD, Rosenberg JK, Steinberg GK, Marks MP. Hemorrhage rate in patients with Spetzler-Martin grades IV and V arteriovenous malformations. Is treatment justified? Stroke 2007; 38(2):325-329. (2007)
Jayaraman MV, Do HM, Marks MP. Treatment of traumatic cervical arteriovenous fistulas with N-butyl-2-cyanoacrylate. AJNR Am J Neuroradiol 2007; 28(2):352-354. (2007)
Yoon W, Seo JJ, Kim TS, Do HM, Jayaraman MV, Marks MP. Dissection of the V4 segment of the vertebral artery: clinicoradiologic manifestations and endovascular treatment. Eur Radiol . 2007 Apr;17(4):983-93. Epub 2006 May 3. (2007)
Jayaraman MV, Do HM, Versnick EJ, Steinberg GK, Marks MP. Morphological assessment of middle cerebral artery aneurysms for endovascular treatment. Journal of Stroke and Cerebrovascular Disease Mar Apr 2007 (16) 52-56. (2007)
Li G, Jayaraman MV, Lad SP, Adler J, Do H, Steinberg GK. Carotid and vertebral rete mirabile in man presenting with intraparenchymal hemorrhage: A case report. Journal of Stroke and Cerebrovascular Disease Sep 2006 (15) 228-231. (2006)
Marks MP, Wojack JC, Al-Ali F, Jayaraman M, Marcellus ML, Connors JJ, Do HM. Angioplasty for symptomatic intracranial stenosis: Clinical outcome. Stroke 2006 Apr;37(4):1016-1020. (2006)
Lansberg MG, Fields JD, Albers GW, Jayaraman MV, Do HM, Marks MP. Mechanical thrombectomy following intravenous thrombolysis in the treatment of acute stroke. Arch Neurol 2005; 62:1763-1765. (2005)
Jayaraman MV, Mayo-Smith WW. Multi-detector CT angiography of the intra-cranial circulation: normal anatomy and pathology with angiographic correlation. Clin Radiol. 2004 Aug;59(8):690-698. (2004)
Jayaraman MV, Mayo-Smith WW, Tung GA, Haas RA, Rogg JM, Mehta NR, Doberstein CE. Detection of intracranial aneurysms: multi-detector row CT angiography compared with DSA. Radiology. 2004 Feb;230(2):510-8. (2004)